After trying unsuccessfully last time it was in shops, now I managed to get my first ASDA Wonky Veg Box. They sold out in a few hours, so it's not an easy thing to get your hands on. I wanted to get this box because I want to support the local farmers, I believe that local, in season, fresh produce is better and, of course, it's great value for money at only £3.50 for more than 5kg of veggies. It is at least 30% cheaper than buying the same vegetables from the standard range.
If you don't know, thousands and thousands of vegetables, perfectly good to eat, are thrown away each day because they are wonky. It's nothing wrong with them, beside their look. The rejected veggies, that the farmers worked hard to produce, might end up on the field as fertilizer. I think that is absurd. Wonky veg, among straight and "pretty" veg, look natural and are just as tasty.
ASDA started this program as a pilot, last year and it proved very popular. As I said earlier, it was sold out when I tried to buy it last year. As my husband and I arrived early in the shop, the boxes were still in the warehouse and someone got this for us. I imagine the rest sold out in a few hours. The cashier commented on the box, that it's a funny idea and the price is so good.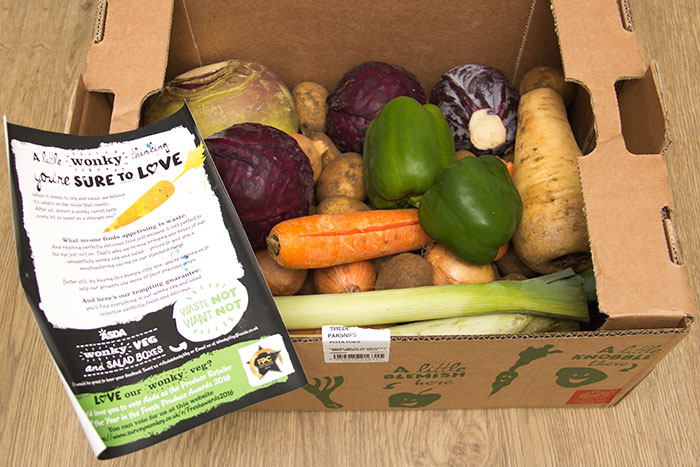 On the box it says what vegetables are inside and there is a great selection, as you can see.