Imagine my delight when I was invited to sample the new vegan menu at Vapiano, the Manchester branch. It's not the first time I've been to Vapiano, we had lunch a couple of months ago, I've been to a blind taste test and I've been involved in their Eat Pasta Run Faster campaign. Not only I think the food is great, but I also loved the idea of the vegan specials. I'm vegetarian, but I try to incorporate as many vegan meals as I can, daily.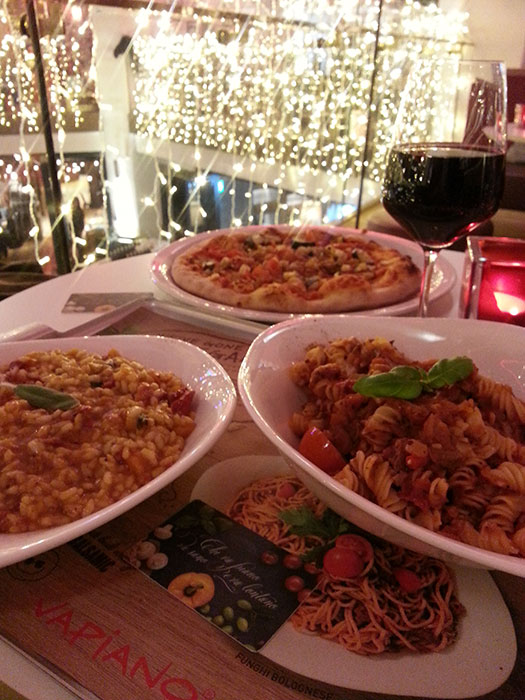 These are the vegan options. The thing I loved most about these dishes is that they made sense. Sometimes with veg*n options you end up with something puzzling and not in a good way. There wasn't any vegan cheese and I liked that a lot. It's very easy to take the meat out and replace the cheese with vegan cheese and call it a vegan meal. These three dishes aren't anything like that.
I'm going to talk a little bit about the restaurant and then I'm going to talk about each dish.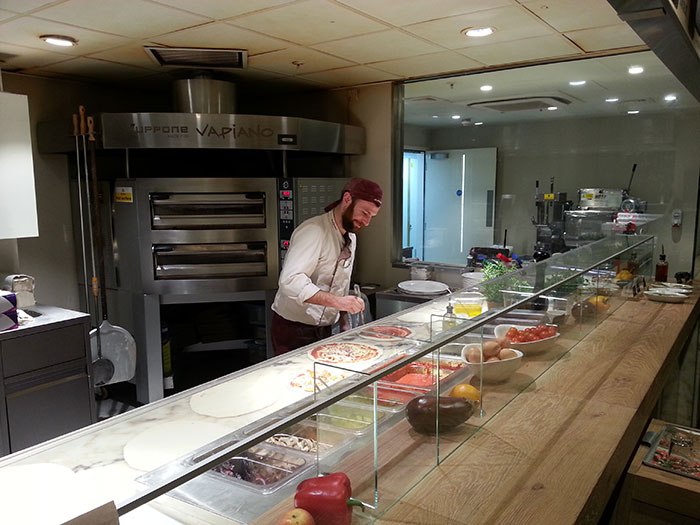 The food at Vapiano is prepared from scratch in front of you. This is the pizza station. There are two options, you can wait to see how it's prepared or get a pad that will light up when the food is ready to be collected. With pizza it's better to get the pad, but I stayed and looked at the way the pasta and the risotto were cooked. It's a treat in itself if, like me, you love cooking.
Because everything is prepared then, you can chose the type of pasta you like. The pasta is made fresh everyday in a huge machine which can be seen. Not only that you can pick if you want spaghetti, fusilli or penne, but you can also choose spelt if you fancy that option.