I mentioned before that at the end of February I managed to read 5 books. I had a cold and this kept me on the sofa/in bed more than usual, so I had more time to read. I enjoyed all the books, as different as they are.
I hope I can inspire you to read at least one or two of them, because they are so interesting. I have a special place in my bookshelves for the books I finished reading, so I have them ready for the reviews I'm posting on my blog. Besides Survival of the Prettiest, that I borrowed from the library, the rest of the books were mine, bought and unread. The Golden Ratio is the only new book in my personal library, from a series made by National Georgraphic, called Our mathematical world. We've subscribed to that, as we both enjoyed the first book. Now I'm reading another one in the series and it's so interesting.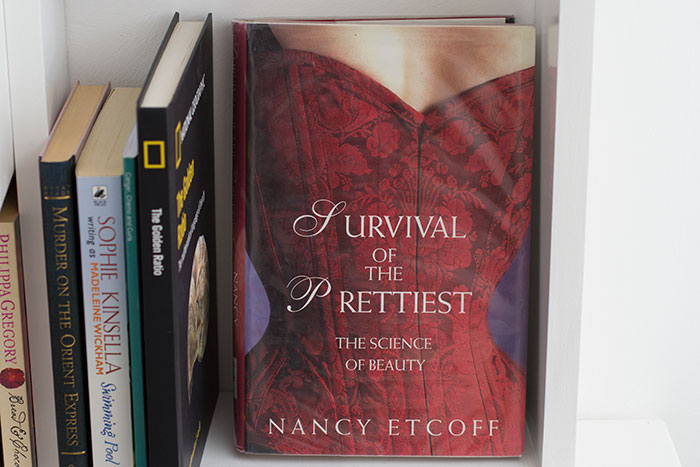 Survival of the Prettiest – The science of Beauty by Nancy Etcoff
I heard about this book from a fashion blogger a couple of years ago and I was intrigued. I found it at the Central Library and I had to borrow it. It's a fascinating book, I really enjoyed it. In the book there are a lot of studies mentioned and I found some findings very interesting, not what I would have assumed.
Nancy Etcoff has degrees in psychology from Harvard and Boston University. The book is written in an easy-to-read way, not very technical. The studies are presented by findings and not  complicated with aspects like size of control group and statistic.
It's a book I would like to read again in a few years. It covers different aspects, from size to fashion, from the beauty of babies to the pros and cons of being beautiful. If you have an interest in fashion, beauty or human nature, you will love this book. It's available on amazon.
The Golden Ratio – The mathematical language of beauty by Fernando Corbalan
This is the first book in the series Our Mathematical World, published by National Geographic. I saw it in our local supermarket, it was on offer for a few pounds. I bought it and after I started reading it, I subscribed to the whole series. It's mathematics, something both my husband and I find interesting. At Grammar School (British equivalent of my studies in Romania) I learned maths intensively, this meant 6 hours each week. I loved it. My husband studied maths at Uni, so he loved it too.
I would recommend The Golden Ratio to anybody that likes math and remembers a lot from College/Uni. It's not a light-read, but it's not that complicated either. The book has 5 chapters, it starts with a description of the Golden Ratio. Then it goes into talking about the Golden Rectangle and the Pentagon. The last two chapters are about the Golden Ration and beauty, art and nature.
If you are using Photoshop, two of the ways to crop the pictures are "Golden Ratio" and "Golden Spiral". Funnily enough, after reading this book, I read the one I mentioned before, Survival of the Prettiest and in that book the Golden Ratio is mentioned.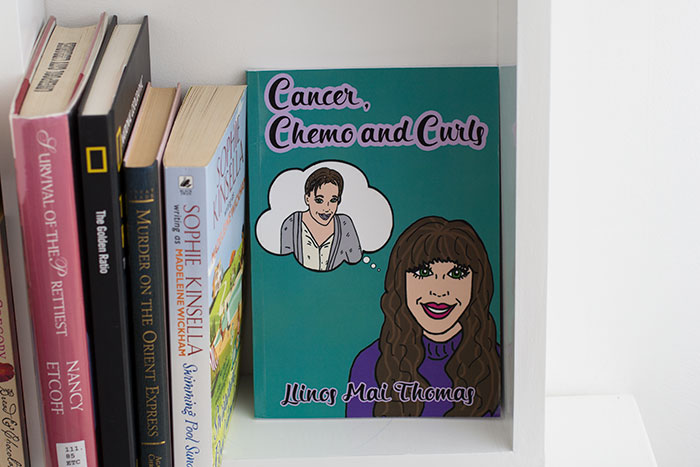 Cancer, Chemo and Curls by Llinos Mai Thomas
I won this book at a giveaway hosted by Llinos last year. She is the one that wrote the book, to talk about her experience with cancer. The book is short and it's moving, about a young girl from North Wales that was diagnosticated with cancer and she was treated in Liverpool. Her account of what happened after the treatment was more emotional for me. It's a book I will cherish, especially as I feel I know her because I follow her blog for a while now. The book is available on amazon.
Swimming Pool Sunday by Sophie Kinsella
I like the style of Sophie Kinsella and the book is interesting. It's about a couple that are separated and have two children. Both parents are too busy to show the other that is them who is the better parent without seeing that their distraction lead to an accident. The story continues with them wanting to sue the friends they were at because, somehow it could have been their fault. The story has some unexpected turn of events and a happy ending. I think this book just shows what can happen when two people are getting a divorce and, like most people, loose track of what is important.
You can get it from amazon.
Murder on the Orient Express by Agatha Christie
It's a classic. I had this book on my bookshelves for a couple of years, but didn't get to read it. It was a bargain from a charity shop. I was delighted to read it, I had no idea who did it and the ending was incredible, I would have never imagined it. I can't wait to pick another one of her whodunits. I can't believe it was published in 1934 for the first time, the plot is so intricate.
What have you been reading lately? Would you like to read one of the books I talked about?