Blists Hill Victorian Town is a lovely tourist attraction in Telford. I planned to visit it this year and we went this Saturday for the day. This will be a very long post with pictures and lots of details. I loved visiting the museum. I had to make a few collages as I picked too many pictures for the post, even so, there are 30 pics.
Blists Hill is a small industrial town set in 1900. At that time, the Ironbridge Gorge was still known as an
industrial area, but less important as before. On the site of the museum it was an industrial landscape, but not a town. In the 1960s, the Ironbridge Gorge Museum Trust created a small industrial town, as the ones that were found on the East Shropshire Coalfield. Some monuments are original to the site, like the Blast Furnaces and other were relocated brick by brick from the local area. Some buildings were built using traditional building materials. Blists Hill Victorian Town opened in 1973.
One of the first buildings in Blists Hill is the bank. There you can change your modern money for Victorian coins (not real) to spend in the shops in the Town. The rest can be exchanged back before you leave. The lady explained the coins to us, but there were so many it was impossible to grasp their value. Luckily all the shops have dual prices, in shillings and the modern equivalent.
There are over 50 buildings to see in the Blists Hill Victorian Town, so we've spent a lot of time visiting each one. I made a couple of purchases too.
The Grocers had a lot of lovely things on display and some of them were for sale. It's amazing how many brands we know and buy today were from that time. I've seen them before, at the Museum of Brands in London. Opposite of the Grocers is the Goods Shed with aubergine plants for sale and there is a Cycle Showroom too.
At the Chemist beautiful soaps were available to buy and quite cheap, at £2 a bar. Being able to buy things from a museum makes it a very different experience. I enjoyed this a lot.
After the Chemist, we saw the Iron Merchants and General Drapers & Outfitters.
I bought muslin from here and I would have bought a cap, but I didn't find the model I was looking for. I wish I needed more things, like some ribbons, to buy from that lovely shop. The muslin was only £2 and all the prices are really good. I was expecting bigger prices, as it's a museum.
A lady was demonstrating how lace was made. Now I can say I understand why it was so expensive. It's a work of art.
Post Office & Stationers are near the Photographer. I wish I was able to show more pictures from inside. It was lovely to see parcels in the window display and a few things for sale, like pens, ink bottles and wax for sealing the letters. At the Photographer one can have his picture taken, in an Victorian way. It was funny, maybe next time we'll have our pictures taken. It must be fun.
The Trevithick Shed houses two boats, including this Tub Boat. This is something I never saw before. This was discovered in 1972 and was used as a water tank. During their heyday, 18th to 20th century, they were used on the Shropshire Canal. Up to 8 tons of materials, like coal and limestone, could be transported with them.
According to the inscriptions on the boat, it was built around 1840s by Lilleshall Company. This is the only surviving example of a tub boat.
A single horse would drew 12 loaded boats, linked in a train, that is 60 tones of material.
On the same path, going up, there is a brick and tile works, originally built in 1830s.
Going back in the Blist Hill Victorian Town, we passed by the Sweetshop, the same shop where The Sweet Makers prepared and sold their sweets. I found that show very interesting and it was nice to see "the set".
I imagine Sugar Pigs were all the rage 110 years ago.
Blists Hill is an industrial town, so there are plenty of pieces of machinery to see. Some of them even in action. I'm amazed they are still working today. In this collage there are pictures from Masons Yard and Mine Shaft lift (top right), Engineer works and Ironworks.
This is what firefighters would have used during the Victorian era.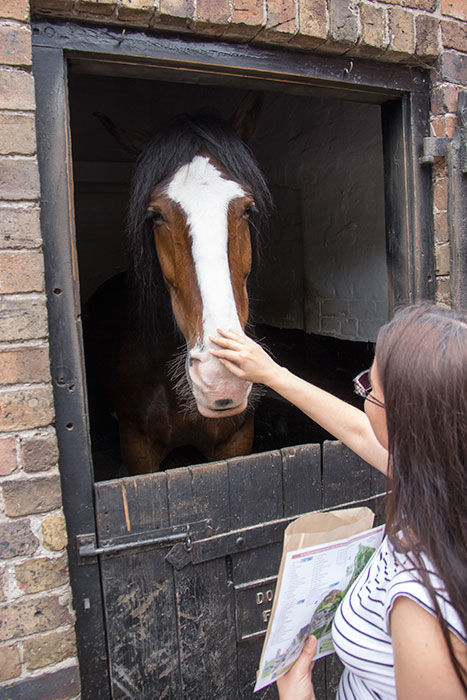 I met Casey, a lovely Shire horse. It's the first time I see a Shire and they are so strong and they look bigger than I was expecting. A similar height as a pony, but with huge strong necks and much more muscular. There are three horses, all very used to people (see the last picture). I could have stayed there for ages to pet him. They were terribly popular and people would queue to see them.
The candle making workshop was fab. I learned a lot of things. For example, the candles are dry as soon as they are taken out of the wax. I thought it will take a while for them to dry. The volunteer was so helpful and gave us so many details.
The bakery was very busy all the time. Luckily we were able to catch a moment when it was less crowded and I bought a couple of things from there. The bread was around £1 and the fruit cobs were 40p each, a big size and with lots of raisins in them. I though it's delicious. Next building, near the bakery is the Estate Office with a lovely large desk.
Cottage & Doctor's Surgery was great. I saw a similar surgery in a museum.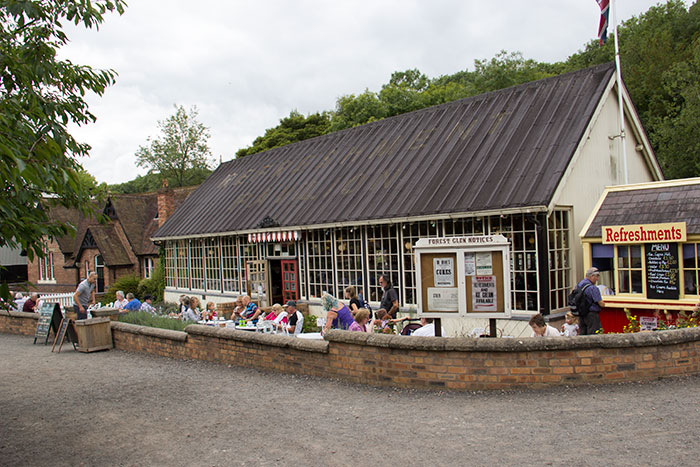 Forest Glen Refreshment Pavilion was very busy. We passed by it a few times and we didn't find an empty table outside. A coffee is only £1.50, so imagine how busy it is. Opposite the restaurant is the Victorian fairground. It was fun to see all the old types of games.
The school looks so pretty.
The classroom, where children can have a lesson. We arrived there after the lesson finished, but I imagine it's something really different for them to try. Hopefully this means they (and the parents) will appreciate more the new and modern ways of teaching today. We don't realize often how fortunate we are to live in a modern society.
Spry is over 100 years old and is the last surviving Severn trow. They were used to carry things like coal, sugar, rum, gunpowder and many other things. This one was made to carry stone. The cabins were so small that they didn't even have a toilet.
Squatter Cottage, relocated brick by brick and home to a miner. He made the cottage himself using low quality materials. He and his wife raised 6 of their 7 children in this cottage. After an accident, because he had the cottage, they were able to continue living there. That saved them from the workhouse.
Shelton Tollhouse has lovely rooms, big (comparing to the other ones). They had money because there are a lot of things on display that weren't in other cottages.
These are toys for a little girl. How cute?! I like them a lot and it reminded me of the toys I had as a child, a stove and so on.
This is the Mission Church.
We went on the woodland walk pathway that leads to steps linking top of Hay Inclined Plane.
From there we went down using the Inclined Lift.
Before leaving, we saw the horses prepared for a wedding with beautiful harnesses. I think they are stunning.
If you want to visit Blists Hill, more information is available on their website. The ticket for adults is £16.25, with plenty of offers for all museums by Ironbridge Gorge Museums. Car park is £3 per day.