I realized that in my Style section, I shared only premium brands when it comes to skin care. While is true that I like to spend a bit more to make sure the products I'm using are good, I do use a brand that is very affordable. That brand is Simple. Only by chance I've decided to get a toner a couple of years ago and I loved it. That lead to me buying more of their products and I'm happy with all of them.
The main reasons I bought that first toner is that it had ticked the boxes: made in UK, without animal derived ingredients (some of their products contain honey, but that is fine for me). And it only costs a few pounds. How amazing is that.
At the moment I'm using these three products: Eye Make-up Remover, Facial Wash Gel, and Facial Toner. I bought them at different times, hence the difference in how much is in the bottles.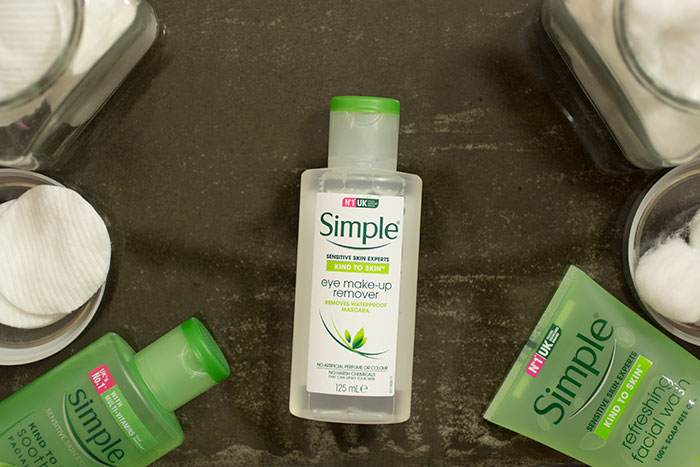 Kind to Eyes. Eye Make-Up Remover
I'm using an eye make-up remover because I believe it's better for my eyes. I have another make-up remover for my face. I would use the eye one on my face, but I have another one, so I would use both of them as I don't want to waste any products. The other make-up remover is Elemis.
The Simple Eye Make-Up Remover is from their Kind to Eyes range. It's a good product that removes the make-up with ease, including mascara. I'm really delighted with it. I use only a bit on a cotton wool. It doesn't leave residue and it has a light texture. I haven't tried it with waterproof mascara, as I don't usually use that type of mascara.
Is quite a big bottle and it lasts for a long time. I would definitely recommend it.
Ingredients:
Aqua, Poloxamer 184, Butylene Glycol, Ceteth-20, PEG-20 Glyceryl Laurate, Laureth-23, Panthenol, Disodium Phosphate, Calcium Disodium EDTA, Chlorhexidine Digluconate, Sodium Methylparaben, Sodium Phosphate, Citric Acid, BHT, Pantolactone, Tocopheryl Acetate
Now is £3 in supermarkets like Sainsbury's. The other two products can be found in the same supermarket for the same price. Sometimes the Simple cosmetics might be on offer, so they can be even cheaper. All the products I have are made in EU.