Bristol Museum and Art Gallery is one of Bristol's free museums. Its location in the city centre makes it an easy choice. While I was expecting the art part of the museum to have a more prominent place in the museum, but despite this, I still found some very interesting items on display. They also have special exhibitions, on the day we've visited it was Masters of Japanese prints: Hokusai and Hiroshige landscapes and is still on display until the 6th of January.
Bristol Museum and Art Gallery has items on display over two storeys. As usual, I've picked a few items that caught my eyes. First of all, the Bristol Boxkite, a replica of the first aircraft built in Bristol. Furthermore, this aircraft on display was made for a film in 1965.
The original airplanes were built in Filton in Bristol, between in 1910 and 1914. About 80 were made and used for military purposes, some were sold in countries like Russia, South Africa, and Australia.
This painting is stunning. I like so much the details and how realistic it looks. It was painted by Algernon Talmage and is called The Mackerel Shawl.
Edward Raby worked for the Bristol Pottery in the Victorian period. He made the flowers petal by petal. The main vase is from 1845. This might be the largest vase he ever made. It looks beautiful, this is why it was displayed under a glass dome in their showroom.
This is how an old caravan looked like. As a caravan owner, I'm always excited to see these very old caravans, full of charm. This one was lived in by Noah and Annie O'Connor and their children from 1916 and until 1925. One of the ways they were earning money was door-to-door selling.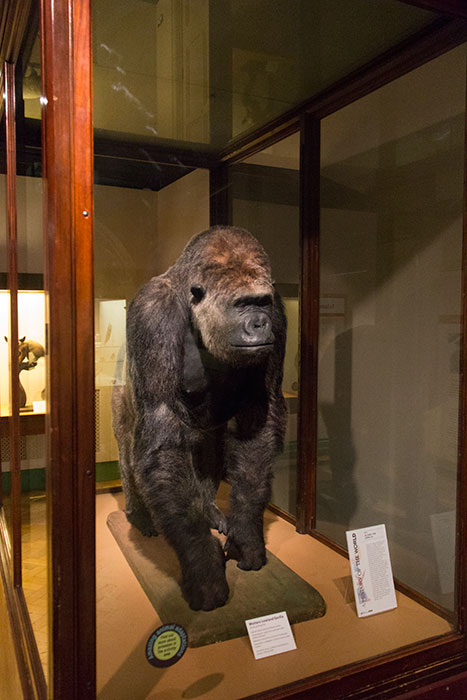 This is Alfred, the Gorilla. In 1928, a young gorilla was filmed by an American on the streets of Central Africa. His parents were shot because they raided a crop for food. A local woman suckled him. In 1930 he was brought to Bristol Zoo, proving to be very popular. The 5th September, the day he arrived at the zoo, was celebrated as his birthday. He had a strong character, disliking bearded men, double-decker buses, and aeroplanes. His keeper was walking him around the zoo, dressed in woolly jumpers.
Unfortunately he died in 1948, after being sick with tuberculosis. After he died, a famous firm of taxidermists mounted his skin and he was on display in Bristol museum ever since.
Bristol Museum and Art Gallery is part of Bristol Museums. Other museums that are part of Bristol Museums that I've been to are The Georgian House Museum, M Shed, Red Lodge Museum, and the last museum is Blaise Castle House Museum, a museum I'm going to blog tomorrow or later this week.
Bristol Museum and Art Gallery is in Queens Rd, Bristol BS8 1RL. Check their website for opening times and more details.