I was invited to an amazing blogging event: Cocktails at Aloha bar part of the Takamaka Takeover Tour. Aloha is a Tiki bar in Liverpool city centre. I haven't been to Aloha before, so I was very excited about the event. Takamaka is a brand of Rum made in the Seychelles. If you want to find out more details about Aloha, please check their website (alohabar.co.uk). Also, you might fancy knowing more about Takamaka Rum (takamakarum.com).
The evening started with a lovely cocktail and a short story about Rum. We had a little taste and then we've started to make cocktails. I've been to cocktail masterclass before, but this time was different, as we were part of a team, competing with the other team. It was fun and different.
We didn't have to do the cocktails from scratch as it was a mix. We had to measure and shake.
Of course, following the tiki style, we had to make warrior faces. I did a marvelous impersonation of Puss in Boots from Shrek. The rest screamed at each other, as were the instructions.
The first cocktails we've made was a Mai Tai. It was delicious.
Then, we had the best cocktail I've ever had: a Piña Colada in a pineapple! I loved it! Piña Colada is one of my favourite cocktails. I even made a jam using these flavours. Fancy trying it? Here is my recipe of Piña Colada Jam.
Between cocktails we were told stories about Tiki bars, and about Takamaka Rum. Now I know the difference between Navy Rum and other Rums. I also learned a few things about the US prohibition, how they were smuggling rum in barrels off the coast. It was so interesting, I loved that part of the event.
Sorry for the blurry picture, we were moving fast and the lights weren't great for taking pictures. Another cocktail. I can't remember the name of this one. It was fab though.
Zombie cocktail! We had to chant "huga chaka" and, funnily enough, after all those cocktails, we were all eager to chant. The cocktail was in that treasure chest and it was opened at the table. It was a great show. I think for a party (birthday/hen-stag) it must be an amazing finish to the evening.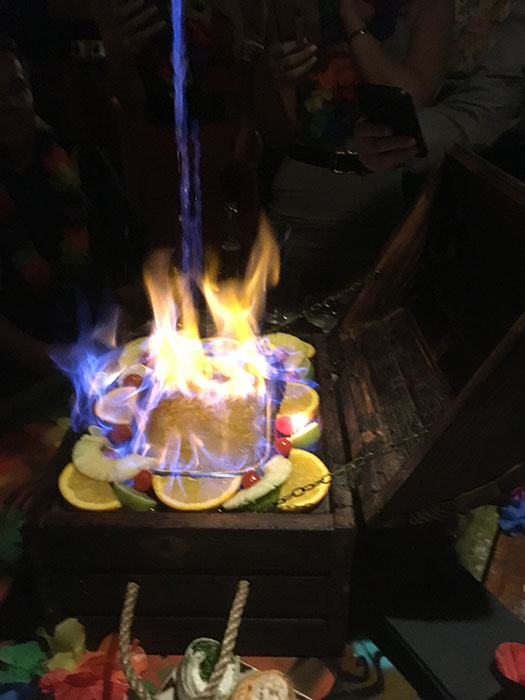 Doesn't it look exciting? I just loved it.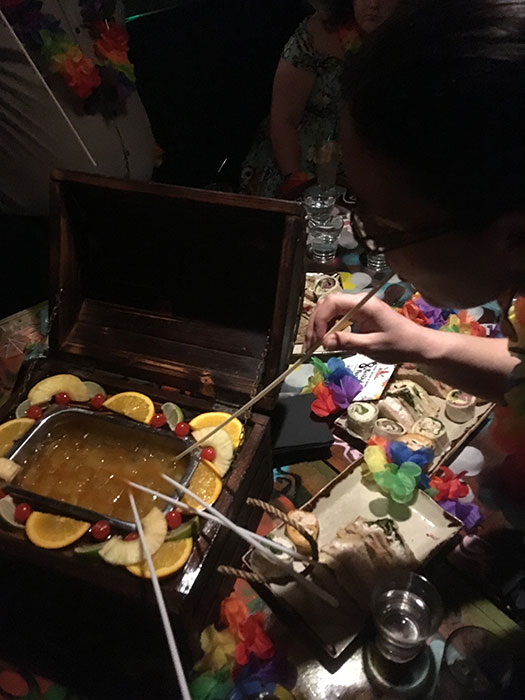 We all had long straws so we could drink from the chest.
We've had a wonderful time. Aloha was really nice. I loved the decor and I would love to go there again.
Aloha bar is at 22 Colquitt Street, Liverpool, L1 4DE.