This is an update of my Goals for 2018 and how I did. I can't say I've completed them, but I'm not bothered at all.
Blogging goals
1. Pub reviews, every other month. Only 5, but mainly because I didn't blog about all the pubs I've been to. Sally Lunn's is not exactly a pub, but I wanted to include it here because it is a historical restaurant and that was what I had in mind when I talked about pubs.
1. Ye Olde Fighting Cocks – Oldest pub in England, in St. Albans
2. The Black Prince Pub, Woodstock, England
3. The White House, Bladon, England
4. Boscastle Harbour and Tea rooms
5. Sally Lunn's Kitchen Museum
2. Villages, every other month. I wanted to visit and share pictures from small, local or not so local, villages. But, again, only 5.
1. Tintagel
2. Boscastle
3. Castle Combe
4. Bibury
5. Tetbury
I didn't blog about Tetbury, as it would have been too close to Christmas and I didn't have the time. I'm going to share pictures from this amazing place in January.
3. Fashion & Beauty. I enjoyed very much talking about fashion and beauty last year. So, I will continue to blog, once a month, about these subjects. I've decided on a post about fashion and a post about beauty every other month. This way I will keep my Style section updated and so far these posts were quite popular. If I have more things to blog about regarding both fashion and beauty, I will.
1. Simple Cosmetics, budget cosmetics from the supermarket. I've used them for a long time.
2. Vionic Shoes, very comfortable trainers. New review, for a different pair, in June: Elation Vionic Trainers.
3. Wella System Professional Repair Perfect Ends, a good way to treat split ends.
4. Skin Doctors Vit C Day Cream
5. My favourite pieces of jewellery
6. New Office boots from Selfridges
7. What's in my handbag
8. Organic Shop Hair Products
9. The Body Shop Lip Balm
10. Bare Minerals Lip Gloss
11. TMLewin
12. Vitamin E Intense Moisture Cream
4. Taste the World and Royal Recipes. My plan was to make 15 new countries. I made 20 recipes from 16 countries, but not all of the countries are new. Even so I'm very happy with what I did, as I've made a few of these recipes many times, like Chaclama, Tres leches, Kaak Warka, Ma'amoul, and Shakarshee. I made a few of those for Christmas too.
My second series is Royal recipes. I've planned to make 10, but only managed 6. Well, I'm still happy with those and I'd gladly make all those recipes again. I did make pesto pasta a few times. You can see all the recipes on CookStyle.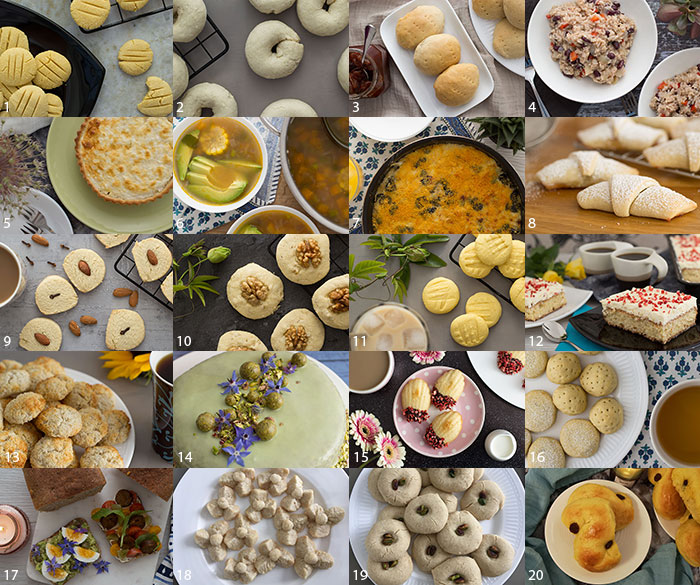 Taste the World
1. Tunisia: Ghraiba (chickpea flour cookies – no. 1), Kaak Warka (almond paste filled biscuits – no. 2)
2. Panama: Johnnycakes (no. 3), Coconut Rice with Red Beans (no. 4)
3. Belgium: Rijstevlaai (rice pie – no. 5)
4. Colombia + Ecuador + Peru: Ajiaco (potato soup with avocado – no. 6)
5. Sweden: Janssons frestelse (no. 7) and Lussekatts (no. 20)
6. Croatia: Kiflice (no. 8)
7. Egypt + Sudan + South Sudan: Ghorayeba (biscuits – no. 9)
8. Armenia + Azerbaijan + Georgia: Shakarshee (biscuits with walnuts – no. 10)
9. Brazil + Suriname + French Guiana: Maizena (cookies with corn flour, gluten free – no. 11)
10. Mexico: Tres Leches Cake (no. 12)
11. Oman: Chaclama (no. 13)
12. France: Le Gâteau Vert-Vert (no. 14) and Strawberry Madeleines (no. 15)
13. Saudi Arabia: Ma'amoul (biscuits filled with date paste or walnuts and raisins – no. 16)
14. Denmark: Smørrebrød (no. 17)
15. Thailand: Kleeb lamduan (no. 18)
16. Afghanistan: Kolche ab-e-dandaan (no. 19)
Royal recipes
1. Banana Flan, a favourite of Prince William
2. Elderflower and Lemon Cake, for Harry & Meghan's wedding
3. Andrassy Pudding, the favourite dessert of Prince Philip, made to mark his 97th birthday
4. Barley Soup, a frugal but delicious soup, eaten by George III
5. Drop scones, made by Queen Elizabeth II for President Eisenhower and his wife in 1959.
6. Pasta con Pesto, made by Princess Margareta Custodian of the Crown of Romania for her father, King Michael. It was one of his favourite dishes and I've made it on the anniversary of his birthday
5. Reviews. I will continue with at least a monthly review this year too. I had no idea I will enjoy doing these posts so much.
1. Baavet Wool Filled Pillows, pillows that I'm still very happy with, after 1 year.
2. The Real Greek, a good restaurant in London.
3. Method laundry detergent
4. Flower Lounge
5. Vitamin D BetterYou & Vitamin B12 BetterYou
6. grofresh KITCHEN GARDEN
7. Stainless Steel Straws
8. Virtual Reality Escapes
9. Wedgwood Tea Rooms
10. New Christmas Sandwiches at Co-op
11. Wake-up Light Philips
12. Christmas at Duhnam Massey
6. 1 Photo an hour. No, I didn't. I forgot about it.
7. Update both blogs. Done, in February.
8. Post regularly. I did. In 2018 I published 172 posts on ancaslifestyle (including this one), 95 recipes and reviews on CookStyle, and 89 book reviews and other book related posts on Coffee & Books, with two more to follow in the next two days. That is almost a post each day.
Personal goals
1. Lose some weight. Nope. I even gained a bit more weight. That's annoying.
2. Sew more or do more crafty stuff. Nope.
3. Make 5 from 40 before 40 list.
Be vegan for a week. – it is no 31 and the only one I've made. I could say I did no.21 too, go 24 hours without technology, as I had a few days without looking at my emails. I still used the camera and the gps, but the whole idea was to avoid the things that can waste my time. I'll see if I will try to make that again.
Travel Bucketlist 2018
1. London. Yes. I saw Tate Britain, went to the Real Greek, and visited Wallace Collection too.
2. Wales. I've been to the Sci-Fi Weekender in March.
3. Scotland. Nope.
4. Eyam. Nope. Each time I wanted to go, it rained or we had something to do.
5. Visit 3 castles. Only one, Pendennis Castle – Cornwall.