Yeee!! Yesterday I turned 30! I'm happy because for many reasons 30 is much better than 20!
10 years ago I was going to the University and staying with my mother. I had to study things I liked, but, even so, it was an obligation. I had no clue what a balance diet can do for me or that I had to workout to feel great. I was a volunteer and I loved it, but I was surrounded by people in need… due to my volunteer work and the nature of my studies. And… I just met a handsome tall man.
Now, I'm married to that man, I'm living in UK, I have a great job and hobbies, a great dog and many things have changed. I wouldn't trade my place now for what I had 10 years ago. So far the journey to 30 was nice, beautiful and sometimes bumpy, but I'm here now and I am enjoying what I've accomplished so far.
Now…let's see some pictures from yesterday. We were in Wales for a day-trip. I took some pictures in the car, on the way there.
Thru the mountain or under the river, tunnels everywhere.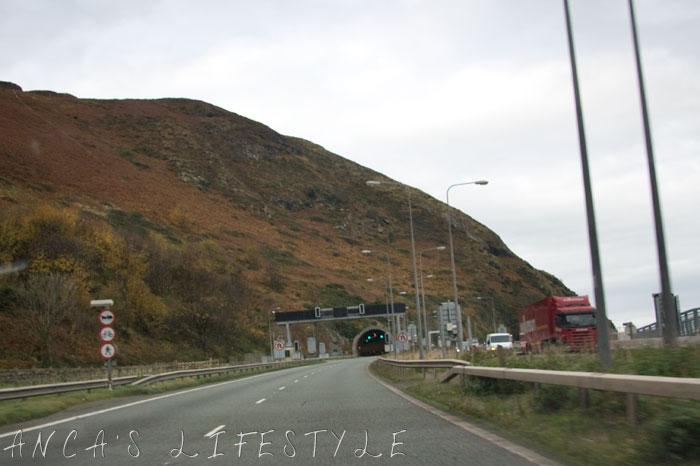 We parked far from the Castle, but in a remote area, so Festus could sleep while we're visiting Conwy Castle.

A lot of sheep, but this is normal for Wales, no?

Muffin mania begins!! 😀

Knight shop! Isn't that great?! It was full of interesting stuff, luckily it was my birthday and not hubby's 😀

We planned to go to Snowdonia, but the GPS failed us (again, we really need another one). The weather wasn't good for walking in the forest, so it wasn't a huge thing we didn't arrive there.
We took A5 to Chester and we stopped near Llyn Ogwen lake.

We wanted to go on top of the mountain, but we had to stop. The stones were wet and Festus was running up and down, we were afraid he would brake his bones or mine 🙂

We found a forest and we let him play with some branches, as usual. More pictures on his blog. After that we visited Chester, just the city centre and it was so nice. I really love it, we have to go back soon 🙂
update: My birthday cake, I forgot about it 🙂