I've been to Nosebag in Oxford twice. The first, time I went there with the lovely Galina at chezmaximka. She recommend this place to me and I loved it. That time I had a delicious vegan truffle and I said I'm going to get it again.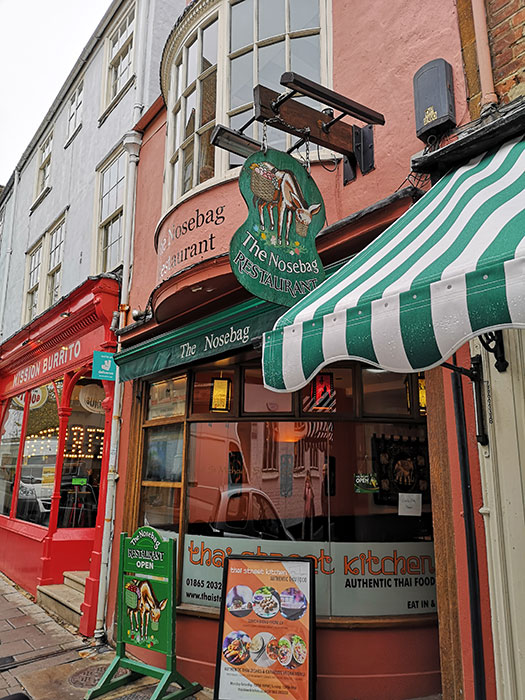 For my birthday we wanted to get desserts somewhere, but the place we initially wanted to go looked a bit sad on the day. So, we've decided to go to Nosebag for desserts, before heading off to the Crocodile zoo, where I was booked in for a croc feeding experience.
The place was starting to get busy despite the fact that they just opened.
I ordered a vegan truffle and I recommended it to my husband too. Besides, I got a coffee and walnut cake, while my husband decided to try the cheesecake. I went for the coffee and walnut cake (not vegan) because it looked similar to the cake my grandmother used to make for me when I was a child. It was delicious, although a bit too sweet for my taste.
My husband was not impressed with the vegan truffle though, as he said it tasted too much of dates and he was expecting a chocolatey sort of truffle. He was right, but that doesn't mean the truffle was not great, at least for me. I ended up eating mine and half of his. If you like healthy desserts based on dates, then you will love it too. I stick to what I said, and I would order this delicious truffle again, without any doubt.
The prices are good too. Nosebag is close to the city centre, just a few minutes from the Ashmolean, the Westgate shopping centre, and the Bodleian library; worth a visit if you are in Oxford.
Nosebag is on 6-8 St Michael's St, Oxford, OX1 2DU. They offer a student discount and delicious desserts.