We've just renovated the bedroom, after we've finished with our home office. So, I thought it would be interesting to share how I'm organizing the wardrobe.
Even before we bought the house we knew we want a build-in wardrobe, as we like having all the clothes in order, easy to see. I would go as far as saying that this was one of the main reasons I wanted to buy the house we live in, to have a proper wardrobe.
I took some pictures last month, before all the doors were put back in place, as it was easier to show how the whole build-in wardrobe looks like. The wardrobe has 4 white sliding doors, so the bedroom looks stylish and bright. I will share pictures of my newly refurbished bedroom as well. When I took the pictures, we didn't have the bedroom door in place and there was no skirting. Of course, these are all sorted now.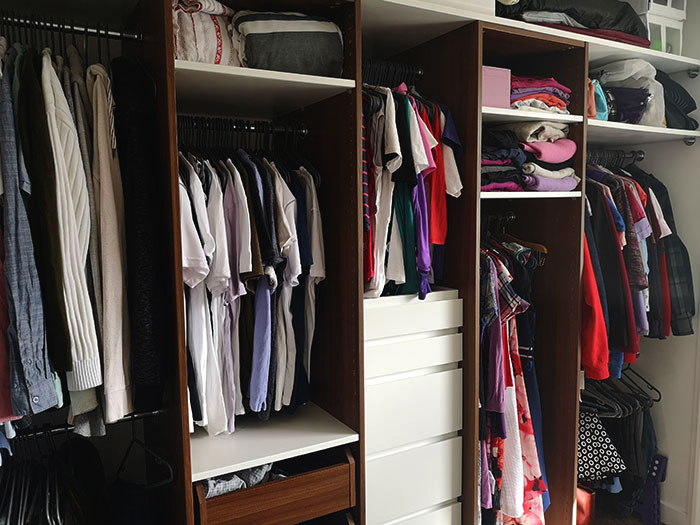 Because we made the build-in, we were able to add as many rails as we needed, as you can see, there are a lot. We both like hanging the clothes on hangers instead of putting them on shelves. On hangers, clothes are easier to take out, without creasing the other clothes. The wardrobe is divided into two section. On the left are my husband's clothes and bed spreads.
Shirts and jumpers on the top rail, while trousers are on the bottom rail. The next bit are the T-shirts on rail with pyjamas and lounge wear & fitness clothes on the shelves. My part of the wardrobe is pretty similar, with T-shirts on rail, dresses on rail underneath lounge wear & fitness clothes, pyjamas, and ponchos. I do love ponchos. I bought two cashmere ponchos in 2015, one purple and one pink, and I still wear them. In fact, the pink one appeared in the photos from the Chihuahua Cafe. Besides these two, I have another one, on cream, and some scarfs  as well.
In the last section of the wardrobe are the skirts (and a little white dotted purple step for me, as I can't reach the top shelf without it) and trousers on the bottom rail, blouses and jumpers on the top rail, and handbags on the shelf on top. The long top shelf is extremely important. With a standard wardrobe, all that space would be lost, but we can store all sorts of items there. We have there the thicker jumpers, including Christmas jumpers that we wear in the winter and more clothes, like my husband's suits. These are all in easy reach, but without being on display, clogging up precious space.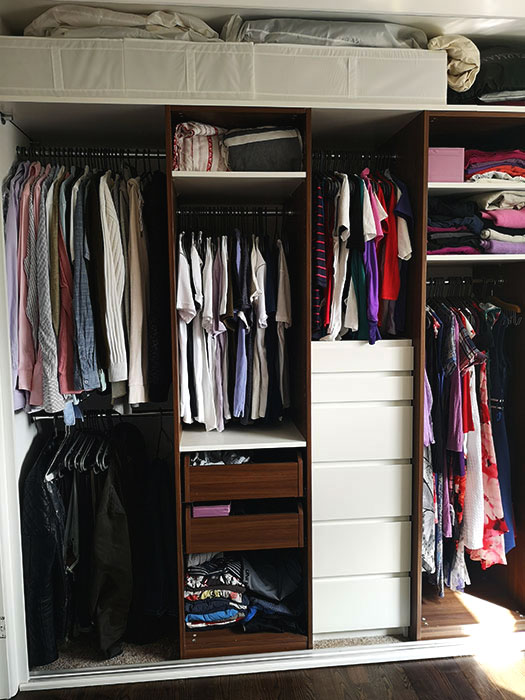 I bought plastic hangers from Home Bargains, cheap and all looking the same. These are very durable and I could buy more when I need it. I've had these for 5-6 years and so far I didn't have to replace any of them. The wooden hangers look better, but they are more bulky. Also, I like hanging clothes on the clothes hangers to dry flat. This makes them less creased and makes it easier to put them back. I wouldn't do that with a wooden hangers, but the plastic ones are great for that purpose too.
Having all the clothes in their designated sections, on hangers, makes easier to find the item of clothing you were looking for. After four+ years, I'm still as happy with my wardrobe as I was when it was first finished.
There aren't any shoes and towels stored in the wardrobe. I have a special cabinet for them. The towels are in the bathroom, rolled like in a SPA, and stacked on top of each other. Not only it saved a bit of space in the wardrobe, but they look nice and it's easier to take a fresh towel when needed.
Do you have a system of organizing the wardrobe? I'd love to know more, so please leave me a comment with details.