I've been to the Slaves of Fashion Exhibition at Walker Art Gallery last month. It was very interesting and it did made me consider my buying choices. The exhibition is still on display until the second part of May, details on Walker's gallery website (liverpoolmuseums.org.uk). If you've followed my blog, you might have seen the post about the conference I've attended last month: Slaves of Fashion: Archives, Art and Ethics. The conference was to mark this exhibition and it was very interesting.
The artwork was made by The Singh Twins. At the conference they took us on a guided tour in which they talked about their research into the subject, how they've created the artwork. I was keen to see everything again and have a closer look. In the exhibition there are two rooms with a few artifacts that inspired the Singh Twins. There is also a short clip of how they work. It's really interesting, so make sure you are watching that if you decide you want to visit the exhibition.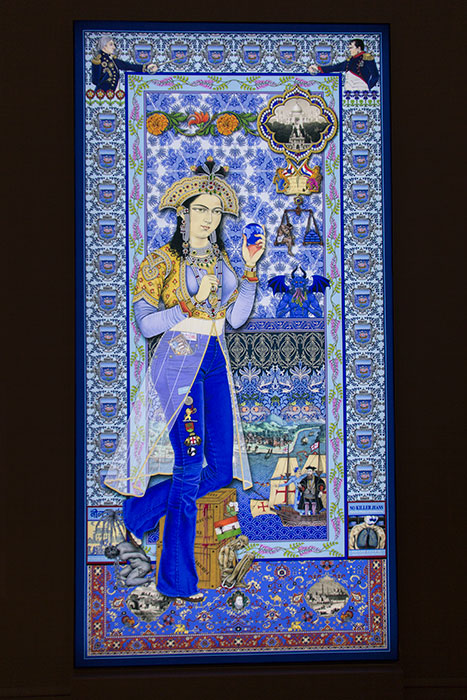 Indigo was my favourite piece in the collection. The whole piece is filled with details about the past and also modern reminders of slavery.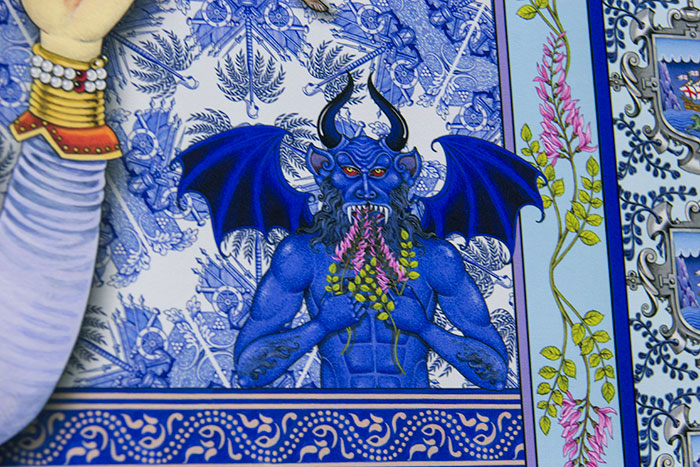 During Elizabeth I's reign, the indigo blue dye was imported so much it started affecting the blue produced in England at the time. So, as an answer, a campaign was made to denigrate the indigo. It was named the devil's colour, so people would stop buying and use it.
During the Napoleonic wars, due to the colour of the military coats, it was a rise in demand for blue. It's fascinating how a war can affect something I wouldn't have thought of before.
Another detail in the artwork is about what happens today in the fashion industry. I think most of us know about the slavery and child labour still in place in some production lines for fast-fashion brands. Besides there is another aspect I had no idea, sandblasting jeans, to make them look worn. Without proper equipment and health and safety procedures, it leads to lung disease. Quite a high price for a pair of trousers.
Coromandel: Sugar and Spice, Not so Nice. Coromandel is a region in India known for its textiles. It was controlled by the Dutch. The tree is made up with spices including nutmeg, pepper, and cloves.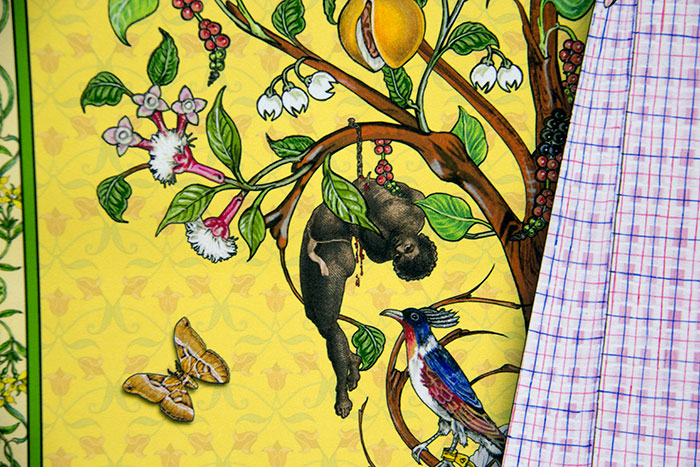 This image is a reminder of the Dutch use of slaves on their sugar plantations.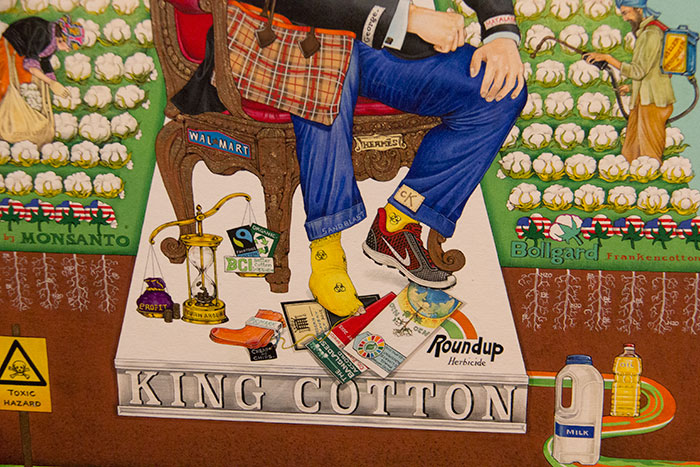 The King is Dead: Long Live the King. This is an image of Trump, surrounded by what happens in our world today. Cotton slavery in developing countries, excessive use of pesticides for the cotton industry. 16% of the pesticides are used on the cotton crops, although they make less than 3% of the crops worldwide. The fairtrade symbol wights less than profit. A torn sock can be replaced cheaply without thinking of waste.
Another image of our contemporary problems with sustainability.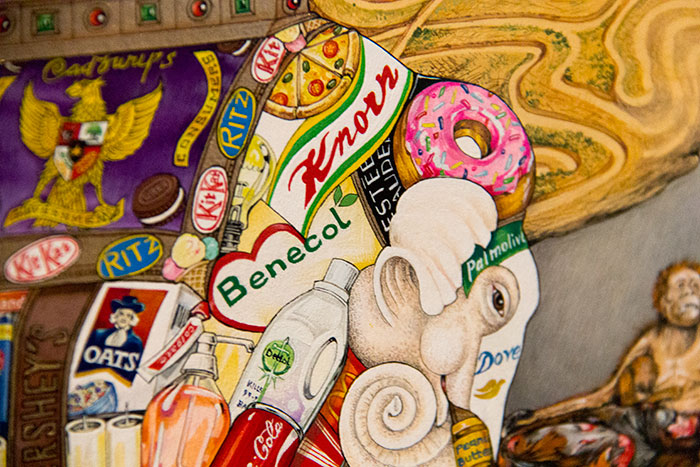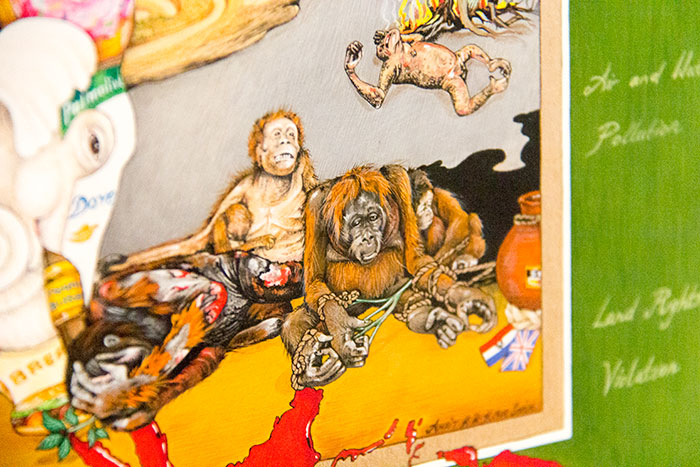 This happens so we can enjoy cheap palm oil. I stopped buying anything that doesn't use palm oil from sustainable sources.
Indiennes: The Extended Triangle. This is to represent the slave trade triangle. The slaves were bought or exchanged for silk, clothes, pottery. After that, they were transported across the Atlantic, sold in America and West Indies. The ships returned to Europe with sugar, tea, coffee, tobacco.
Muslin: The Fabric of Revolt. Muslin has a very interesting story, started in France. It became popular because, after the French Revolution, it was less rich. Muslin is made of cotton.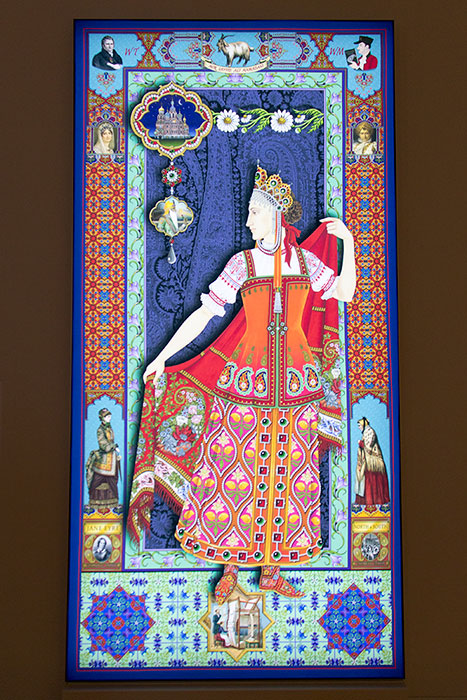 Kashmiri Shawls: From Punjab to Paisley. It was difficult to replicate. Weavers in other countries didn't manage to do it. The wool comes from mountain goats and that was unknown. But makers in France, Scotland, and Russia managed to copy them.
Phulkari: Craft and Conflict. Phulkari were made as part of girl's dowry. In the 19th century they become popular in Europe.
Walker Art Gallery can be found on William Brown Street, Liverpool, L3 8EL, England.