Abington Park Museum is another free and wonderful museum in Northampton. After sharing lots of pictures of shoes among other stuff, from Northampton Museum and Art Gallery, today I'm sharing highlights from the second museum.
This is a military museum in a park where, on the day we visited it, was a band playing the stand, outside a lovely, albeit full, cafe.
I picked a few things that caught my eyes from the museum to share in this post. The museum is in a Tudor manor house and some of the original features are still visible, including a stunning panelled room, which is better seen in person as the low light didn't allow for good pictures of it.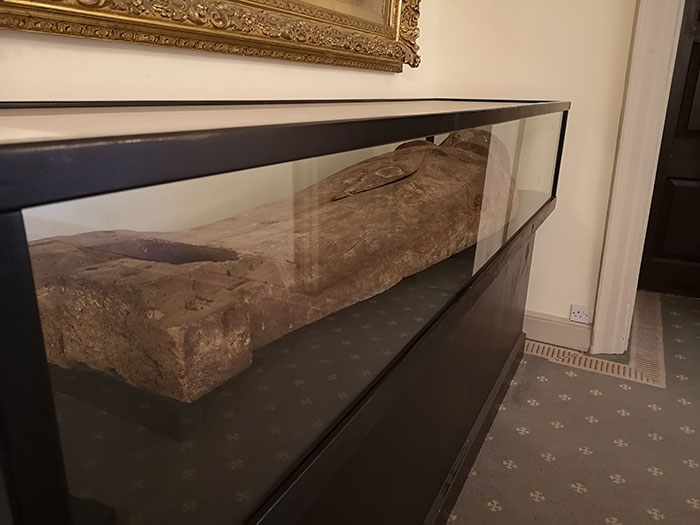 A Roman tomb wasn't exactly what I was expecting and I always love to see these. The museum starts with a Cradle to Grave Gallery, which shows old types of food and toys.
This little thing is a box that commemorates Wellington. It has his portrait and a string with all his victories. There are a few rooms filled with all sorts of interesting things, military related.
These look interesting, don't they? Trench art is still happening today, as a way of de-stressing maybe. It's amazing that these were preserved and also put on display.
The chess set is another WWI artefact. I think it looks fantastic. While it doesn't say if these were made during the war, I guess that's the best explanation for them. The set was quite small.
This was one of the most poignant displays.  On the walls are engraved the names of the soldiers who died in the First World War from the Northamptonshire Regiment. I couldn't get all the plaques in a photo, they were so big. Look at all those names, so tragic.
This Victorian high chair looks pretty much like those used today. It is almost 200 years old, dating back to around 1830.
The medical display was very interesting too.
Finally, the crowds enjoying the band. I think it's a lovely place to visit and Northampton is great for a day-trip or as a part of a tour, depending on how long you have to travel to get to it.
Abington Park Museum is in Park Avenue South, Northampton, NN1 5LW.