Anna Loka is a vegan restaurant in Cardiff. I was excited to try vegan food, so I've added this restaurant to my to-go-to list in our holiday in Wales.
I saw on their website that Anna means food and Loka means world in Sansksrit.
They boast that this it the first vegan restaurant in Cardiff, how exciting is that?
The wall is carved with the picture of Adam El Tagoury, a Hare Krishna monk and entrepreneur, owner of the restaurant. I really liked the carvings on the wall. On the opposite wall is a lady, singing. I couldn't take a closer picture, as it was where we had our table.
I like that the restaurant has a story and the owner is vegan as well.
We got our table and water was brought up fast. We looked at the menu. As usual, it was hard for us to pick what to have in a vegan restaurant, there are so many amazing sounding options to chose from. We've decided, as we always do, to order two different things and share them.
ANNA-LOKA nut roast with roast potatoes, parsnips, carrots, cauliflower, stem broccoli, and homemade gravy was my choice. I loved it. My husband less so, because he is not keen on roast. But I loved it. I would order this again without a doubt. The veggies were cooked perfectly and that gravy was delicious.
Doner wrap, made with thinly sliced seitan, spanish olives, pickled tofu, slaw, tomatoes, cornichons, rocket, and garlic mayo. It was served with muhammara, nachos, and salad, and this was my husband's option. We both liked it a lot. The seitan was so good and the pickled tofu was delicious too. I'd have this again and my husband said the same thing.
Triple cooked potatoes with homemade ketchup is a side dish and we've ordered that to share, without knowing how big the portions would be. These were delicious, but we couldn't eat all of them.
The food was great and the location is lovely, so I would definitely recommend this restaurant. It doesn't look busy in the pictures because I took them at different times, avoiding having any other customers in the pictures.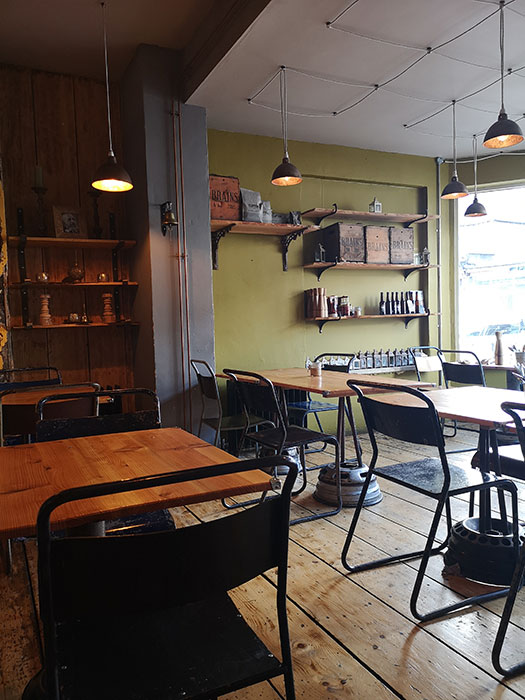 Anna Loka is on 114 Albany Rd, Cardiff, CF24 3RU. There are on-street parking spaces free for 2 hours, so that's pretty great. I imagine there are more parking spaces on nearby roads as well. They have a discount for students at the moment. Here is their website if you want to see more.