A couple of years ago I bought a handmade vase by Rose Dickinson and I love it. The first vase is from her slimline collection. I wanted to buy another one for a while and I finally decided on a similar design, but a bigger one. I needed a bigger one for the flowers my husband buys me. I had a glass one, but I think it was chipped when we moved. I wanted something that was suitable with the decor, elegant and white as my husband prefers, but with a nature theme if it's possible, as I prefer. So buying a similar vase from Rose Dickinson was obvious.
The thing that attracts me the most at her designs is the natural look and the herbal decor. For the new one, I chose a mat glaze finish as it was similar to the small one that I had and I also feel it looks better. Being made by hand in UK was an important aspect for me as well. I prefer buying local and handcrafted means it's a little extra special.
I've decided to use both of them as they are so cute together. I think they compliment each other. I can also use them separately, the large one on the table or on the fireplace and the small one on the bookshelves. I'm delighted with them.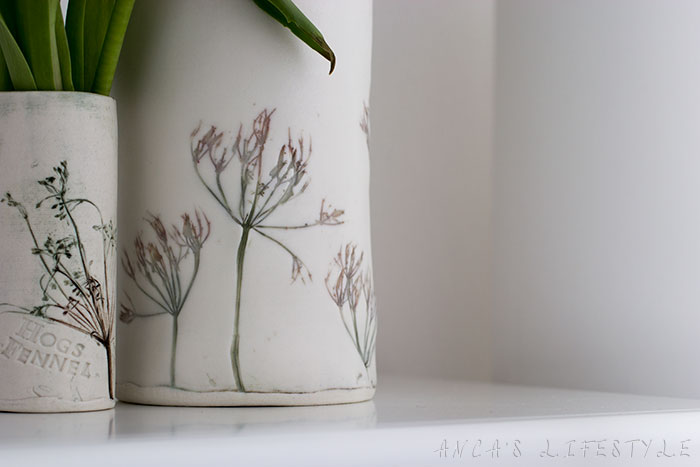 If you want to see Rose Dickinson collections, you can have a look on her website. She has different collections of vases, nature inspired. She also makes beautiful bowls and mugs.