On our trip to Yorkshire, we went to see Helmsley Castle which is part of English Heritage. The castle is near Rievaulx Abbey, we went there too and I will blog about that abbey these days. There is a scenic walk from Helmsley Castle to Rievaulx Abbey, but it was a bit cold, so we've decided to go with the car.
The wooden castle was built in early 12th century by Walter l'Espec. After his death, his sister and her husband converted the castle in stone in 1186. They built two main towers, the round corner towers and the main gateway. After his death, the castle was inherited by his son who built the chapel in the courtyard. The following owners added new walls and upgraded the castle.
In 1478, Edmund de Roos sold the castle to Richard, Duke of Gloucester, that will be King Richard III. After the death of Richard III in 1485, Henry VII gave the castle back to Edmund de Roos. During the years the castle was modified and upgraded as most castles were.
During the Civil War, the castle was besieged in 1644 for three months before surrendering. At the moment, the castle is still owned by the Feversham family, but it's in the care of English Heritage.
The West Range was built in the 16th century.
These iron bombs were shot from short-barrelled cannons, during the Civil War. The bombs were meant to fly over the castle walls. They were filled with powder and a slow burning fuse attached to the bomb was lit. It would have exploded on landing. It's the first time I see one of these.
Aren't these keys interesting? I like them a lot, some of the locking mechanisms have complicated designs. On the side of the display it is explained which keys are used for different doors or cupboards. This ones are from the 13th century to 18th century.
The needlepoint stitch pattern is called Bargello and it was fashionable in early 17th century. It was used on chairs and the curtains around a bed. It looks lovely and I imagine the rooms must have been beautiful with a lot of colours.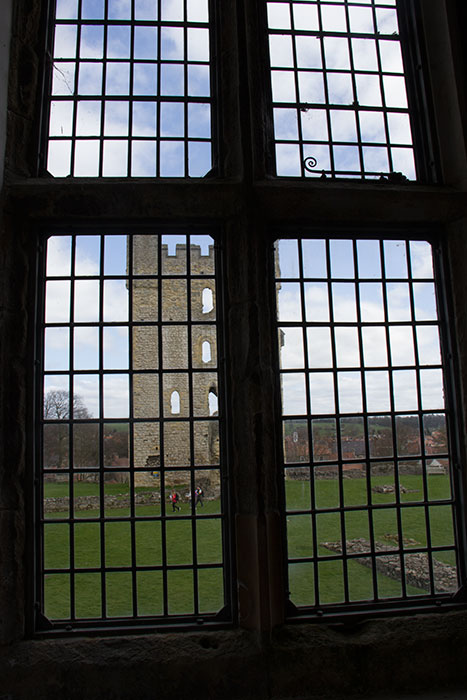 These are some of the highlights of our visit to Helmsley Castle.
The post code for Helmsley Castle is YO62 5AB. There is a car park nearby with plenty of spaces at around £1.50 per hour, payable by members too. The entry fee for non-members is £6.20 (adults).