If you've been following my blog in the last couple of months, you might have seen that my husband and I were in the process of renovating the spare bedroom and turn it into our new home office. We've discussed a lot about how our home office should look like, even before we've started clearing up the last office we had. That one was suitable for how we used the space previously, but things have slightly changed, and now we need something else. Talking so much proved to be great, as we are both very happy with how the office turned out.
We've changed the carpet with laminate flooring and installed new skirting, redone the ceiling to remove the artex (we both find artex horrible and were very eager to take that down), paint again the walls. That was what we did to the room, but the furniture was the most major change, as you will see soon.
This is my desk. It was made by my husband with some "help" from the dog. I wanted a big desk with lots of drawers, and plenty of storage space. I'm also very happy with the chair. It makes a statement. Not only that the chair is great for my desk, but is also very me. I just love my new desk.
On the desk I have a picture of myself and my husband, taken recently, to mark our wedding anniversary.
The top of the desk looks like an abstract painting. It wasn't very easy to create, but all the effort was worth it. I just love looking at the desk. It's not only a place to work, but a place I can enjoy and be happy when I'm working.
I found the chair at Home Sense and they were asking a high price considering that the paint on the legs didn't look its best. It was a brown colour and it had marks on it. The lady from the shop offered us a whopping £6 discount, so we passed on the opportunity. It was too early for us to buy the chair, but with a bigger discount, I would have taken it.
But, in a few weeks, when the desk was almost finished and everything else in the room was in place, we've seen the chair much cheaper. It went through their final reduction process and I got it with the price I was willing to pay. Of course, the legs were painted with a high gloss black paint, as I always intended to do.
It has so gorgeous details, like this handle. I love the legs as well, as the ones from the back are at an angle, while the ones in front are straight. This is exactly how I wanted my chair to look like.
I just had to share another close up with my desk. I'm going to use this surface to take pictures for my blogs as well. Maybe pictures of books and, of course, of make-up and cosmetics and it seems the ideal background for this sort of items.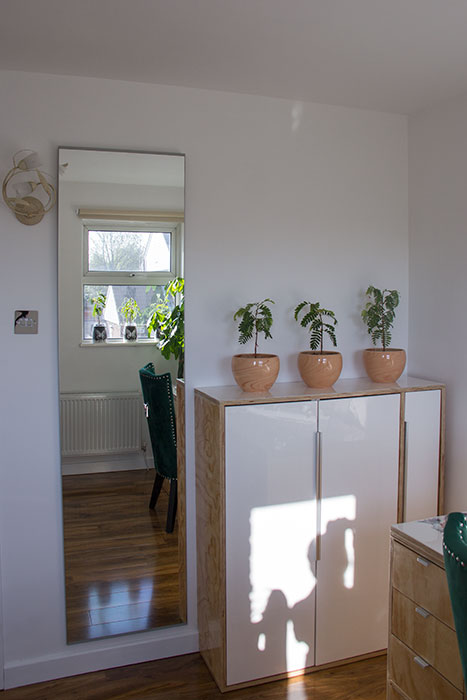 This is another amazing part of the room. I have a tall and thin cabinet and a full length mirror. The mirror makes the room look bigger and it is very handy as well, when we are getting ready to go somewhere and we need two mirrors.
The idea of this cabinet was to make a transition between my all natural wood desk and my husband's desk, that you can see in the next picture, all white.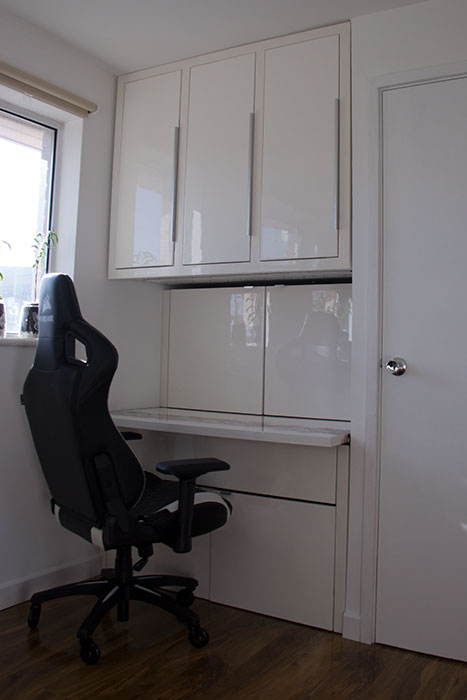 This is my husband's desk and chair. It can't get further from my own idea of a perfect desk, can it? The big drawers are very long and sturdy, almost a metre in length or 3 feet. The furniture is fitted in the wall and that proved to be a bit more difficult that we've imagined in the first place. But the effort was worth it, as we have so much storage that we use for our work and, of course, we have everything clean and organized. It's great and I'm very happy with it.
My husband's desk has a similar pattern on it as mine does, but it's not the same. It's created in the same way a contemporary painting is made and you can't replicate it. We did learn a few things in creating these desk tops, while enjoying the creative process as much as we could.
We both like plants and we got a tall Pachira Aquatica or Guinea chestnut from Ikea. It looks amazing and I think it adds a lot to the feel of the room.
Besides the tall one, we have lots of small tamarind plants, that my husband grew from seed. He planted a lot of seeds, not thinking that most of them will sprout, but they did and we have loads of tamarind plants. This means it's not a disaster if one of them dies, as we have plenty of plants. Also, they do look lovely and a bit different, despite being grown from the same seeds in similar conditions.
As the window sill is a bit smaller and the other pots wouldn't have fitted in, I came up with the idea of the glass jars. I found these in Home Bargains, for less than £2 each, with those lovely butterflies on them. I think these glass pots look amazing and I'm happy I chose them.
For privacy, as we have some blackout blinds and only those, we've installed a mirror film on the windows. From outside, during daytime, people can see a reflection of the clouds, but not inside the room. In the evenings is very visible, but then we roll the blinds, if we work late, so it's not an issue.
I blogged about these plant pots before, when I talked about how we picked the one that would be more suitable for our office. I think these look fab, I'm really pleased with them.
The lights for the room were a huge topic of discussion between my husband and I. He wanted something minimalist, but that might not surprise anybody if you look at his desk. I wanted something organic and creative looking, again, that might not surprise if you look at my desk. In the end, I convinced my husband to go for these organic and a light ivory-beige colour. He is now pleased with them as well.
My husband needs a bit of extra light sometimes, depending on what he is doing, so he installed strips of light underneath the top cabinet. It is really good and I think this might help me as well, when I'm going to take pictures for my blog.
This is how my new home office looks like. We've spent two months designing and creating everything. I think it was time worth spending, as we made some creative designs with the desk tops, besides making the furniture from scratch. I'm loving this room. Everything is exactly as I imagined it will be and I'm so happy working from here.