As anybody can imagine, Madame Tussauds was on my list of places to visit in London. Because the price is quite high and my list is very long too, I kept postponing, until our latest trip to London. Now, after visiting the museum, I would say is worth the entry fee and also what we've paid on top of that, in the museum. They do have some offers and a lower price if you book online on their website. At the end of this post I'm giving a few tips regarding visiting the museum, if, like me, you didn't book online.
The entrance to the museum is lovely and with all the people there, it's very exciting. Madame Tussauds is made like a trail of rooms with different themes, like actors, the Royals, and politicians. I think the wax models are amazingly done, they do look life-like.
It was very busy, as you can imagine.
Before getting to the historical figures, I was impressed, but not as excited… and then it happened, Queen Elizabeth I and Mary Queen of Scots, near Shakespeare. That was the moment when I was really excited. On the other side is Henry VIII, how amazing is that.
After the old Royals, we've seen the modern Royals. It was a queue for people to take their picture with the Queen. It's something that most tourists loved doing, from what I've seen.
My husband and I loved the figures of Newton and Einstein. Of course, when we saw them, I said "Newton" and my husband said, at the same time, "Einstein", something we've joked about on our tour.
I had no idea Theresa May has her wax figure. Now that I'm thinking, it must be that all Prime Ministers have their wax figures at Madame Tussauds while they are in office.
Freddie Mercury was one of my favourite figures. I've had a closer look and the amount of details is astonishing.
We've had tea and cakes at the Tea rooms. There is a table all set up with a figure of the Queen, where people take their pictures. The cakes are lovely, the service is delightful, and, of course, the Tea rooms look like the garden at Buckingham Palace, giving the impression of a Garden Party. On the walls, there are a few TV screens where Corgis run around and give a little bark from time to time. It was fun watching them as well.
We've continued with our tour. We got tickets to a special tour with actors, that is £5 per person. I think it is worth it, as the actors are so funny and the tour is interesting and enjoyable. I would definitely recommend doing that too.
There is also a cab trip through London, with displays from the history of London, like the Great Fire from 1666 and the rebuilding the St. Paul's and the guards at Buckingham.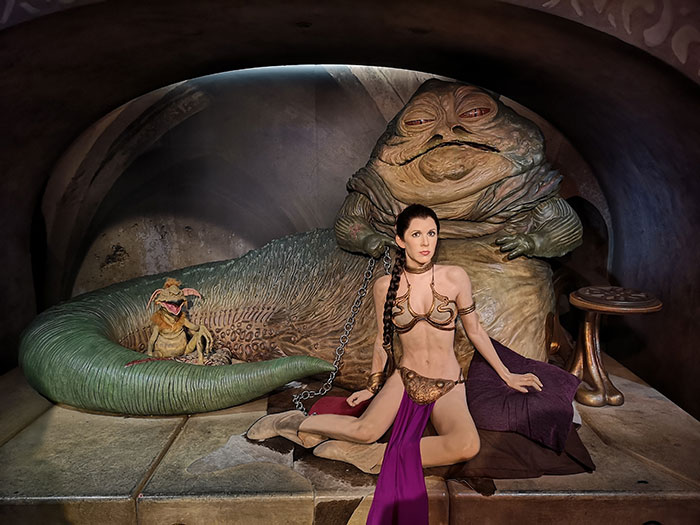 At the end there is a 4D show that was amazing.
Of course, there is a description of how the wax models are made and a short history of Madame Tussauds. It is really interesting to see how everything is built. Having a small insight makes the whole museum even more interesting.
Now is time for the tips. As you can see in this picture, the queue was huge. Our mistake was to arrive too early at the museum when we didn't have tickets bought online. My suggestion is to get tickets online or don't go there around 10am. When we left the museum, at around 12pm, there was nobody waiting outside in the queue. So, save your time by arriving around lunch time. There are plenty of things to visit near Madame Tussauds, like The Wallace Collection.