Yesterday my husband and I attended Maker Faire. It's a fair that had over 300 crafters, coders, DIYers and garden shed inventors from UK and abroad, people who love to make stuff and who want to share their passion with others.
The original Maker Faire event was held in San Mateo in 2005. Last year, when it celebrated its tenth annual show there were 1,200 makers and 145,000 people in attendance. There are over 20 other Maker Faires around US, Berlin, Paris, Rome, Tokyo. Beside this, there are over 120 Mini Maker Faires organized independently in United States and around the world. The one that we attended is the main Maker Faire in the UK.

The 2-days event took place at the International Centre for Life, a science village in Newcastle upon Tyne. It was quite far from us, a little over 3hrs drive. I'm so glad we attended as it was a lovely show. We had fun and we also came back with some ideas for future projects.

One of the things I loved at the show were the 3D printers. They are not as expensive as the ones I saw before and their size makes them ideal for a home office. While my husband thinks we can send the artwork for printing, I think it's better to have our own. I told him that we have a printer at home, so why not have a 3D printer as well.
This and the laser cutting machine were the things I wanted to buy and I'm still considering them. You might never know when you need something like that.

These tyres were made at a 3D printer. I think the 2 sets of wet and slicks are amazing. Any F1 fan would want one of those or at least I would.

This is the same dress, on the left it's the picture without flash and on the right I used the flash. The project is called Sun-Dress for the Yellow Giantess, made by Helen Schell.

I was aware the show is a family-friendly event, but I wasn't expecting so many kids. They were doing lots of things and seemed eager and interested. It was lovely to see them.

This is a driver-less car with stained glass panels and a bed inside. It was designed by Dominic Wilcox and it's a handmade prototype.

Wall-E! I loved the movie, I think I saw it 3 or 4 times.

This is a huge drawing machine.

I love mice, so a robotic mouse obviously caught my attention.

Hubby was challenged to balance a lot of nails on a head of another nail. It was funny to try to solve the problem, I'm not giving away the solution, it's a great party trick (the solution is in the film).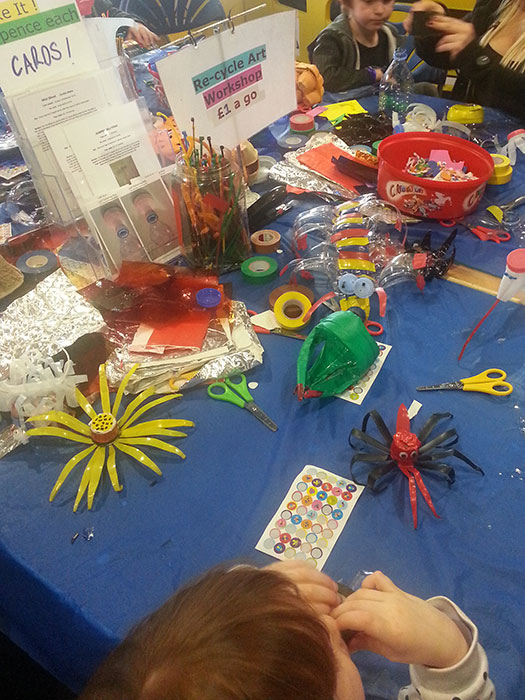 There were plenty of hands-on activities. At this stand, the little ones were taught how to make puppets and toys from plastic bottles. The maker, Caroline, holds family recycle art workshops.

This basket is made from old tyres.

Outside kids (and not only kids) were having fun with soap balloons.

Lords of Lightning had a few representations during the faire. It was amazing to see them, really impressive. They are in the movie I posted, so have a look.
I attended Maker Faire free of charge for the purpose of this review. All opinions are my own. I wouldn't have blogged about it if both my husband and I wouldn't love to visit it again next year.