Imagine my delight when I was asked to sample the new, special edition cake at Patisserie Valerie. The cake is called Madame Valerie Gateau and it has a chocolate sponge and caramel cream with bits of honeycomb; how could I have said no to this? Especially after I mentioned that Why I'm Never going to say No to Cake. That being said, yesterday I was on my way to Patisserie Valerie at Metquarter, Liverpool. I finally met Sophie from sophiesvoice and it was lovely. We talked about a blogger meet-up or just going together for coffee.
What can I say about the cake? Well, it's delicious! I don't like overly sweet desserts and this cake has exactly the right amount of sweetness. The flavours come through and the addition of the bits of honeycomb are fab. This is the slice version, a little different from the gateaux. The gateaux has White Chocolate and Salted Caramel Truffles, while the slice version has choux filled with caramel cream.
On arrival at Patisserie Valerie, I spotted these delicious looking tarts, all ready for us to try. I had a small piece of a raspberry tart and it was so good. The fruits were so fresh and the custard was perfect.
I had a chat with the Head of Marketing and Content and I was surprised to hear that all the cakes and desserts are made by hand in one of their 7 bakeries. When it comes to chains, I must admit that I think they might use machines, so it was so nice to hear they don't and that everything they bake is made by hand. I'm a big supporter of handmade, local and fresh food, so I'll make sure I'm stopping at Patisserie Valerie more often in the future. My husband said he wants to try the cake and we should hurry as this special cake is a limited edition and it will be available only by the end of April.
The cake also has a lovely story behind it, as it was the winner of a competition organized by them. After tasting the cake they said it should be sold in the patisseries. I think it was a great idea.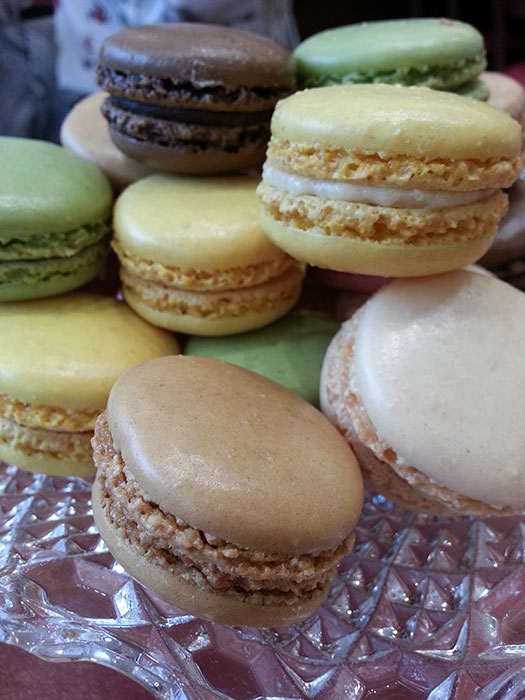 The macaroons, I love these macaroons. I had only one, as I had the slice of cake and some tart too and it would have been too much to have 2.
Will you try the new cake at Patisserie Valerie?