Today is the last day of the Tall Ships Regatta that took place this weekend in Liverpool, on the docks. It's a recurring event, but in the last couple of years I haven't been to it. I'm glad I did go this year. It was a lovely day out. More details about this event can be found on cultureliverpool's website (cultureliverpool.co.uk) and on The Three Festivals (tallshipsnetwork.com). It's great that we've had this only a few days after LightNight.
I love seeing this Tall Ships, they look so slender and gracious and beautiful. As someone who appreciates history a lot, I prefer the older versions of ships. I find them romantic. It's lovely to see them back on the docks, as similar ships were docking here during the Victorian age.
Because the event is huge, I'm going to share a few highlights.
Sailors were singing and a lot of people were enjoying their traditional songs. It was quite busy in that part of the docks.
Message in a Bottle by artist Lulu Quinn. It is a sculpture that was floated into position. We all know the problems with single use plastics and, in general, with how much plastic we are using and throwing away. The giant 26ft (or 8m) bottle is created from single use plastic bottles. On them are messages written by schoolchildren, regarding the environmental changes we need to make to tackle the plastic pollution. After the event, the bottle will make its own journey on the Bay of Biscay to Bordeaux, aboard a Tall Ship, La Malouine.
The Ship's Cat and Super Rat, created by artist Faith Bebbington. She used recycled waste materials to realize these four sculptures. Only the cat is made from around 1,000 reclaimed milk containers. Those were collected by staff in Liverpool, in Cunard Building. All are cut by hand by the artist, then shaped with chicken wire and glue. The cat is 15 feet long.
I loved those smaller mice. The one on the left is so cute.
You can go to see Tall Ships without bumping into pirates.
We've also attended an Irish dance show. The girls were very cute. I've enjoyed watching them dance.
As a child, I've been in a dance group, organized at school by our Turkish librarian. None in our group were Turkish, but we were all excited to learn the new dances and to perform too. We even had costumes and it made all of us feel special. Those are some memories I cherish from my childhood and it was lovely to reminisce. I imagine all these girls will have the same wonderful memories when they are adults.
Changing Sails by artist Julia Snowdin was another lovely display. She organized some origami workshops for children. I think that must have been fun.
These miniatures were working, if you pressed a button.
At the Tall Ships Regatta, they were quite popular, with lots of people admiring them.
The Whale is a life-size sperm whale, it's 50ft long. Children could go inside the belly of the whale to have a look. Also, 30 minute storytelling sessions were held each day. What a magnificent experience must have been for the children.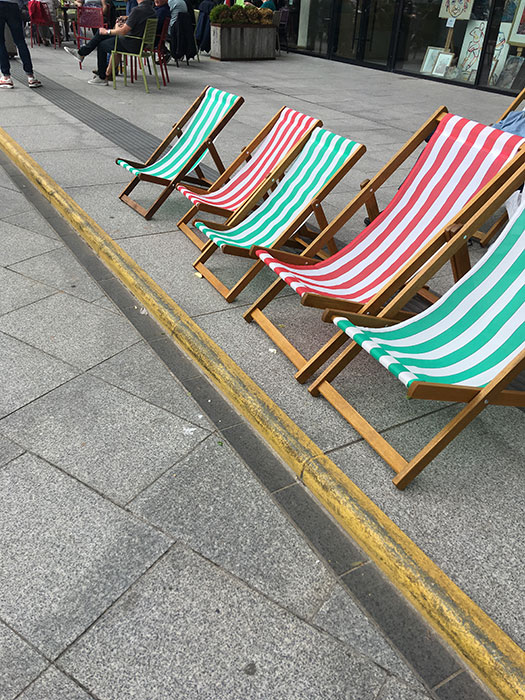 Outside the sun loungers were available for those wanting to enjoy the sun.
L'Hotel, a representation took place there a few times a day, but we didn't see it.
One of the night performances at the Tall Ships Regatta was The Sun, The Moon, and Stars. It was a large scale projection, dance show, and fireworks at the Cunard Building. We didn't plan to see it, but we've parked close and happen to be there. It was lovely, so it was great we've ended up on the docks just in time for the show.
In the show there were three regal figures, the kings or queens of the sun, moon, and stars. The costumes were beautiful, not very visible in the picture, due to the low light.
The Rising Sun by Omni Studios. This was a large scale light and sound installation. It came to life as the sun set.
Have you been to the Tall Ships Regatta?