I attended a blogger event at Vapiano Manchester a few days ago. It involved tasting different dishes while blind folded. It was so much fun!
I've been to Vapiano before, but in Stuttgart, while visiting a friend in Germany a few years ago. He liked their food a lot, as he is vegetarian too and he was delighted with the amount of vegetarian options. I had no idea Vapiano has restaurants here and, luckily, one is relatively close to where I live. I looked on their website and saw that the name is from an Italian proverb "Chi va piano, va sano e va lontano". I didn't know that. The proverb is translated as: Who walks slow will reach far and healthy. It all started in 2002 in Germany and now there are 160 restaurants in 31 countries.
I was the last one to arrive because it was rush hour and driving on the motorway was terrible (1 hour and 30 minutes instead of the usual 40-45 minutes). I missed the soup, but I was able to taste all the other dishes and they were a lot.

I was blind folded with a tie and it begun. The first dish I've tried was the STRAWBERRY SPINACH SALAD. It has fresh spinach, strawberries, goat cheese, onion, pine nuts and dressing. I couldn't recognize the strawberry. It's so strange to eat without seeing the food. I liked the salad with the strawberries, it's something I would gladly eat again.
I took some pictures of the food, but I didn't have the camera with me and they don't look realistic. The second dish was AGLIO E OLIO. It's a simple pasta dish with garlic, chilli, parsley and olive oil. I could recognize all but the parsley. I enjoyed it so much that I cooked it yesterday for my husband. It seems so simple, but it's so delicious.
I've also tried CREMA DI FUNGHI. Mushrooms with cream and white wine. My brain thought it was cheese. I would definitely recommend trying to eat blind folded, it makes things taste different.

I took advantage of the few minutes we had between dishes to take some pictures of the restaurant.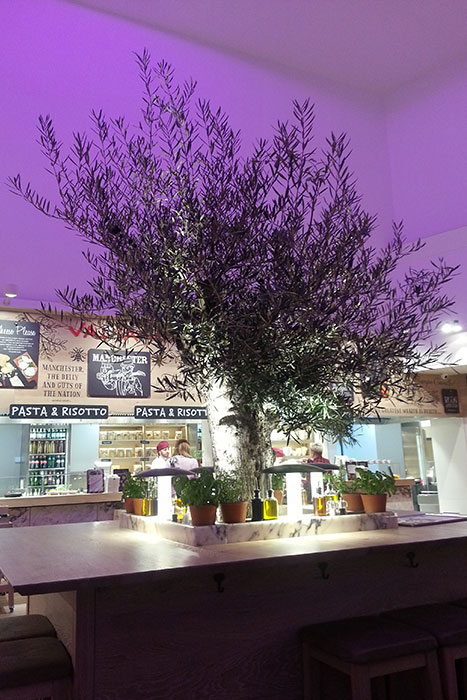 Another dish I've tried was SALVIA. The pasta dish was feta cheese, sage, sun-dried tomatoes, garlic, olive oil. I recognized the sage and the tomatoes. I was so proud of myself for identifying the sage.

These are fellow bloggers trying to unveil the secrets of their dish.
I had a delicious pizza too with lots of veggies. I think it was VERDURE. The meal ended with 5 desserts. My favourite was BACIO. Chocolate and hazelnut blended on a biscuit base, topped with chopped hazelnuts. It was so delicious. After everybody had a taste, I almost finished that dessert it was that good.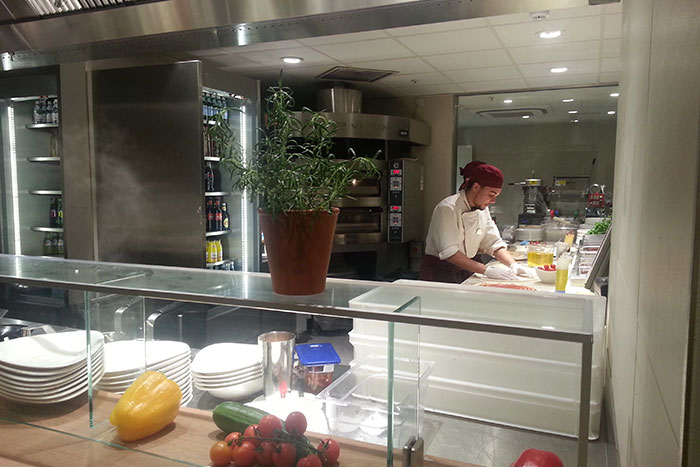 This is the kitchen, where all the dishes are cooked.

The desserts are made fresh, daily. If you have a meal at Vapiano, don't skip the dessert. Beside Bacio, I've tried Crema Di Fragola (mascarpone cream with fresh strawberries), Cioccolata Foresta Nera (layers of white, milk and dark chocolate with nutella, sponge fingers and vanilla cream); Tirimisù Della Casa and Cioccolata Bianca (white chocolate and cream on a biscuit base, topped with salted caramel sauce and honeycomb)
I had a wonderful time, the food is delicious. I can't wait to go back with my husband.