Wellcome Collection is both a gallery and a library near Euston Station. It was a place I visited quite a few times this year because I joined their library at the suggestion of my teacher. It has a medical library, which is exactly what I needed for my dissertation. On top of that, Wellcome Collection has a lovely gift shop and a big cafe on the ground floor. The library is free to join and the staff was always helpful.
The building can be seen from Euston Station. It is under 15 minutes walk from St. Pancras and British Library and 3-4 minutes from Euston.
On the ground floor is the cafe and the gift shop, alongside lockers if you have anything big that needs storing.
I've spent some time in the cafe, reading for the seminars, mostly on pandemics and disease.
This is Being Human, the permanent exhibition of the museum. It is a fascinating mix of different exhibits. I shared a few highlights below.
Transparent woman made in 1980s in Germany. People can press buttons to see organs being lit up.
This is PPE from the Ebola epidemic. The hazmat suit is vital for protecting healthcare workers, but it looks terrifying. Artist Mary Beth Heffernan took photographs of the healthcare workers at two treatment centres and stuck the photo on the PPE. It changed how the patients reacted. I loved that story.
Last highlight is this wonderful looking artwork. It represents bacteria, recreated in paper by Rogan Brown.
Objects in Stereo is a temporary exhibition, still on until 23 April. This was created by British photographer Jim Naughten.
One needs 3D glasses to see the stereoscopic images. There are many glasses, more than enough for everybody visiting the room. They are made from wood, so a bit heavy, which adds to the experience.
These two pictures are of an angle, one of two, which supported a metal pharmacy screen for hanging weighing scales. It was bought by the museum in 1912, but now it is in storage because the hands have cracked and need protecting.
The Reading Room is open to the public and not only to library card holders. There are comfortable chairs and many people study or work there.
On the stairs one can sit on a huge pillow and read. I did that. It's fun and relaxing.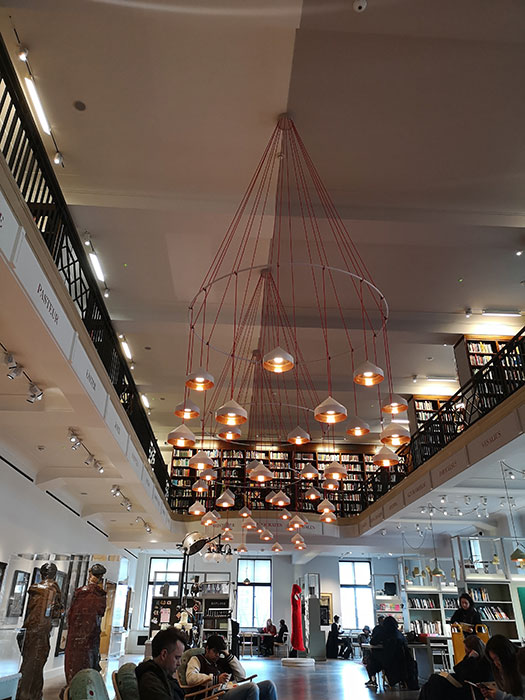 There are books on display, other artefacts, and interesting paintings. So it is worth a visit even if you don't plan staying to do some reading.
The library is free for everyone, regardless if they are studying or working in an university or just the general public. A library card can be easily made and there are rows upon rows of books to explore.