I hope you all had a wonderful time this Christmas. We've celebrated like we did in the last few years, at home, enjoying our presents, eating delicious food, listening to the Queen's speech, and watching movies/reading books. I blogged about the food I prepared on my cook blog, in a post called almost vegan Christmas because it was like that. Only the Christmas cake and an artisan gin were not vegan.
This year, at my husband's suggestion, we got matching pyjamas instead of matching Christmas jumpers. We do have a few of those and we wear them once a year, but we will wear the pyjamas more, before Christmas, next year. So I'm very happy with them, especially with the fun messages they have printed. The pyjama works lovely with the elf slippers I got last year or the year before that, can't remember when exactly.
I want to start with the advent calendar. It was the first time I got an advent calendar like this, the Dream Big Advent Calendar from the Body Shop. After opening the boxes in the morning, I put the item back in the big box, on display. Festus loved sniffing them, each morning having a look. He was funny. I used some of them, and put them back there, because I liked looking at them.
There are only three items I wouldn't have bought myself, so I'm really pleased with the advent, and I'm going to get it again next year.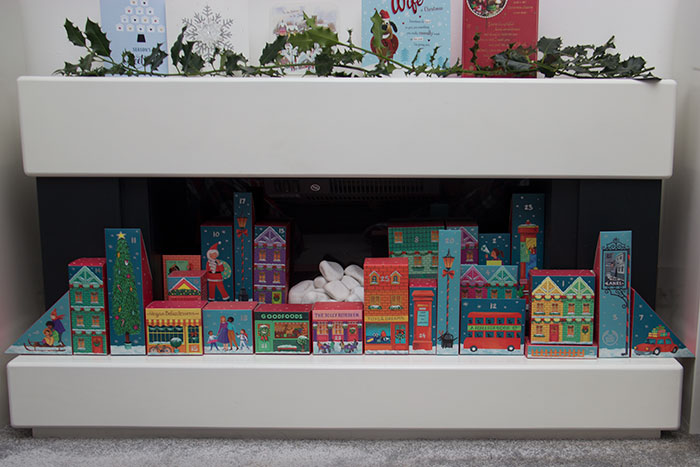 Making this town with the boxes from the advent calendar was so much fun. I've really enjoyed adding to it each morning too.
These are our Christmas gifts. I'm so pleased with everything I got. My husband thought a lot about what to get for me. The lilac MiaTui handbag is just perfect for going to University. I already have a MiaTui handbag that I'm very happy with it. My husband also got a Kat von D lipstick for me, exactly like the one I have and which is almost empty now. It might not come as a surprise that he also got a Body Shop set for me, the pear one, as I bought (and almost used up) the rich plum one.
In a post from a few months back, I wrote about the Highland Titles. For Christmas I got a wool stole with the tartan colours of Glencoe. I'm so happy with it and I can't wait to wear it. I also received some books, before Christmas.
Among other gifts, I got these for my husband, a Cat Cafe gift voucher (two, because I wasn't sure the one I bought online would arrive on time for Christmas, so I went to their cafe and got another one, just in case) and batteries. In December, when we were talking about gifts, I told my husband that I got cats and batteries for him and we laughed about this a few times. He had no idea that I was telling him the truth and I did actually bought cats, well… in a way, and batteries for the drone. He was sure I wouldn't get a drone for him as I was so opposed to this idea of getting one, as the dog might eat it.
As I mentioned the dog, here are a few pictures of him, opening his Christmas gifts. We also opened one before Christmas, on his gotcha day.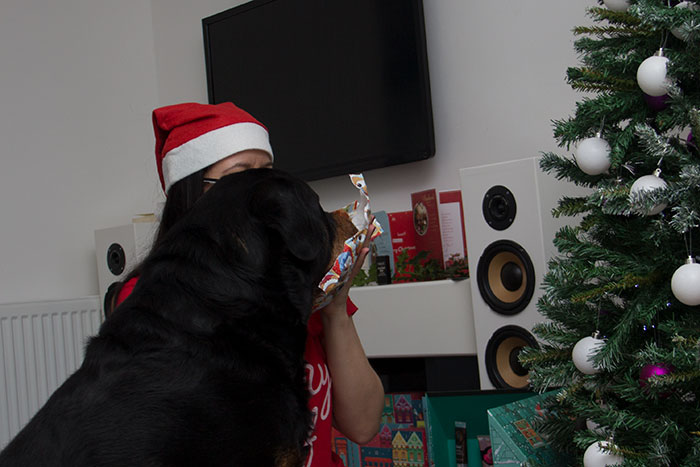 He is very impatient and loves the whole unwrapping thing we do.
I showed him all the treats, for him to decide which one is more interesting.
He sniffed all of them.
Before picking the best one.
Now he is enjoying them.
I've decorated the table with a bit of holly and some cute pot-pourri. I shared the link to the Christmas menu at the beginning of the post, so make sure you check it out if you are curious.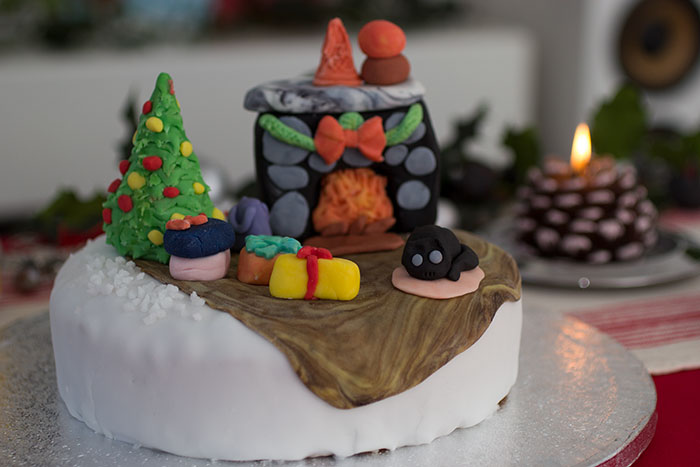 This is the showstopper, our Christmas cake. I think it turned out great. We always have so much fun making these fondant decorations. The cat is surely very appropriate, considering the gifts. My husband made it.
This Christmas I wanted to have some special drinks and this is why I got Toast ale. I love the story behind the brand. The ale is made with bread that would have ended in landfill or burned, instead is used for making ale. The profits are donated to charities, making it a very worthy drink to buy. I like the taste too and it's vegan. Besides I got some vegan cider, wine, and the artisan gin you can see on the left of the picture, with cream in it. I didn't realize that when we bought it from the stand, but well, that's it.