The Vegan Kind has two boxes in August, both lifestyle and beauty. This month they arrived in time and I am pleased with what they had inside too. I'm very happy with both.
I got the subscription almost an year ago and, overall, I am happy with them. Some months are better than others, I loved and purchased some of the items, while other items I didn't for a reason or another. Considering that the point is to get to try new things, I can't recommend these boxes enough. The price for shipping will increase slightly, under £1, so these will still be great value for money.
The Vegan Kind. August lifestyle box:
Pea Pops Smoky Barbeque 23g RRP £0.99 – These chickpea crisps sound really good and I can't wait to try them. As these are popped, not fried, they have 60% less fat than regular crisps.
Love Raw Cre&m Wafer Bar – Salted Caramel 45g RRP £1.69 – I didn't expect to find this in the box, but I was very eager to try these new wafer bars. I love their other 2 flavours and bought loads of them. Now, after having this one too, I know it will be even harder to decide how many to buy from Love Raw.
Peakz Cookies & Cream Crunchy Chocolate Squares 32g RRP £1.19 – really delicious. I like these a lot. Made using Rainforest Alliance Certified Cocoa and no palm oil, Peakz are sustainable and ethical too.
MiiRO Dessert Chocolate Bar, rich in coconut 80g RRP £2.50 – I haven't tried this yet, but I am looking forward to.
The Cheeky Panda Wipes RRP £1.49 – biodegradable bamboo handy wipes. I am yet to try them.
Real Handful Sea Salt Caramellow Planty Protein Bar 40g RRP £1.20 – This was good, as all the Real Handful products I've had before.
TRIBE Active Oats+ Raspberry Nut Crunch 60g RRP £1.50 – This is perfect for a quick breakfast. I usually have a consistent breakfast, so, for me, this is more suitable as a snack before lunchtime.
Rubio Extraordinas Roast Chicken and Lemon Flavour Crisps 125g RRP £2.75 – These taste like chicken. It's incredible how realistic the taste is. I shared them with Festus as my husband is not keen on this particular flavour. Festus loved them though.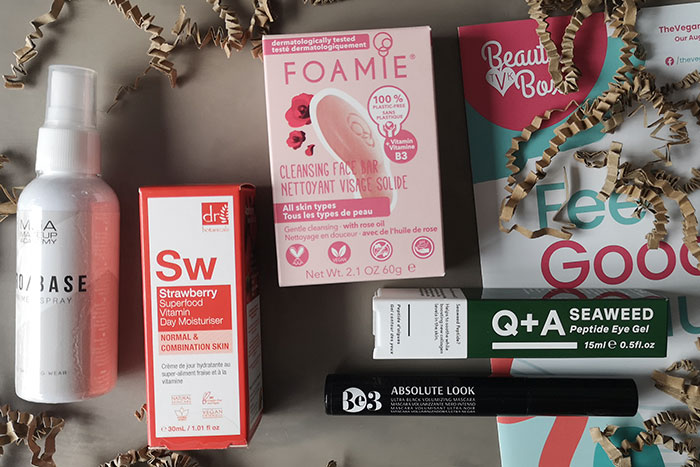 The Vegan Kind. August beauty box:
MUA Makeup Academy Pro Base Primer Spray 70ml RRP £4.00 – it is used for locking in moisture and aiding makeup application. I am not using a primer at the moment, at least not regularly, but this will change soon so I will use this primer starting from next month.
Dr Botanicals Strawberry Superfood Vitamin C Day Moisturiser RRP £14.90 – This is a light cream that gets absorbed quickly. I've been using it for a few days and I am very happy. I can't say that I noticed any difference, but I am using good quality moisturisers for years, so I am not expecting to see differences anyway.
FOAMIE Rose Oil Face Bar with Niacinamide RRP £5.99 – I am looking forward to using this too, after I will finish the cleanser I am using right now.
Q+A Seaweed Peptide Eye Gel 15ml RRP £6.50 – I will start using this in the next few days, as the eye gel I'm using now is almost finished.
Be3 Evolution Absolute Look Mascara RRP £14.99 – One can never have too many mascaras, isn't it?
Lifestyle boxes are between £8 and £10, depending on the subscription, and £3.95 for P&P. Every month they give a donation to a charity and in August they picked Villa Kitty Foundation. It is a rescue and adoption centre for cats and dogs in Bali.
Beauty boxes are between £12.75 and £15, depending on the subscription, and £3.95 for P&P. The beauty boxes are every other month. They give a donation to a charity and in August they picked Animal Free Research UK, again, just as in June.