Today is time for The Vegan Kind post of the month, with the April boxes. As usual, I'm so excited to receive these boxes. As the beauty box is every other month, April is the month with two boxes, yay!
What's a bit strange about the deliveries is that they do not arrive at the same time, but a day or two apart. As I never have the patience to wait for the second box, the pictures are slightly different, depending on the lighting on the day. I take the pictures on the table in the living room, as I aim for a consistent background at least.
The Vegan Kind. April lifestyle box:
Family Secret Garlic and Red Chilli Flavour Proppadoms 25g (RRP £1.00) – I love poppadoms, and also, how funny is the name?
Nomo Hazelnot Smooth Chocolate Bar 38g (RRP £0.90) – Nomo is delicious, a brand I've bought before and that I will buy again. The filling was really nice too.
Lotus Biscoff Cream Sandwich Biscuits 150g (RRP £1.49) – my husband likes these, so he was very happy to see them in the box.
Nuts For… Punchy Smoked Paprika 35g (RRP £1.29) – again, a snack we both enjoy.
Urban Noodle Thai Green Curry Noodles 330g (RRP £2.35) – my husband thought it's hilarious for me to receive noodles as a student. I haven't had these noodles yet, but I will on a day when I have a seminar, of course.
Candy Kittens Tropical Mango 54g (RRP £1.20) – sweet and sharp, I liked these a lot.
Dormen Fruit Snacks Strawberry and Banana 40g (RRP £1.49) – are good, just the kind of snack I like for when I'm away. This didn't happen too often in the past year, but we are getting ready for more days out and trips in the next months.
PAWPAW Age Renewal Hand Cream Naturally Fragranced 30ml (RRP £6.95) – this is a really lovely hand cream. I like that it doesn't have any fragrance and it is very good, I would buy this.
Overall the box was great, I liked everything I tried so far, and it is good value for money.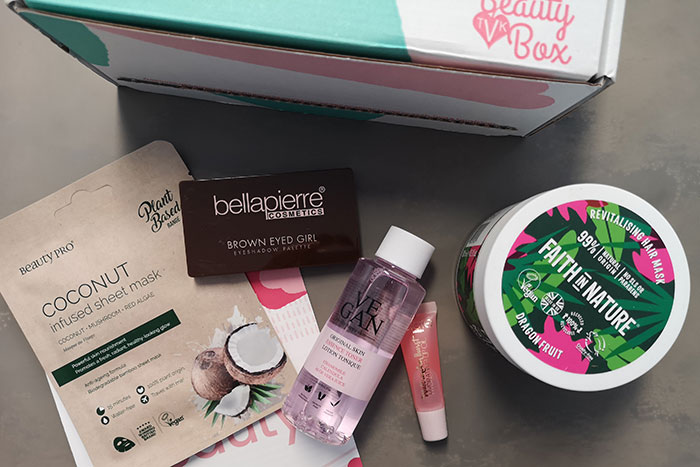 The Vegan Kind. April beauty box:
Vegan by Happy Skin Essence Toner 100ml (RRP £34.99) – I already use a toner, so I'm yet to try this. That being said, I think it's expensive and I wouldn't buy it again.
Faith in Nature Dragon Fruit Hair Mask (RRP £6.99) – This is just what I needed. I've used shampoo and conditioner from Faith in Nature and soon I will use this hair mask too. It's a fab vegan brand.
Ciaté London Watermelon Lip Oil Deluxe (RRP £7.00) – I used their nail polish many times and I was very happy with it. I am yet to use the lip oil, because I have 4 lip balms already open. When I will finish one of them, I will try the oil too. I'm very excited about this product.
Bellapierre Cosmetics Brown Eyed Girl Eyeshadow Palette (RRP £28.99) – has 4 colours in brown/cream range, which is similar to what I wear. It looks cheaper than it is due to its case. I might change my mind after using the product though. Because we are still mainly at home, I am yet to use it.
BeautyPro Coconut Infused Biodegradable Sheet Mask (RRP £4.95) – I just love sheet masks, so I was very happy to find this one in the parcel. The price is similar to other sheet masks, so that's perfect too.
I am happy with the box, even if a couple of items are a bit overpriced. Let me reiterate that I'm yet to use them, so I might change my mind.
Lifestyle boxes are between £8 and £10, depending on the subscription, and £3.15 for P&P. Every month they give a donation to a charity and in April they picked Hattie's Hedgehogs.
Beauty boxes are between £12.75 and £15, depending on the subscription, and £3.15 for P&P. The beauty boxes are every other month. They give a donation to a charity and in April they picked Animal Free Research UK.