I didn't imagine that in late October I'm going to make a garden update. A few months ago I shared pictures with my newly refurbished garden. Now many of the flowers are still in bloom, while the passiflora got much bigger. We still have lots of bees flying into our garden. I just love it. I think next year I'm going to make a monthly update of the garden. Enjoy the pictures!
This is my herb and veggie garden. I harvested all the salad and didn't plant any more. I bought some top soil and compost to top up the raised beds, but it seems that I will need to wait a bit longer to do that.
This is my Apache potato plant. I planted 2 small apache potatoes when I made roasted potatoes last time. It grew immensely! I had no idea that it will grow like this, without any food plant. I can't wait to harvest the potatoes for Christmas.
This made me buy a growing bag and I will plant some more potatoes in January, maybe one or two from the Apache harvest, if the plant is making potatoes too and not only huge leaves.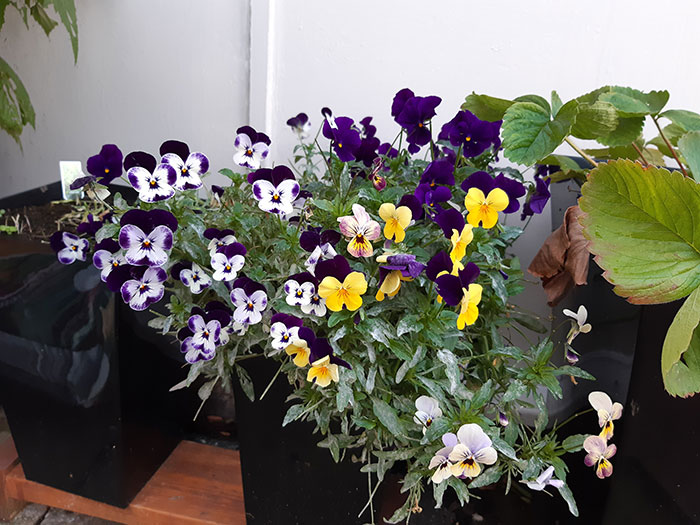 After I said that this will be my last pansy harvest and cut off all these flowers to use and freeze, I noticed today that there are a few more flowers in bloom in the pansy plant.
The raspberry plant is growing lovely after I replanted it. Something is eating from the leaves, but I don't use any insect spray or anything. We still harvest 2-3 raspberries every few days, so I can't complain.
The cherry tree is not looking as great as the apple or the fig, but I imagine it will recover nicely in the Spring.
Next month I want to plant some bulbs, but I will have to see when is the best time to do that, as I don't want to disturb the existing flowers too much.