Hall's Croft is a 17th century house in Stratford-upon-Avon, Warwickshire, home to William Shakespeare's daughter, Susanna Hall and her husband, Dr. Hall. This was the last house we saw in Stratford-upon-Avon, along with Shakespeare's Birthplace and Shakespeare's New Place and Shakespeare's Grave. The house can be visited with a joint ticket and it's very interesting even if the main reason to visit Stratford-upon-Avon is to see where Shakespeare lived and worked.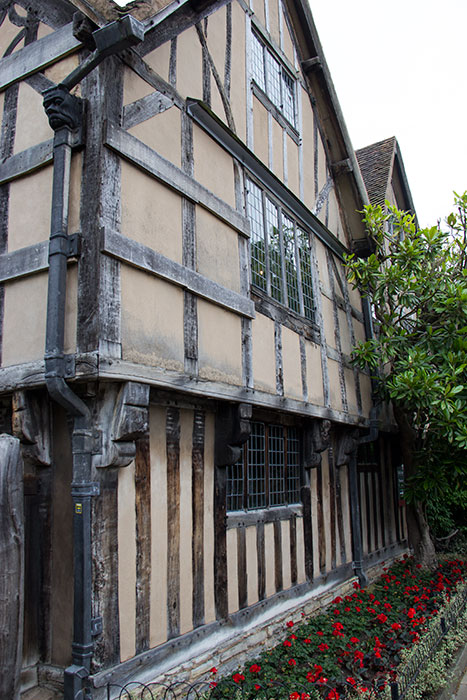 The timbered house was built in 1613. It was home to professional people before being a small school in the mid 19th century. The Shakespeare Birthplace Trust purchased Hall's Croft in 1949 and after repairs it was opened to the public two years later.
The house is gorgeous, like all houses from that period.
John Hall was a well known doctor. His case notes were published after his death in 1657 and they were a popular textbook for other doctors for many years. Dr Hall was a compassionate physician. He would treat both rich and poor, Catholic and Protestant patients. Some physicians at that time thought astronomy or blood-letting were good medical practices, but Dr. Hall preferred treatments made from plants, herbs, animal extracts, gemstones and rocks.
Dr. Hall travelled to treat patients in their homes. His practice covered around 2,500 people. This room is made to look like a dispensary from where Dr. Hall would purchased medicines. Medicines were made from herbs, mixed, boiled, all kept in colourful jars.
The Anatomy of Melancholy by Robert Burton, 1676, London
The book was published in 1621 for the first time. It was a comprehensive study of melancholy, that was fear and despair without obvious cause. The book was published in 5 more editions in Burton's lifetime and is still considered a major early work on the science of the mind.
I was looking for some medical equipment, as you can see.
This one looks very medical indeed.
In that room there are plenty of information about the medicine practiced at that time. It was really interesting to read about it.
In the 16th and 17th century the knowledge about the body was much better than before, especially in Italy. In England the knowledge lagged behind. But at the University of Cambridge, the Company of Barber Surgeons and the Royal College of Physicians would get corpses of executed criminals for research. In the time of John Hall it was believed that the body was controlled by a humours, a collection of fluids: yellow bile, black bile, blood and phlegm. Those could create an imbalance which would lead to illness.
The imbalance could be provoked by climate, emotional upset, movement of the planets. For treatment, doctors would recommend vomiting, sweating and similar things. While priests, if doctors weren't available, would obviously recommend repenting their sins.
In 1628, William Harvey published Exercitatio anatomica de motu cordis et sanguinis in animalibus, in which he revealed that blood was pumped in a continuous circuit around the body by the heart.
The garden is lovely too.