This year I was lucky to get tickets for the BlogOn Conference, held at Museum of Science and Industry in Manchester. Last year I wanted to attend the conference after I heard about it at a blogging event, but it was sold out (a couple of months before the event I might add). The BlogOn Conference is organized by Laura from tiredmummyoftwo.

This is a picture from the lunch break, I was excited talking with the brands and other bloggers and I didn't take that many pictures.

I looked over the schedule, but didn't made up my mind until I got at BlogOn. We all got this cute notepad and a matching pen and we were ready to learn.

The first session I attended was "How to make your blog attractive to brands." I found it interesting, although I didn't agree with everything was said. The other session was Photography Technical with John Arnold. I said I'm going to spend more time learning photography, but my knowledge is quite basic, so I thought I should learn a thing or two before attending a photography session.

For the second session I had to chose from Photography Creative with Charly Dove, SEO 101 to beginners with RMS PR and Earning beyond the blog with Emily Leary. I'm past SEO 101, so I had to chose between the photography creative and earning beyond the blog. As I have a thing in mind I've attended the second session. It wasn't specific to what I had in mind, but it was interesting and informative. Emily was bubbly and friendly, I enjoyed the session.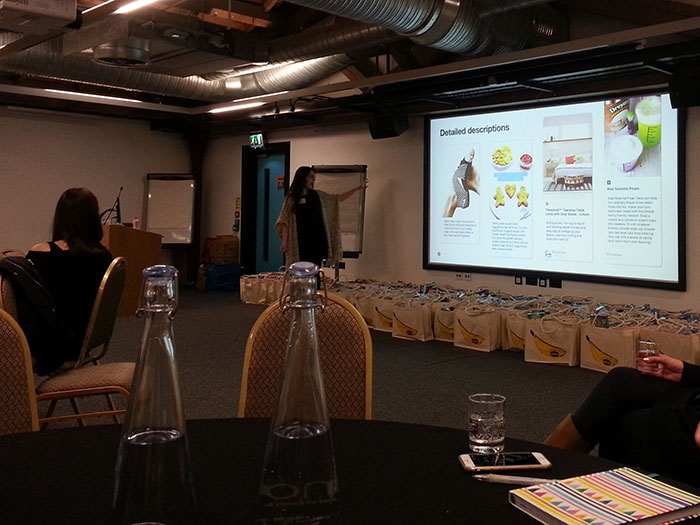 For the 3rd Session I had to chose from Pinterest 101 with Elizabeth Sellers (she blogs at rosalilium), Monetisation with Type The Hype and the last option was Design and branding with Conker communications. I decided to go to the Pinterest 101. I follow Elizabeth's blog and she is lovely. I also think I should spend more time on Pinterest for my food blog. The session was so interesting, I learned a lot of things and I understood how Pinterest works. I will definitely spend more time on it in the next few months, after I make a plan.
4th Session included Pinterest advanced with Elizabeth, Content Ideas that Inspire and Hosting competitions. Pinterest advanced was too much for me, I'm still a beginner and I don't host many competitions. I went to the content ideas session. I learned a few things from this session too. I had a few ideas after the seminar was over, so it did what it was supposed to do.

The last session of the day were Youtube and Photo Walkabout with Charly Dove and John Arnold. It wasn't something I was interested in. I'm not a fan of youtube and I didn't have the camera with me. So, instead of attending the last session, I went to the craft den, hosted by Black Sheep Wools. I did this, is called English Paper Piecing, a traditional style of patchwork. It was relaxing and easy to make. Of course I had some ideas like using a piece of hard fabric instead of the paper, so I don't have to take it out. It was fun. They have workshops of knitting, patchwork, crochet; they stock fabric, wool and tearooms.

We had cake.

This is what I won at the raffle, a handmade wine bottle and 2 glasses holder. I saw it before the conference on the Facebook page and I thought is so sweet.
There were 3 goodie bags!

This is the food goodie bag. I liked the Yushoi rice sticks, they are lower in calories than normal crisps and with lots of fibres. Real handful snack was delicious too. The rainbow drops reminded me of my childhood, as I had those as a kid. The almond bites from Elizabeth Shaw were yummy too. I didn't get a chance to try the rest, but I will and most likely I will mention them on social media. I also had a bottle of fruity wine from Echo Falls.

In the second bag I found lots of interesting items and some vouchers. I love the handbag, the plastic jar that I'm going to use this week (more about that in another post), the un-fortune cookies.

The goodie bag for kids has lots of interesting things too. I'm going to give as presents the ones that I can't use or I might do a giveaway with them. The bananagrams is fun and I'm going to try the game this week.

I made a selection of 12 items that caught my attention. There are many more things I loved on the goodie bags, so have a look on Twitter and Instagram as I'm talking about them.
The selection I made includes: Miatui Clutchbag (purple ultra soft faux leather), Yushoi rice sticks, a bubble making toy, the bananagrams I mentioned earlier, ORS Hydration Blackcurrant 12 Tablets, unfortune cookies (delicious), the orange chocolate Freedom (I love the brand, used it before), a vegan lip balm, rainbow drops, plastic jar, Real handful and Elizabeth Shaw chocolates.