The new special exhibition at Sudley House is Model Image Fashion and photos from the 1950s. Last year I've been to another exhibition at Sudley, on the 1930s fashion. In London I saw the 1920s exhibition at Fashion Museum.
I find it fascinating to see how much fashion has changed in such a short period.
Model Image Fashion and photos from the 1950s started only a few days ago, on the 20th April. The exhibition is about one of the top British models of the 50s, the Liverpool-born June Duncan.
She was born in Mossley Hill, Liverpool, in 1924. During her career, she went on to model clothes for all the major couture houses, both in London and Paris. In the 1950s she appeared regularly in the pages of Vogue, Vanity Fair, Harper's Bazaar, and Tatler.
The exhibition starts from June's rise from a child actor on stage at Liverpool's Empire and Playhouse theatres. It goes from the wartime service in the Women's Royal Naval Service (WRENS) to cover girl.
A detail from a stunning evening dress, made by Tina Berlyn in London, around 1955.
A summer stunning evening dress is from about 1950.
She was a nervous child. A specialist's advice was for her to take up dance lessons to increase her self-confidence. She had a natural talent for dance and in an year she passed two ballet exams with honours. At the private school she went to, the headmistress organised school plays. She enjoyed taking part in them.
June studied ballet, tap, modern dance, singing, and piano. When she was 15, the war was declared. Her parents sent her to live with a doctor and his family on the Isle of Man. She failed her medical twice for being underweight, but, at 17, she joined the Women's Royal Naval Service. After the War, she went to London with the plan to become an actress. She didn't enjoy it as much as she thought, so she started her modelling career in 1948.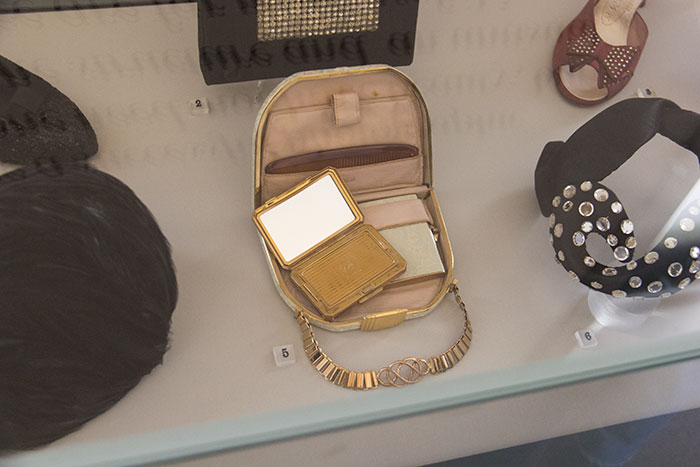 This is an evening handbag with a cigarette case and a powder compact.
This two dresses are stunning. I like the one with the bow a lot. It was bought from Bon Marche in Liverpool, in 1959 or 1960.
I'm very keen on the 1950s fashion. I love these dresses.
The Ball gown is handmade with silk, by Jean Desses in Paris, 1955-1956. Jean Desses was a very successful designer in Paris. His clients included European royalty and movie stars.
This evening dress is made of rayon and silk chiffon. The dress is a Jonelle, a own-brand merchandise made by John Lewis.
June was named one of Britain's top ten fashion models in 1952. After ending her career as a model, she moved behind the camera and worked as an assistant fashion editor at Harper's Bazaar. After retirement, she moved to Sidmouth in Devon, becoming a theatre critic for the local newspaper. June Duncan died in 2014.
The Model Image Fashion and photos from the 1950s exhibition is free of charge. Sudley House is on Mossley Hill Rd, Liverpool, L18 8BX. There is a small free car park and parking spaces on road, nearby. See more details about Sudley House on their website (liverpoolmuseums.org.uk).