Yesterday we went to feed the birds. The weather was fab all day, except while we were feeding birds in the park. Anyway, we had the spare time and we had the food prepared, so we went to the park. Hubby thought he will treat the birds to peanuts and I bought the cheap mix of seeds that I usually buy. It turned out that my seeds were more appealing than hubby's choice and none of them were as appealing as bread.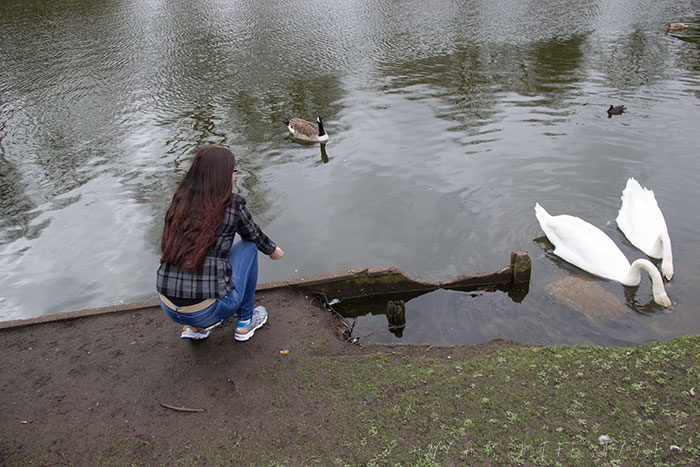 The swans were so cute, they were eating the small seeds with a huge appetite, on Instagram I posted a short clip with them.

The pigeons were eating anything, as usual. I think they are the most unfussy birds that I feed, they had seeds and peanuts and they also eat breadcrumbs. "My" pigeons, the ones that had 3 baby-pigeons in a nest in the neighbor's garden, are back for this year, they looked at their old nest. It was funny to see them "assessing" the situation to see how they can improve their house (we all go through this as home owners). I feed them now some pellets with fat in it, it's sort of the beef fat, not very pleasing from my point of view, but delicious from their point of view.
After feeding the birds, we walked around the lake and saw lots and lots of sleeping birds. I think they were ready for a siesta as it was the middle of the day. I like the Greenbank Park for feeding birds, it's not as busy as the well known Sefton Park and it's pretty much the same distance from us. We've discovered it by change when we did a little bit of geocaching last year.

Almost all the ducks were on the shore, having a nap. They weren't bothered by us or by the other photographer,they looked too sleepy to notice anything really.

Three geese were taking a bath and it was fun to watch them. This one fluffed her feathers, went into the water, fluttered her wings and preened the plumes for such a long time. It was cute and relaxing to watch her (or him).

On the lake there are a few man-made islands and I think all of them have nests. It doesn't look that safe, but I assume the little birds are happy with their arrangement.

As I mentioned earlier, the pigeons will eat the peanuts.

This was my relaxing hour in the park, feeding birds, as I often do.
Do you feed birds or wildlife? Tell me more, I would love to hear more details.