I wanted to visit Purezza Brighton, but we didn't have time when we went in our very short trip to Brighton a couple of years ago. So, when I found out that they are opening a new place in Manchester I was so happy. The pizzas are so good that we've been there a few times so far. This is a selection of the pizzas and desserts I had at Purezza.
There are Purezza pizzerias in Brighton, Manchester, Camden, and Bristol.
First of all, how lovely is this oven. The staff was always nice and friendly. The food always arrived quickly and the drinks were very good too. We've had cocktails, coffees, lattes. My husband's favourite one is calzone.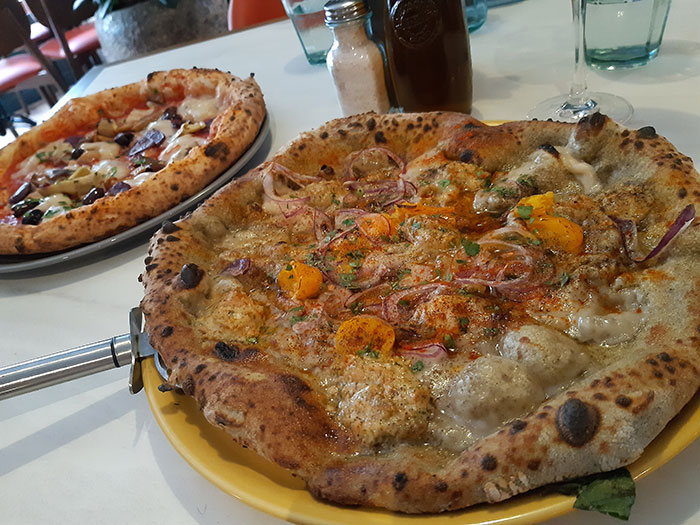 This is a special pizza, The Seaspiracy One, which was available for a short amount of time. I loved it. I tried the hemp base and I always order the hemp base.
The One and Only, Parmigiana Party is a red tomato base with smoked mozzarella, aubergine parmigiana, crumbled sausages, topped with a dusting of nutritional yeast. It is very good, I highly recommend it.
The One That's Telling Porkies – White base with melted cheddar, mixed wild forest mushrooms, semi-dried tomatoes, BBQ pulled porketta, and balsamic glaze.
The Meet Feast was topped with salami, mince, crumbled sausages, porketta. It was another special pizza which is not available any more. I loved it.
Lemon Cheesecake with mango coulis was very good, I would have it again.
Salted Caramel Brownie is a chocolate caramel brownie with a scoop of ice cream. It was delicious.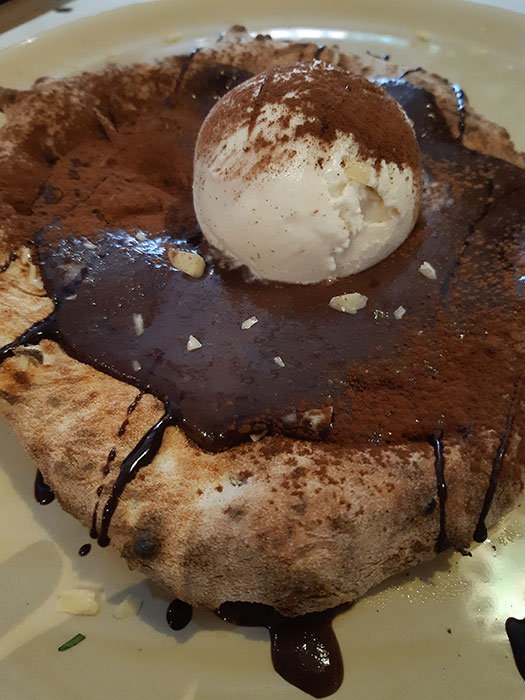 The Chocolate One is a chocolate pizza covered in a creamy sunflower seed chocolate spread. It is topped with white chocolate crumble and a scoop of ice cream. I liked it, but my husband was less convinced.
The room downstairs looks pretty amazing.
Have you been to Purezza?