I'm home after a week away with work. Some of the pictures look familiar if you follow me on Instagram. It was an amazing week with lots of interesting things happening (work related, I'm not going into details), but we managed to get some time off to see a few things, more posts about this will follow.
The cottage where we stayed was lovely and all three of us enjoyed it a lot. I think I'll write a post about it in the following week, along with lots of other posts about our trips.
1. The selfie with the dog. On a short break on the motorway, I took a selfie with the dog. It was fun, as he always appreciates my efforts of getting into the boot with him.
2. Twitter and Instagram. I can't believe I didn't use social media (beside facebook) for such a long time. I like being able to stay connected while I'm away. I assume I could do that with facebook too, but it never appealed to me like Twitter and Instagram.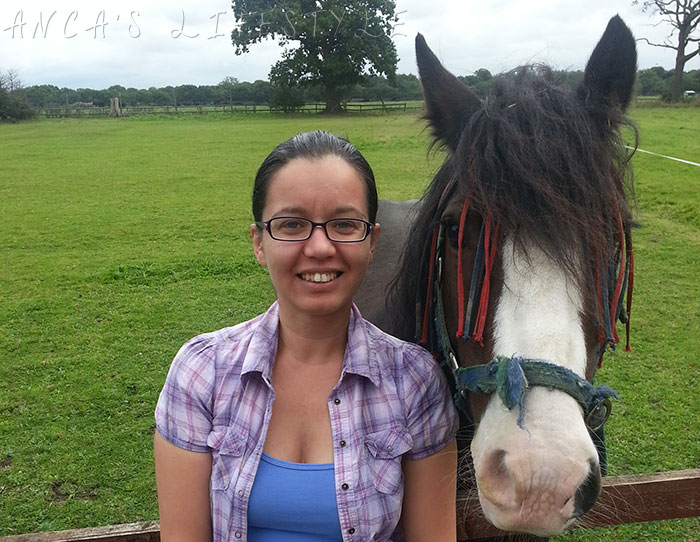 3. The horse. At the cottage there was a very friendly horse that was coming to see us every time we were in the garden. He got along beautiful with Festus, they had some snacks together. It was sweet. I'll dedicate a full post for him as it was such a lovely experience for me.
4. Nights in. Cuddled up on the sofa with hubby, a glass of wine while watching TV and the dog sleeping near us was as relaxing as it sounds.
5. A Night out. Having drinks after work with hubby and friends was awesome too.
6. My Frangipane Tart. I managed to bake the tart just before leaving for Birmingham. It was delicious, I loved it so much I plan to bake it again pretty soon. The Bake Off is so exciting, I'm trying so many new things. So far I've baked every week, or I should say for every week and I enjoy it immensely. Next week is Victorian week and it's going to be so exciting.
7. My name day. A few days ago it was my name day and I received an wonderful and very generous gift from a friend who had no idea it was my name day exactly that day. It was so sweet and unexpected.
8. Other road. The GPS is acting out quite often, so when I heard we should turn left on the "other road" I thought it's a mistake. But no, there is a road called Other Road, in Redditch. I commiserate the people living there as they must hear lots of comments regarding the name of the road.
9. Having to decide what we are going to visit next. We have a long road trip planned. Next week we are going in Manchester for a meeting and, of course, a few hours to visit something in the city. Even if Manchester is so close to us, I visited only a couple of museums.
10. Preparing my next giveaway. At the end of the month I will have a new giveaway and I hope it will be as successful as the last one. I know some bloggers think giveaways are only for gaining followers, but I've discovered some wonderful blogs by entering a giveaway and I can only hope others will feel the same way about my giveaway. In late November I'll have a very special giveaway too, I'm not sure about the prize, but I know the theme, something that is very close to my heart.