I am going to Oxford! I will do a MSt in European History, starting in October. I wrote about the process that started last summer in a post, if you are curious to read in detail.
Obviously, I am very happy. I chose a topic that will not be surprising to my regular readers – Ukrainian history, more precisely the 1930s man-made famine, in which Stalin murdered 4 million people, while the west was ignoring the facts. If you look at the books I read this month, you'll see that I already started reading on the topic. I am also doing the online course from Yale by Timothy Snyder. It's fascinating and I will blog about it in another post.
Because of the subject of my Masters', I've decided to buy a Vatnik, made by an Ukrainian artist. I wrote about it here, explaining the story behind this "russian superhero". It looks so funny and well made, it's now proudly displayed on the bookshelves.
With the delays in getting the results back from university and learning only a few days before I had my ceremony that I graduated and getting ready for the Masters' means that we will not have a long holiday this year. We had a few days away last month, but nothing this month. With the stress of the wait, I couldn't be bothered to go on holiday and pretend that I'm not constantly thinking about my grades and so on. We also went out quite often this month and had quite a few date-nights.
A highlight of the month was that I finally got to see a Pride parade, as I always found out about them after they happened. It was lovely.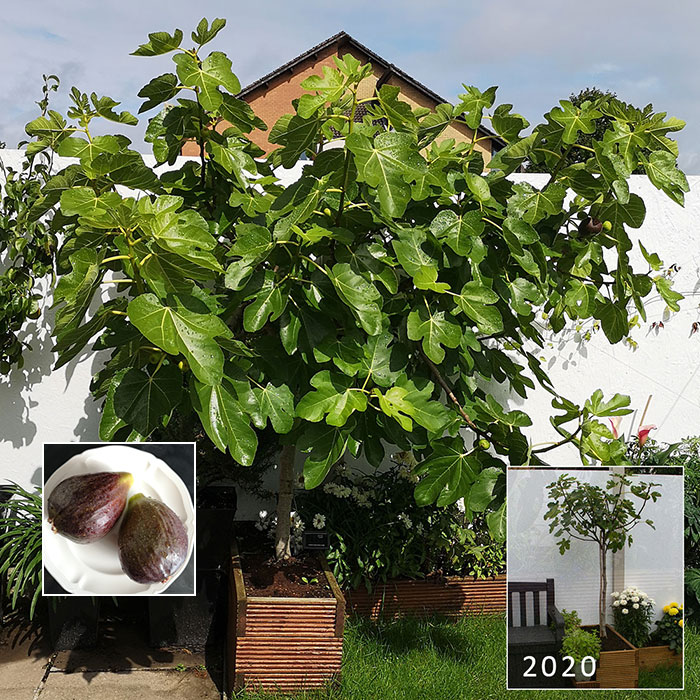 The fig is looking amazing. I am not doing the "my garden in x month" series, but I wanted to share an update with the fig. On the right is a picture of the fig when we got it in August 2020. Look how big it's now! On the left is a picture with 2 figs we harvested this year. They are huge, I never had figs that big before. Also, incredibly tasty, so sweet. I am very happy with my fig, it was a great purchase.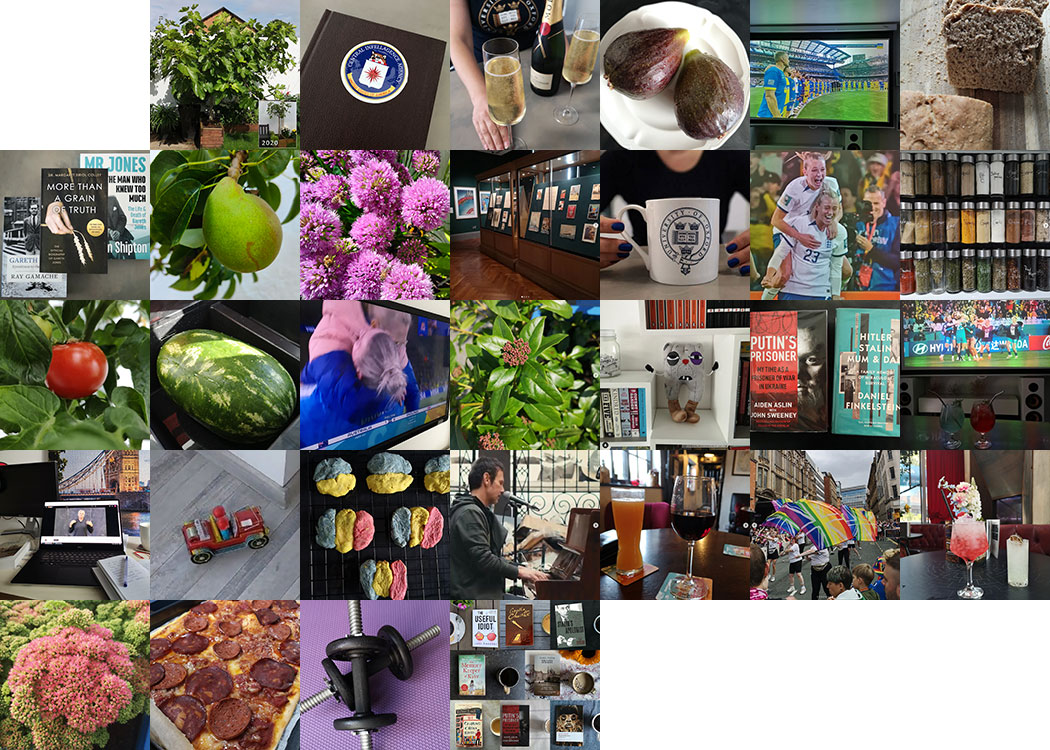 1. Fig tree, after 3 years. 2. Notebook ready for my history of Ukraine course. 3. Oxford for my Masters'! 4. Figs from our tree. 5. #Game4Ukraine 6. Homemade stout with rye bread. 7. Books delivery day. 8. Pear. 9. Bees in the garden. 10. Travel in Style. 11. New avatar. 12. The Lionesses go through to the last four of the 2023 Women's World Cup. 13. My spices. 14. Tomato crop. 15. 10kg watermelon! 16. The Lionesses are in the final. 17. My Kalyna (Viburnum) is doing well. 18. Handmade Vatnik. 19. New books borrowed from the library. 20. Mocktails ready to watch the final. 21. Online course on Ukrainian history. 22. A very old toy that is still working, it was my husband's, but I had a similar one too. 23. Biscuits to mark the European day of Remembrance for Victims of Stalinism and Nazism. 24. Obijmy by Okean Elzy. 25. Pub (a very very old one). 26. Pride! 27. Cocktails. 28. Seedum in bloom. 29. Pizza. 30. Shoulders and arms with 4kg weights. 31. Books in August.
I finished 8 books in August of which 5 are about Ukraine. I highly recommend The memory keeper of Kyiv, it's a fantastic novel. I also enjoyed the fiction books: The Useful Idiot (about the famine in Ukraine) and Christie's murder mystery. Conrad's stories were interesting, about colonialism, which is interesting because he was born in Ukraine to Polish parents (Poland colonised Ukraine in its history) and he worked on a British ship going to Africa.
The other 4 books are non-fiction. 84 Charing Cross Road is interesting, a correspondence between an American and booksellers in London, which is quite an unusual kind of book, worth reading as it is quite short too. Aiden Aslin was one of the Brits from Mariupol, imprisoned by the russians, tortured by them and used for propaganda. He writes about his life, which includes quite a lot about his experience before going to Ukraine and I think it is a very important book to read. I got it from the library and I recommend it. The account of torture is not particularly graphic, if that is a concern.
Lastly, Plokhy is a well-known historian of Ukraine, based in US, and his book is a must read for anyone who is interested in Ukraine's history. The last book I will mention is about Duranty, who was Stalin's apologists and lied about the famine. The book is dry, so I don't think anyone will rush to read it unless they have to.
Books I read in August:
The Useful Idiot by John Sweeney – 4 stars
The memory keeper of Kyiv by Erin Litteken – 5 stars
Crooked house by Agatha Christie – 5 stars
Stalin's Apologist by S. J. Taylor – 3 stars
84 Charing Cross Road by Helene Hanff – 4 stars
Putin's Prisoner by Aiden Aslin – 4 stars
Heart of Darkness by Joseph Conrad – 4 stars
The Gates of Europe by Serhii Plokhy – 5 stars
You are invited to the Inlinkz link party!