I've seen Weird Things Humans Search For, a game by Big Potato*, at BlogOn and I was very eager to try it. So, I was very happy to play and review it. Besides the game, I received from the PR team a funny stuffed potato that looks fab as a prop in these pictures.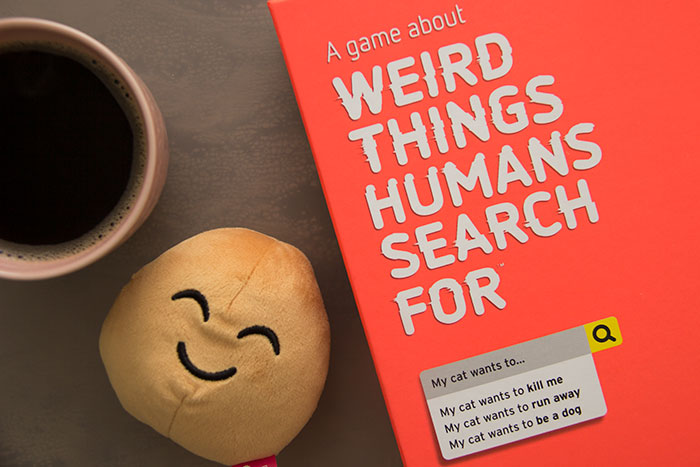 So, let's get back to the game. The description, from Big Potato's website, is:
"We've spent months going through some of the most popular searches on the internet and picked the strangest ones we could find. What we were left with was a brand new party game: Weird Things Humans Search For.
In this game, we'll give you the first half of a popular internet search, you give us the rest. The higher your guess ranks on the list, the more points you'll win for your team.
Just think like a human and you'll do fine."
Doesn't that sound fun? Game is for people over 14, thus suitable for adults. It's a fun game for a games' night. Even the search on the box is hilarious and just shows what crazy things people search for.

there isn't a hourglass in the package, that is mine
How to play Weird Things Humans Search For
There are 160 cards in the game. Each card contains a weird (but real) internet search. Besides the cards, there are papers with pencil to write the answers, a stack of score sheets. The game is simple, you have to guess any of the answers on the card. Is a game that can be played with lots of people, as teams are made to think and decide on the answers. For each search, two answers should be given, a main and a bonus one.
Depending on your answers you win points, from 1 to 5 per round, but, of course, you might end up with 0 points as well. After 5 rounds, the points are counted and the team with the most points wins. With only 5 rounds per game, the game doesn't take a long time, so it can be played as much or as little as you want. Also, there are 160 cards in the game, so this game can be played again and again without looking at the same search cards. We had a lovely time and we've played 4 games in total. I'm looking forward to playing this game again.
On Big Potato Games website @ bigpotato.com/gb/games/weird-things there is a short clip with details on how to play the game, if you want to see a bit more.
The game can be bought from amazon or Waterstones for £19.99. It might be available at local game shops. It was so much fun, so I think it is a great family game if you have teenagers and, of course, it makes a really nice game for a game's night with friends or a gift.
*PR Sample. All opinions and pictures are my own.