This year the weather was better than last year. It started raining as we were heading back to the car.
We've started the tour of the museums with Tate, which celebrated his 25th anniversary. We didn't take pictures. I liked a few pieces on display, but not many.
Beside the displays I've already seen and liked, I was impressed by "Blood of a Poet Box", by Eleanor Antin. She made a wooden box containing one hundred glass slides of blood specimens from poets.
After Tate, we went to Museum of Liverpool. There we arrived in time for the workshop with the osteoarchaeologist. It was a funny way to learn a few things about the way the Romans were treating different illnesses. We even saw a "real" brain surgery.
Open Eye Gallery was the next on our list. Last year they had more interesting photos on display.
Drape was really boring, even if the idea behind the photos was interesting.
After that, we went to the Town Hall. I really enjoyed this year representations. I saw very interesting and realistic drawings. Also, we've encountered a few characters in the Hall, and that was a nice touch.
In the back of the Hall there was a food fair. Similar with the fairs in medieval times: same location, food stalls, beer stalls and music.
We had to cross L1 to get to Victoria Gallery and Museum and, finally I saw one of the trees from "In other words". Lovely, isn't it?
There was a band singing and dancing in L1. Very nice music and entertaining. Unfortunately it was cold and late, so they didn't have a large audience.
We've reached Victoria Gallery and Museum. We've passed by it so many times while we stood in Liverpool, but we never had the time to visit it until now.
In the Victoria Gallery we saw the lovely story of James Baillie Fraser. The drawings are great, too. There are a few other interesting exhibits in the gallery.
This is the 1st time I see an owl skeleton. I never imagined it would look like this.
Another interesting exhibit in Victoria Museum. Liverpool's Dental Hospital is over 150 years old. It was founded by dentist William John Newman to provide free dental treatment for the poor people.
Newman was treating poor people three mornings a week. He had to sell subscriptions, so he could fund the free cabinet. In 1863 his dental rooms were renamed The Liverpool Dental Hospital. In time, more dentists joined him, offering free service. In 1880 the hospital had to move because the previous location was to small.
At 55, in 1887, Newman died leaving his family impoverished because he had spent so much of his time treating the poor.
There are some interesting displays about teeth and treatments. For example, in the past, they used human teeth. Some of the teeth used were from poor people, cadavers or imported from US, from the battle field.
In the Museum there are some fossils too.
Just perfect for heavy smokers.
We planned to go to Walker and St. George's Hall, but we didn't have time. So, we went to Palm House.
This was the 1st time Palm House participated at Lightnight. It looked beautiful, even if we arrived to late to visit it.
The Labyrinth was in the Cathedral. It was nicer than outside, especially because it started to rain. There were lots of people and live music.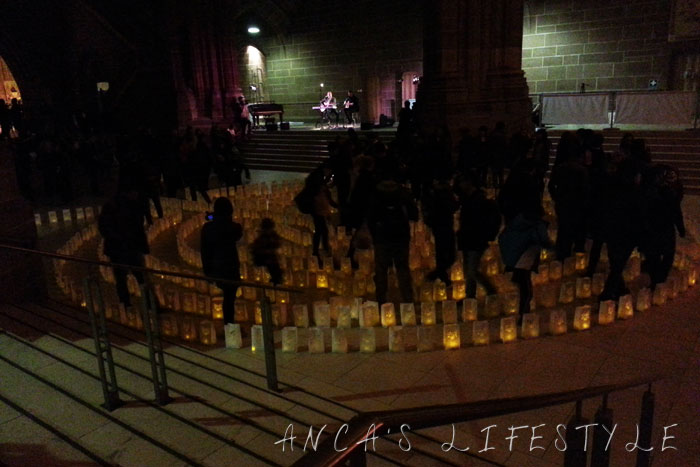 Sorry for the quality of the photos, we didn't have the camera, just the phone.