My husband and I passed on the motorway beside Chill Factore countless times on our way to Manchester. We wanted to try it out, but kept postponing. Finally we went earlier this month and tried their Snow Passes. These are £12.50 per person for 1h that allows access to the activity area. This includes three activities: Downhill Donuts, Ice Slide, and Snow Slide. For family with young children there is something else to do, although they wouldn't be happy in the ones for grown ups.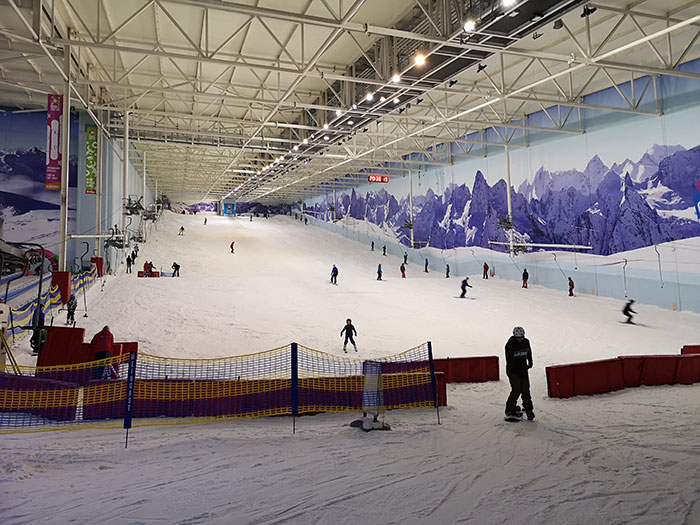 They have a huge slope for snowboarding and skying, that needs another pass. I wouldn't have went to that one anyway. Visitors can also sign up to lessons, those are taking place on a smaller slope, near the activity area.
We were ready to go. We had to have warm clothes, suitable boots, but all these can be rented or bought from them. We've rented the jacket and trousers, that is £8 each. On top of that, my husband bought some gloves from them, at £5 the pair and I rented boots for £3. As you can see, it adds up.
On the right is the sledge slope. It was nice, although it was not very easy to figure out how to climb on top (you had to go underneath the Ice slide). Anyway, there were plenty of sledges to chose from, in three colours. Of course, I picked the pink one.
I went on the sledge slope a few times, it was fun and, obviously, it reminded me of my childhood.
The Downhill Donuts is another activity I've tried. Unfortunately, the guy that was "supervising" was very eager to push the donuts and I bumped my knee on the inflatable walls. It was not too bad, but I had to use cream for my knee for a few days. Also, it meant that I had to stop using the slopes as my knee hurt.
This was an accident and, if you use the donut on your own or you don't have someone from the staff pushing you, the activity is safe. I've went with that for three times and, if the donut was just 10 cm in a different position, I wouldn't have been hurt.
That's my husband, alone in a double donut. He loved it.
The third activity is the Ice slide. I didn't try that and my husband tried it only once. It is a little bumpy and very fast. Of course, it is a matter of personal taste if you like it or not.
After our hour was over, we went upstairs to the viewing area to have a look at the slopes. It was great. We also realize how cold is inside. With the trousers on top of gym trousers and the jacket on top of jumper, it felt warm and we didn't realize how cold it is. The temperature was -5C when we were on the viewing area.
There are a couple of places to eat there as well. There is a climbing wall for the ones wanting a bit more adrenaline. The decor is lovely as well.
Chill Factore is in Beyond, 7 Trafford Way, Trafford City, Manchester, M41 7JA. They recommend using M17 8DD for SatNav, but we found it by searching for "Chill Factore". There is an ample car park, free of charge.