This week my husband and I went to the launch of the Sassoon Men at Metquarter, a dedicated space for men. I had a style change last year courtesy of Sassoon. I loved that look and I plan to go back to it next year. As you can imagine, I was delighted to be invited to attend this event.
Sassoon Men at Metquarter is the first one to open outside London. The new dedicated space is on a second floor of their existing salon.
One of the best things about going to a luxury salon is having a highly specialized barber that can offer advice and knows very well what style would be better suited.
When it comes to taking care of the hair, the scalp's health is just as important. This is something I didn't consider before, as I've always had long hair and its health was paramount for me.
Besides the talk about Sassoon's history and their ethos that still guides the company today, we saw during the presentation three examples of hair styles that suited different head shapes, hair texture, and hair structure. It was very interesting to see different types of dyed hair too. I was impressed with the styles, all three looked very natural.
After that, a very knowledgeable lady from Liz Earle talked about skincare for men. That was really interesting. I'm very interested in skincare and I use good quality products, made as close to home as possible. It was nice to learn about their products.
My husband had a chat with one of the stylists and I hope he will take into consideration the advice he received, as it sounds good.
My husband was offered a treatment. It was the first time he had a hair treatment, as he always had short hair.
After that he had his hair washed, while I had a chat about blow dry vs air dry. I also had the opportunity to talk about the Dyson hair dryer. I'm considering getting one, but I don't know if I should, as it's so expensive (~£300) and I try to air dry my hair as much as possible, so I wouldn't use it very often. I got a recommendation for another hair dryer and I'm thinking about that one too.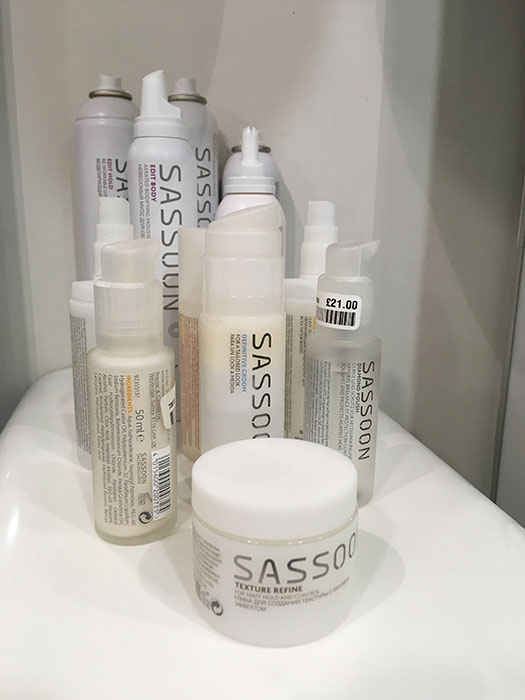 I like the look of their products too and so far, the ones that I've tried, are really good.
The Sassoon salon can be found at Metquarter, on the first floor. Everybody is very friendly and helpful. They have gift vouchers too, and that can be a very handy Christmas gift if you are looking for something a bit different.