You might have seen this picture on my Instagram account a few days ago, along with a couple more from an amazing new cafe. I've been to Cat Café Liverpool, after visiting their Manchester location for a couple of times. We've ended up there by chance. My husband and I were in the city centre, out shopping and with errands. So, when we were on Bold street, my husband asked me if I would like to go for a coffee at Cat Café.
Obviously I said something like: "YES!!!!!" I was very pleased that we were allowed in quickly. As with the one in Manchester, you pay for the time you spend there and for any food you might like to buy. The drinks are included in the price. The fee is £1 for every 5 minutes. I like that a lot. I can stay as much or as little as I want, not being tied up to at least an hour. We were a bit pressed for time as well, as we had to keep in mind how much time we had on the clock for the car park. So, we've spent 30 minutes there, plenty of time to enjoy it though.
I saw this cat near the entrance, she was sleeping. After that she moved on the 2nd floor, to sleep in this cat play area.
There are cats everywhere, on each floor. Near the entrance is where customers order their drinks and food. It is served at the table afterwards.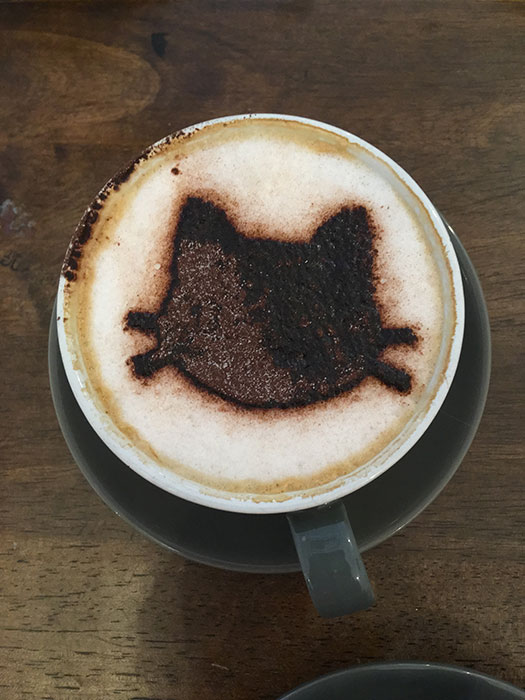 My husband got a capuccino with this gorgeous stencil on it. Isn't it gorgeous? I had a black coffee.
I mentioned before that the Cat Cafe in Liverpool is over multiple floors. The decor is gorgeous.
Up there were more sleeping cats.
But one was energetic and ready to play.
My husband played with her and that play made her crazy, running around, jumping over one of the ladies having her coffee, and making a fuss. The lady had a triumphant look on her face (a bit smug as well), because the cat jumped over her. All of us had FOMO seeing that, for sure.
On our way out, we've seen another cat relaxing on the floor. It's not like there were 10s of beds and comfy places for her to relax. Of course… considering there are approximately 3 beds to each cat… they spend their time on the floor or, like the other one, on a hard cupboard.
When we left, we noticed the cat that was relaxing on the floor… was now in the window, looking at the people passing by. That's the best way to advertise the cat cafe. After we took a couple of steps away from the window we've overheard people "awwww"-ing at the window.
Cat Café Liverpool is on 10 Bold St, L1 4DS. It is in the city centre, in a great location, close to public transport and lots of parking spaces. Check their website for more details and opening hours.