The Bowes Museum is in County Durham, close to Barnard Castle that I visited on the same day. The museum is in a lovely chateaux built specially to house the museum.
The Bowes Museum was on my bucket list for this year. I saw it on a blog a few years ago (can't remember where, I would have linked) and I wanted to visit it. Durham is over 2 hours drive from us, so I kept postponing until I checked the bucket list and I saw that I didn't visit much of what I planned. On Saturday we went there, the weather was lovely and we had a wonderful time.
The museum was purpose built in the 19th century by John and Joséphine Bowes. John, the son of the 10th Earl of Strathmore, was born in London. His mother was a commoner, Mary Millner, who worked on Teesdale estate. They lived as husband and wife, but without being married. The Earl married Mary 16 hours before dying, in an attempt to secure John's succession. Even after two court cases John was not recognized as the legitimate heir to the Strathmore title.
Despite being educated at Eton and Cambridge, John was never accepted by his peers. He had a very successful business with coal mines. In his 30s, he spent time in France where he bought a theatre and met the Parisian actress Joséphine Coffin-Chevallier.
Joséphine was born in 1825 and she was an actress in the Théatre des Variétés, Paris. She was a talented amateur painter and she shared John's love of the arts. They got married in 1852 and they soon thought of the idea of creating a museum in Teesdale to show art to the local people.
The visit starts with a short clip about them. John and Joséphine Bowes. The foundation stone was laid in 1869 by them. Between 1862 and 1874 they purchased 15,000 objects for the museum. Sadly she died in 1874. He stopped collecting, but continued to build the chateaux. He died before the completion of the museum, but the Trustees went ahead with the work. It was opened to the public on 10th June 1892 and attracted nearly 63,000 visitors in its first year.
I'm in The Clockwork Garden, the special exhibition for children.
It looks similar to the one from Beauty and the Beast. I love it.
The rocking chair is from 1855, made from iron with brass mounts. A version of this chair was at The Great Exhibition at Crystal Palace in 1851.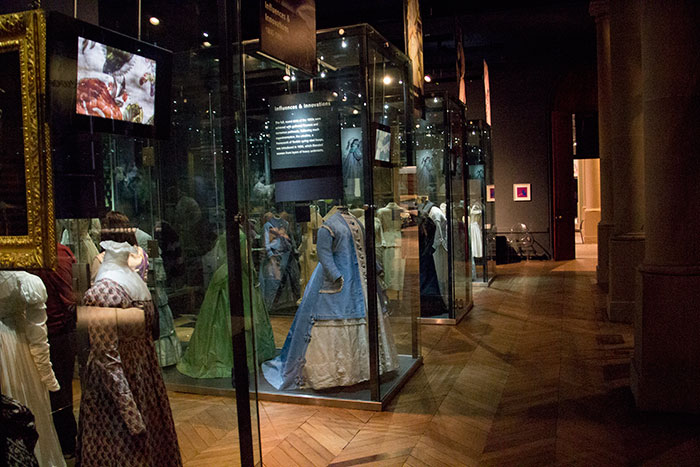 The dress is from 1856 or 1857. I think it's stunning.
This printed Muslin Dress is from 1836-1838 and the fabric is from 1790-1818. The delicate design is in the style of William Kilburn, designer and calico printer. This dress was re-made from another dress and it was worn many times.
This is a bodice from 1855. Skirts would be matched with two bodices. For the day, the jacket would have pagoda sleeves and for evening the bodice would have short sleeves and a lower decolletage.
This might be a bit of a surprise, but this is a boy's dress from 1833-1835. Up to the age of seven, boys would wear dresses. This one belonged to John William Deighton, born in 1828.
Man's coat from 1749 with decorative buttons. The coat was for a wedding and it's believed it was the property of Simon Thomas Scrope of Derby or of his brother.
These shoes on display are from different countries. I find fascinating how unlike they are.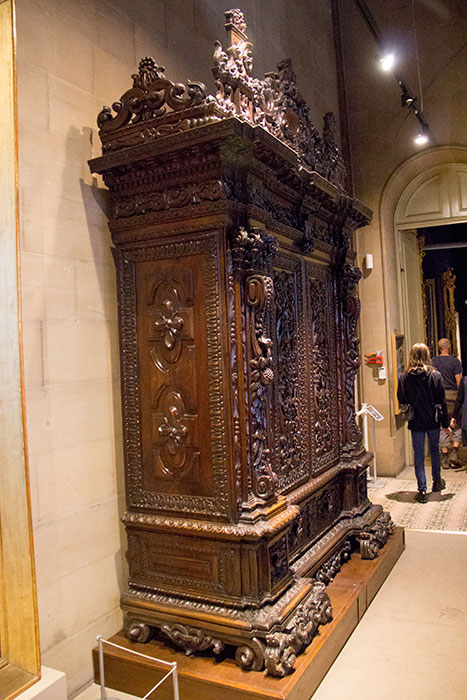 Walnut Wardrobe, made in Parma, Italy from 1671. John bought it in Italy in 1875. A similar wardrobe made by the same maker took seventeen months to complete. It's an impressive piece of furniture.
This is the most impressive object in the Museum, a 240 year-old mechanised Silver Swan using 3 clock mechanisms. They bought the life size model in 1872. Amazingly it still works and every day at 2pm is operated.
This is a mechanical mouse. It moves around when turned. I don't know if it still works, but there is a short clip with it.
There are so many pottery items on display. It was hard to pick only a few to talk about. On top left, there is a Teapot and Cover from Worcester from 1760. The teapot has a double wall and on the outer wall there is a print of King George II, made to commemorate his death. It's the only known example of its type. In the bottom left picture is a set of Ewer and Basin from 1777, porcelain. Bottom right is a very cute teapot from 1856, it looks so much as a novelty gift.
A relief portraying St. Francis receiving the stigmata. It's earthenware, glazed, from around 1500. It's the first time I see something like this.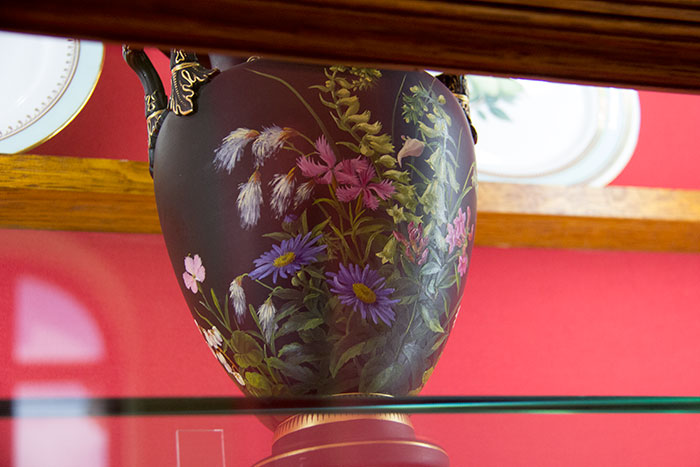 All these paintings were painted by Joséphine. I think she was talented and it's wonderful they are on display among other beautiful paintings.
He got married again, but he wasn't happy. After John Bowes's death, his castle was inherited by his cousin, the grandfather of Lady Elizabeth Bowes-Lyon. It was passed down until 1922 when it was sold to pay for the wedding of Lady Elizabeth with HRH The Duke of York, allegedly to pay for the costs of the wedding. She will become Queen consort of King George VI.
The Bowes Museum can be found in the market town of Barnard Castle, County Durham, DL12 8NP. Entry fee is £14 for adults.