Last week my husband and I went to visit the Transport museum Coventry. We were walking around the city and we intended to see the art gallery. When we saw the Transport museum we thought we have time for a quick look. It was so big and fascinating that we end up spending much more time than we've anticipated and we missed the art gallery all together.
We've started our visit with the special exhibition called Hot Rods & Kool Kustoms. This exhibition can be visited until 14th May. In this exhibition there are beautiful American and British custom made cars. It is a really interesting display and the entrance is free, both to the special exhibition and to the museum.
1952 Hudson Pacemaker Coupe was my favourite car in this exhibit, I think it's beautiful.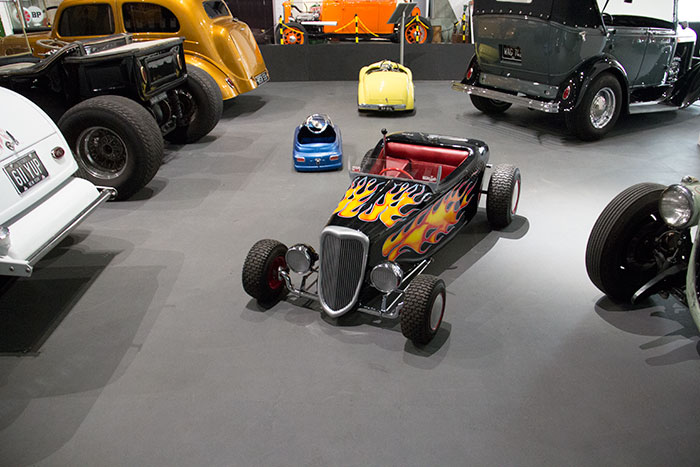 These small cars were made for children. I thought these sort of cars are something new and modern, but it looks like they were available many years ago.
After seeing the Hot Rods & Kool Kustoms exhibition we saw the permanent exhibitions. The museum starts with an impressive display of many bicycles. There is a short story about what was suitable as lady wear in the Victorian time. There are many interesting bicycles on display, including ones that I thought are quite modern.
This is 1840s Hobby Horse. It didn't have any pedals and men were using it by basically standing on the saddle and pushing themselves with their feet. It must have been hilarious.
The 1897 Rambler Tandem, meant for a man and a woman. When my husband and I went on a bike ride on a tandem in Manchester last year I thought it's the height of modernness. It's nice thought that after all our innovations, we can still have fun as the people around 130 years ago.
Another innovative idea: a 5 seat tandem, made in 1900. Its purpose was to advertise the Rudge Company, that was making bicycles and motorcycle parts. I think this idea for advertising would still work today. The same company also made the Rudge Companion, a bicycle on 2 wheels for two people standing next to each other, which is on display too.
This was for the whole family. The lady and the child could sit nicely in the front seat while the gentleman would drive.
1935 Queen Mary's Daimler, given to King George V and Queen Mary on their Silver Jubilee in 1935. It was used by the Royal Family until 1953.
This car belonged to a lady-in-waiting to Queen Elizabeth and was used in 1937 at the Coronation of King George VI.
At a higher level there is a wonderful display of miniature cars. Of course the Scuderia Ferrari Truck was noticed and photographed. The miniature display can take an hour to see properly, there are so many beautiful cars.
The Jaguar F1 car, in races from 2002 to 2004. The Jaguar team has Eddie Irvine and Mark Webber as drivers. I sort of remember the car, but it wasn't spectacular.
It looks like a car mixed with an airplane and this is what it is. The Thrust 2 has a steel frame and an aluminium body and it's powered by a Rolls-Royce Avon jet engine from a fighter. It looks amazing.
In 1983, Richard Noble with car Thrust 2 reached a top speed of 633.468mph!
In 1997, ThrustSSC, reached a speed of 763mph, setting a new land speed record. It's amazing that both cars are on display at Transport museum Coventry, part of their permanent exhibition.