Last week I've been invited to the launch event of the Liverpool Art Fair at Metquarter. I was delighted to attend the event, as I enjoy art. The Art Fair started on the 14th June and it will be at Metquarter until the 1st September. It showcases local artists and I liked that too.
If you ask me, Metquarter is the perfect place for an Art Fair. This is the 8th year that the fair takes place there. It is a great location, close to amazing shops, cafes, restaurants, and patisserie, and also in the city centre. The art fair can be visited for free and the art pieces vary in prices from £20 to £2,000. There is even a dedicated section for artwork under £200.
The artworks on display were created by artists that live in a 35 miles radius of Liverpool. This is a fantastic way to celebrate local artists. From over 1,000 entries, the panel chose artwork by 100 artists to display. There is also a People's choice award and the winning artists will receive a gift voucher and Everyman cinema membership. For the public, there are art workshops for only £2.
I picked a few art pieces to blog about.
This was one of my favourites. I love the shades of grey. It reminded me of the Scottish landscape. This is made by the artist Simon Job, entitled Sketch no.71, and you can get it for £950.
Another gorgeous painting, this was created by Hazel Thomson and is called Misty Morning in February. This oil painting is £1900. I love this one as well, the raw beauty of the ivy and the bare branches. It's just my style. My husband and I were in the process of creating our own art piece for the bedroom, with almost bare branches, so this gave me the assurance I was looking for (the art piece is now finished and we both love it, I'm going to share pictures of it in another post, soon).
At the event, I bumped into the artist that made this lovely painting and his wife. We are volunteering at the same charity and I had no idea he is a painter, so this was a lovely surprise. This beautiful painting, oil on canvas, entitled Spring Time at The Bluecoat is only £35 (£200 framed), painted by George Murphy.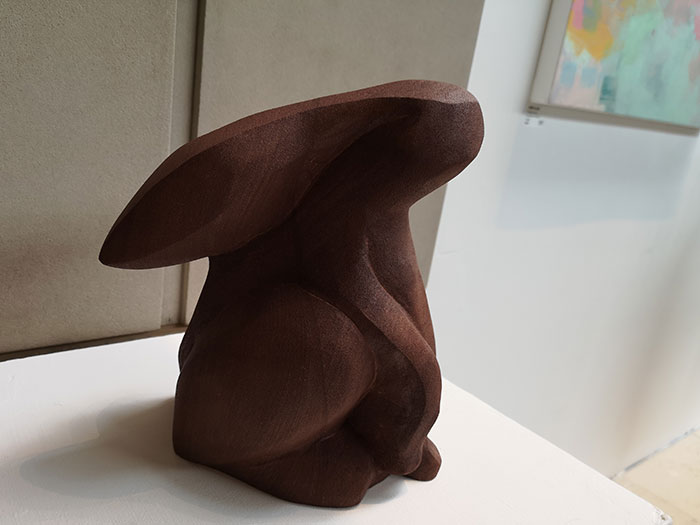 I love animals and this hare is just stunning. The Moon Gazing Hare, made out of sandstone was created by Pam Gordon, and it is £450.

Last, but not least, I wanted to share this picture of the Liver building by James Chadderton. It's gorgeous and it sold while we were looking at it. It is a limited edition and it costs £155 (£595 framed).
It was a lovely evening and I might visit the fair again, to look at the artwork. If you want to see the pieces too, Liverpool Art Fair at Metquarter has free entry and is open daily, from 12 to 5pm.