Trafford Treetop Adventures is a treetop course at intu Trafford. I don't understand why they (and other similar businesses) advertise this as an activity for children over 6. The long course is clearly hard for young children to go through. I think the long course is suitable for teenagers and adults. Also, because it is a long course physical fitness is important. They mention that it takes 90 minutes to do both courses. My husband did both in less than 60 minutes, but he pushed himself and he is very fit.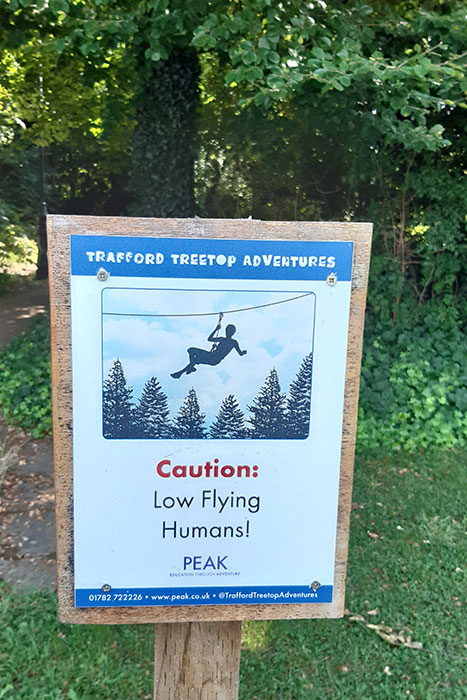 In one of our visits to intu Trafford we saw this placard saying: low flying humans. Of course my husband was interested in this. I was not… I like my feet on the ground, unless the flying is done in a Boeing.
With covid being an issue, he had to book in advance. The prices at intu are just shy of £10 per person, so it's pretty good. You can check their website if you fancy giving this a go.
There is a safety training, of about 10-15 minutes. Everything is very clear and all the participants have the opportunity to practice how to use the safety equipment. After that the staff asks who wants to go first and the fitter ones are going first. My husband was the first one to go. He was overtaken by a teenager who had experience, but only that. The system works very good.
There are two courses, a short one, with a lower zip line, and closer to the ground. This gives everyone the opportunity to see if they can go on the long one, which is also much higher up. There were people in my husband's group who decided to stop after the first course because it is very physically demanding and good upper body strength is necessary.
Everyone on the course can be accompanied and there is a path going around the course, to take pictures and have a bit of a laugh.
I like this picture a lot, the course is very high up and I could barely see my husband in the trees.
This is the second zip line and the adventure is at an end. I think this can be a great gift for the right person too. Just keep in mind that, despite the advertising, someone needs to be fit to enjoy the course.