This is the last post on the places I've been to for Heritage Open Days this year. Kennington Primary School was one of the most unusual buildings I've seen. It was a bit far from us, but it was worth it. This classroom is called the "Bubble" and it was the first fully plastic building in UK.
This building was a prototype for pre-fabricated mass-produced schools. In 1973 an oil crisis made plastic buildings too costly to produce and so it remains a one-off. The building is now Grade 2 listed. As it is a working school, visits to the Bubble classroom are rare. It was lovely to see it and also see some of the children's paintings on the walls, on the way to the classroom.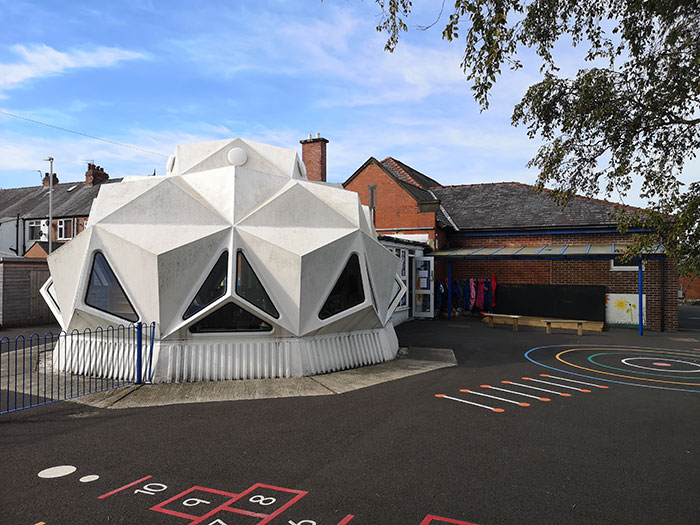 It was designed in early 1970s using CAD (computer aided design). The triangles create an icosahedron (20 sides) structure. The building was made of self-supporting glass-fibre reinforced plastic panels. On the leaflet I saw on the day, there was a picture with how these schools were supposed to look like.
The schools would have a cluster of these Bubble classrooms linked by a big bubble in the middle. It would have looked like something from a Sci-Fi movie. I wonder why buildings aren't built like this today, with the price of plastic making it so affordable. Plastic is a fabulous material, very resistant and light at the same time, and we waste it on unnecessary, single-use packaging. If we could change the way we think about it and see it as a precious resource, it would be so much better.
Isn't it gorgeous? While my taste in architecture is quite classical and I prefer Tudor, Georgian, and Victorian buildings to the modern glass and steel designs, this building is too beautiful and unique not to be impressed by it.
The classroom looks lovely and I imagine the children are quite excited to go to school there.
I hope you've enjoyed the pictures from the Kennington Primary School.