Last month I've visited Tate Britain. It was on my list of museums to visit for a while now. I've been to Tate Modern in London and it was interesting, same as Tate Liverpool. But Tate Britain has the style of art I love, as, on their website they mention that Tate is the home of British art from 1500 to the present day.
We've arrived quite late, so we didn't have lots of time to admire the paintings as much as I wanted. Hopefully I would have time to visit it again.
Portrait of Elizabeth I, the artist is not known, can be either Steven van der Meulen or Steven van Herwijck. The portrait was made in 1563, one of the earliest full-length portrait of her. At that time she was pressured to chose a husband. In her hand she holds a carnation, that represents love, God or marriage. The honeysuckle flowers suggest a union and the ripe fruits symbolize her fertility.
Samuel Richardson surrounded by his family in 1740-1741. Samuel Richardson was a novelist, he wrote the first novel in England called Pamela: or, Virtue rewarded. I want to read this book and it's on my wish-list at the library, so seeing a portrait of him was great. My husband thought it was funny that I've recognized Richardson before reading the name on the explanation card and was so enthusiastic.
Nearby there are a few scenes from the book. It's really exciting.
A view of Greenwich from the River in 1750-1752, by the artist Canaletto. He arrived in England in 1746 and in the 10 years he lived here he painted landscapes.
Marble relief 1811, made by Richard Westmacott. The sculpture represents Ganymede, a shepherd abducted by Jupiter, to be a cup-bearer.
Sir Henry Bate-Dudley, 1780, painted by Thomas Gainsborough. Sir Bate-Dudley was a reverend and a journalist. He got into a fight with some young men in Vauxhall Gardens, the well known gardens in the south of London. After the fight he got the nickname "The Fighting Parson". Gainsborough was his friend and he painted him outside, to present him as a nature-loving man. Besides there is a dog looking adoring at him, to emphasize he was a good man. As a journalist, Bate-Dudley gave positive reviews for Gainsborough's exhibition at Royal Academy in 1780.
The Tally-Ho London – Birmingham Stage Coach Passing Whittington College. At the time when this was painted, 1836, stage coach was starting to be used less as the railway system was on the rise. The painting gives the idea that the stage coach is part of the English life.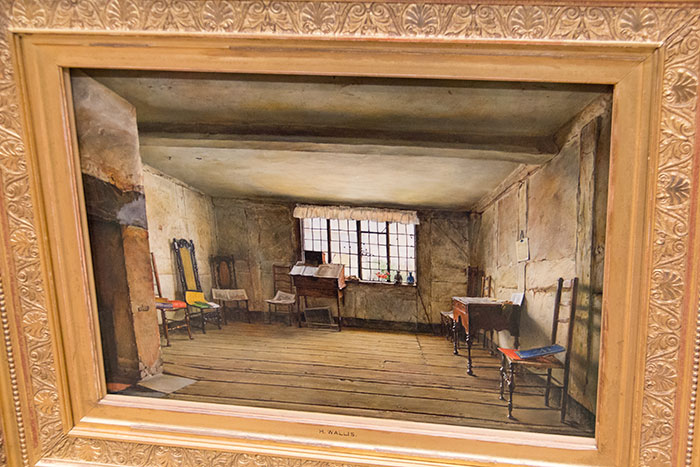 Room where Shakespeare was born, painted by Henry Wallis. I agree that it looks exactly like that room. I've seen it when I've visited Shakespeare's Birthplace.
Tate Britain is free to visit. Is open daily and it can be found on Millbank, London SW1P 4RG. It's in the Congestion Charge and the car parks are expensive as one can imagine. So, use public transport if you can.