Many people complain about 2020, but I don't think it was a bad year, overall. The pandemic was not unlikely considering that we are pressing into wildlife habitat that we are highly interconnected with, hence it was not inevitable. For a pandemic, it could have been much worse, when the death rate is less than 3%. Even more, the response, globally, was pretty amazing too. In a couple of weeks an accurate test was developed for it and a few vaccines in less than an year. When Black Death came in early 1300s, with a death rate of ~50%, nobody knew anything about, and it was as global as this one. Not even during the Spanish flu pandemic of 100 years ago there were no tests or known cures and millions died.
I also think that not talking about priorities during the COVID-19 pandemic is a missed opportunity. For example, should our focus be on the preservation of life or quality of life? What is better for a 90 year old in a care home? Living for another year in lockdown or spending time with their loved ones even if that means they can catch this disease? Who should decide on this? The government, the Parliament, individual residential homes, or that person and their family? Unfortunately the discussions we heard at the news revolved around the apparent inability of governments (I'm not referring to UK because these talks happened in all democratic countries, in France, Germany, Spain, Italy, Romania, Israel, US, and so on) to protect the people, even against their own stupidity, as we are all familiar with the covidiots. I am yet to see a journalist saying this is bad, but it's a pandemic, by definition is bad. I heard at the news that Israel was doing a great job during the first wave, unlike UK, but at another news station, a Jewish journalist was saying that the government is abysmal. My mother was complaining about the Romanian authorities and saying that they do not have the testing capacities that UK does. No matter where you are, grass is greener on the other side.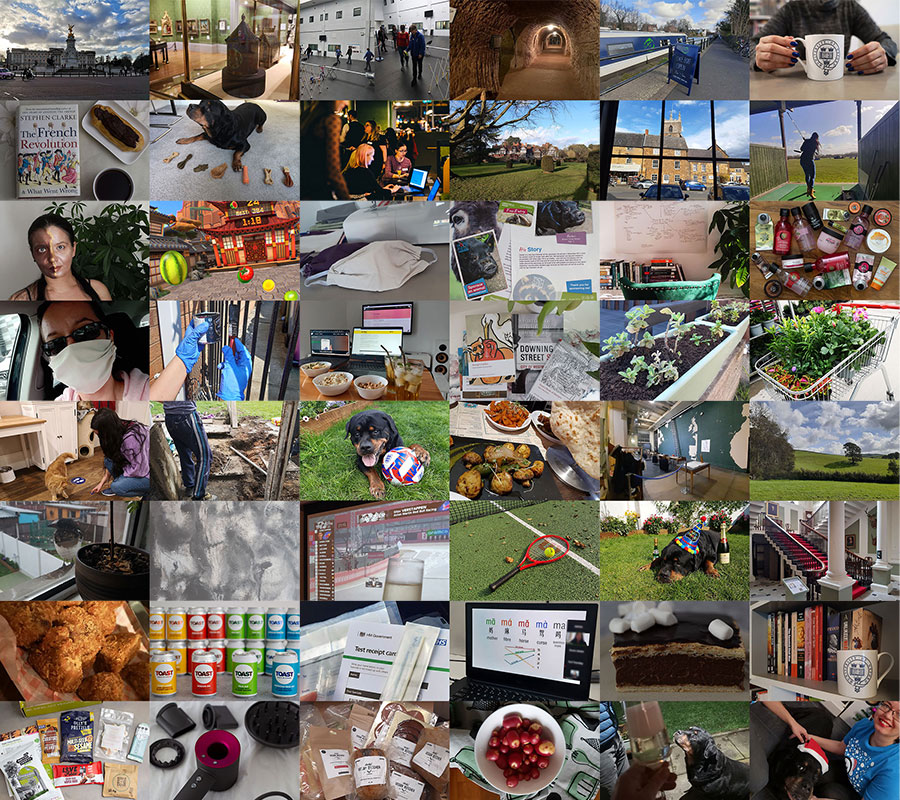 I focus on the positives because my life is good and I should appreciate that. I have food, a warm house, a family, I can go to the doctor if I'm ill. I had no holidays this year, with the exception of a few days out, and I'm not desperate despite what TV presenters think. There were downsides, of course. For example I couldn't visit a lot of museums, like I usually do (50 in 2019), but that doesn't matter as much when thinking of the big picture. While I was not able to go to the libraries and that was hard for my studies, I was able to read more, 122 books in total. We had the time to refurbish the garden, the conservatory, and the living room, making our home better for us. I had some disappointments this year and I had some achievements, but that's just life.
January was a busy month for me. I started my second term and read 12 books in total. I visited four museums, two of which were in London, on a day trip. I had no idea back than that it will be our only visit to London this year. Besides that we had afternoon tea and another coffee date in Manchester, before playing crazy golf. Veganuary meant that we had a lot of new yummy things to try, like the steak bake from Greggs and the KFC zero chicken. The commute to Oxford was tiring, but I've enjoyed it.
In January we also visited two Liverpool museums. I read some pretty fab books like the French Revolution by Stephen Clarke. Festus started the year by choosing his favourite treat. We made it a daily feature during the advent and now he is still picking up the veggies or the fruits he fancies.
Highlights from February include Guide Dogs Centre, Stockport Air Raid Shelters, Mother's Day with Moonpig, and Wightwick Manor. My visit to the Guide Dogs Centre was fantastic. I learned a lot and it was lovely to see all the dogs. It is a charity that is close to my heart too. We went to the air raid shelters near Manchester and tried to imagine how life must have been during the war, how scary it was. Pets were not allowed in the shelter, how hard that must have been for people to leave their pets at home not knowing if they will be alive, in the morning. In February I went to what might be the last blogger event, which is a bit sad because I always loved blogger events. We stopped at Wightwick Manor on our way to Oxford and it was fun. Festus played a bit in the gardens.
My husband and I celebrated an anniversary in February and also Valentine's Day, of course.
EverGreen Boat Cafe was great, really nice food, all vegan, on a narrow boat. In March I've finished Hilary Term and marked the occasion by having a meal at the Red Lion Inn, a vegan pub in Deddington, very close to Oxford.
Crufts was a hit with Festus, obviously. We also got to play golf, before the lockdown, so that was great. It was clear that the things we planned to do, like attending jousting, having a holiday, and seeing Formula E live in London will not happen.
We got a VR set and that proved to be a great purchase. It's something we use often enough to make it worth the money, but not too much so it takes too much of our time. The workouts we can do with the VR are pretty amazing too.
We spent April at home, in lockdown. We avoided shopping for groceries as much as possible, of course. I tried Make-up as art and loved it. It was very different than applying make up as I usually do. I highly recommend trying this.
Other highlights for the month include playing Fruit Ninja on VR, making a couple of face masks from old trousers and jeans, that I can wash and nothing ends up in the landfill. Like many others, we started improving our home, from painting the fence to refurbishing the biggest rooms in the house.
May involved making more face masks, so we can change them often. I still use a couple of these, but they are not as comfortable as the ones I bought when they were available in shops, mainly due to the elastic I used, which was too thick for masks. In May my husband decided to sponsor Dexter. We had LightNight at home, not as good as before, but I'm glad that we still did something similar to what we had planned.
Books also have to be a highlight. Maybe I should mention these each month as they really are a highlight. Furthermore, we finished laying down the new flooring in the living room.
Highlights from June include that Trinity Term ended and I had my exams. First year was finished, another one to go. We had a virtual cocktail party and that was fun. I shared the empties from the Body Shop, from the lockdown. I had no idea that I am using so many cosmetics, before keeping these.
I upcycled some old plant pots and got new plants for the garden. Gardening was so much fun, I enjoyed it a lot and I still do.
In July we went to the Cat Cafe in Liverpool. We've started changing the fence posts with the neighbours in late June. This involved our garden looking like an archaeological site for a few weeks, but it was worth it. As you can see in the background of the picture with the magpie who came to see its reflection in the window (we have a film which makes it like a mirror, for privacy), the new fence looks pretty amazing. I shared pictures with the new garden, if you want to see more.
This is the porch flooring for the bloggers art gallery, a post I loved taking part in.
Any highlights from August must include food. We took advantage of the Eat Out to Help Out scheme and went to a few veggie restaurants. The picture included in the collage is from Sanskruti. Our garden was finished and we spent a lot of time there, reading, playing with Festus, having supper.
Formula 1 this year was strange with lots of ups and downs, and Verstappen winning was fantastic.
We've started playing tennis, bought the rackets and went playing once or twice. We joined a club and we played a few more times. With the second lockdown, we were not able to play as much as we would have liked, but I'm really excited about this year, when we'll be able to play more.
In September we celebrated Festus' 11th birthday! That was a special day. My husband took the day off and we had a lot of fun with Festus.
September was the best month travel-wise, as we took part in a few events for Heritage Open Days. We went to the War Museum in Liverpool, but also took a guided walk in the Lake District (we were the only ones with masks on), and visited Morecambe and Lytham Hall. We visited the wild bird sanctuary and it was really great to see the birds. It was lovely to have a bit of normality that month.
Salads and herbs were growing in the garden, alongside edible flowers, so our salads were full of flavour.
I started Michaelmas term in September with a full week, before having a break until October. Although in that break I had to do an essay, so it was not exactly free time.
October's rules meant that we could go again to Down at the Hatch and Cat Cafe, before me going into shielding for a couple of weeks before an exam. It was not as bad, as I got used to being in lockdown. We ordered everything online and that was it. In October I ordered from Toast, a B corp company that makes ale with leftover bread. Their ale is tasty, so worth trying. I placed another order in December, even though we didn't finish the first batch, as they made some cocoa flavoured stout and I wanted to try that one too.
This was the month I joined the Vegan Kind subscription and got both boxes, lifestyle and beauty. I surpassed my reading goal of 100 books. On top of that, I talked about the Dyson Hair Dryer, which is amazing for my long hair. I use the hair dryer more in colder months, so it makes sense to add it as a highlight on the month I reviewed it and not when I bought it.
F1 scared us with the horrible crash Romain Grosjean went through and the fire that followed. Luckily he was rescued in time and he suffered burns on his hands and that's it. It was scary!
As highlights, in November, I can talk about getting testing for COVID-19 as part of the mass testing in Liverpool. It was such a good experience. I did another test, the lateral flow one and that was good as well, no hassle, fast, everything great. I would have taken it even if I would have waited for hours. It's, for me, a moral obligation to get tested, even if I followed the rule and even more, as I usually wear a mask outside too.
Other highlights in November include a Mandarin lesson, which was so interesting and unusual. My natural inclination to understand foreign languages did not help me at all with Mandarin though. We also ordered (vegan) food for Christmas, this was something unusual for us, as it is the first time I ordered food for Christmas instead of cooking. I love cooking, hence my food blog, but my husband said he would like more relaxed celebrations, hence us ordering two Christmas-food boxes, to have enough food from Eve to Boxing Day. It was something unusual and I've enjoyed it.
I put two small Apache potatoes last time I bought a bag in a pot in the garden and in November I could harvest a small batch of potatoes. It was very rewarding and I will try to grow veggies next year as I grow herbs, some fruits, and edible flowers. I already got a growing bag and I will use it in the next couple of months, when I'm going to plant some veggie seeds and hope that they will grow.
One of the most exciting months of the year, December is the month when vaccines were approved in a few countries around the world. The first one was UK and, by the end of the month, 1 million people were inoculated against COVID-19 in UK. I think that is amazing and, with the Oxford vaccine being rolled out soon, more and more vulnerable people will be protected and more lives will be saved.
For me, December marked a milestone, as I finishing baking the Bake Off for the last time. I will not bake along again next year and I am not sure I will even watch the show, if it remains in the same format as it is today. Mick Schumacher won the F2 championship and he is joining F1 next year, something that makes me very happy indeed.
I also finished the Michaelmas Term and got my results for the two essays I submitted this term, which were pretty good, with the last one being the highest grade I got. I was so pleased to see that my work was appreciated by my tutor. We've celebrated Festus' 11th gotcha day, a very special day for us. We talk and reminisce about the day we saw him for the first time or the following day, when we went to get him. It is a very special day for us. We celebrated Christmas and with the 2 days long advent, it was very special. I talked about this on my post about Christmas, so check it out if you are curious.
How was your 2020?