LightNight Liverpool 2017, the 6th LightNight I go to. We had a wonderful time. You can check their website next year, if you fancy spending the Friday night in a different way.
Our first stop was at the Liverpool Medical Institution, one of the oldest medical societies in the UK. It's where we've extracted strawberry DNA last year on LightNight.
We went there to see Every Second of Every Day. It's a trio of glass hearts made by artist Stephanie Kuebler-Preston. The human hearts are filled with electrified glowing noble gases, blue or red.
They looked like they had a slight heartbeat. It was really interesting to see and the hearts looked so realistic.
At the medical centre we tried to do some knots and we were shown a piece of the string the doctors use in operations. It's quite thicker than I would have imagined.
A Face from the Past was another exhibit at the Liverpool Medical Institution. There was a face reconstruction of Robert the Bruce (1274-1329). Glasgow University worked along Liverpool John Moores University's Face Lab to make this reconstruction. Robert the Bruce or Robert I, was King of Scots for 23 years, from 1306 and until his death. He led the First War of Scottish Independence in 1314, with aid from France (not exactly a surprise, is it?). It was interesting to read about the history from the 13th century.
Next stop was at LJMU John Foster Building & Gardens for Time, Space & Climate Change. It was really interesting to see the distance between astronomical objects by comparing to what was happening on Earth when the light left distant objects in our Universe. It was interesting to learn that, if the Sun would disappear, it will take us 8 minutes to know  it. This is how long takes the light from the sun to get to us.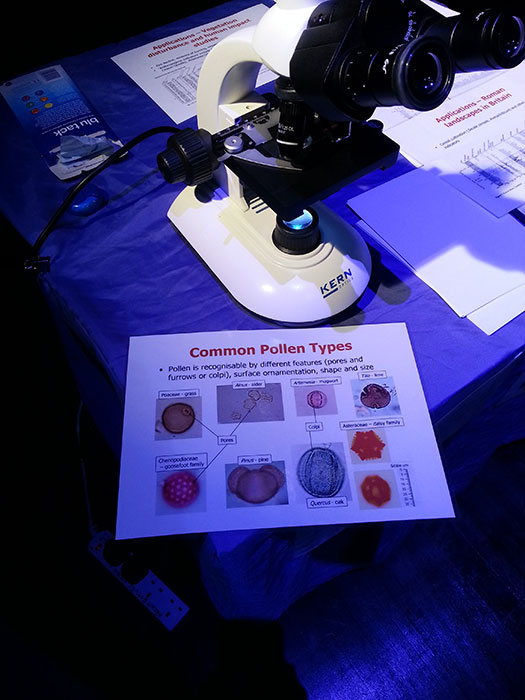 There were other exhibits. One of the display had skulls of animals that lived in the UK many many years ago, like hippos. Another display had a few microscopes to see different types of pollen. Another display showed the impact of climate change. I had a chat with the lady minding the stand and I asked her about bleaching of the corals in Great Barrier Reef, Australia. My husband asked her about the possibility of reversal. Well, the situation is bleak, as we've imagined. If pollution would stop now it will take millions of years for the corals to grow again to their past hundred years' size. The only hope would be by stopping pollution to give nature a chance to adapt to the climate change.
We headed up to National Oceanography Centre in Joseph Proudman Building for the Tide & Time exhibition. Tidal science has a long history in Liverpool. I heard about it before, but I'm not sure where.
The artwork was designed by artist Pamela Sullivan. It was lovely. Especially as it had Bidston Observatory, a place we heard about before and saw  when we lived in Wirral.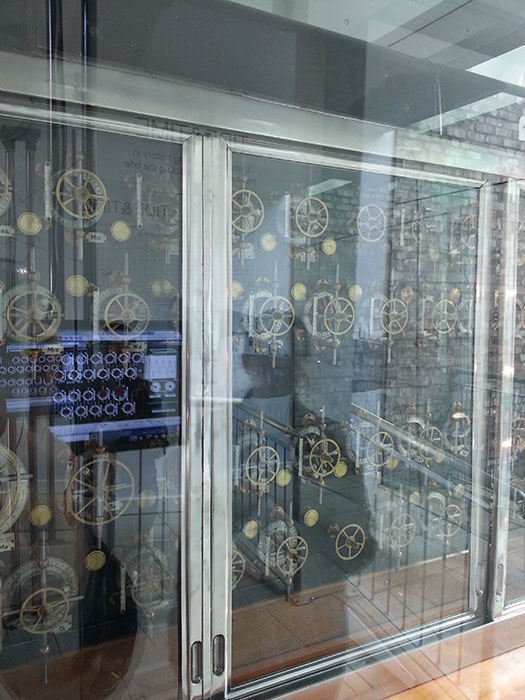 The rare Roberts-Lege and Doodson-Lege tide prediction machine was on display. Only 35 of these machines were ever made.
This is how much the tide varies. Amazingly, it's not the biggest tide wave in the UK, but the 2nd. The biggest one is on Severn river. The biggest in the world is 14m, if I remember correctly.
At LJMU Aldham Robarts Library, Discover was very interesting. We saw 3D printers and I love those. It was an African Fashion display and I got the chance to talk with the designer about the prints and fabrics. It was really lovely to be able to do that.
I was able to create a Star Map using Festus's date of birth. I'm not sure about the exact hour, but it would have been too strange to call his breeder to ask for details. So, I picked 12 and this is his map of the sky. I did two for me and my husband too.
In front of Liverpool Cathedral was a lovely display called Illumaphonium. Illumaphonium is a big semi-autonomous illuminated music making sculpture.
In the Cathedral there were bands singing and it was really lovely to sit for a few minutes and hear them.
LightNight at Northern Lights. HUB Artists was very interesting. I enjoyed walking around and see the works of art. I liked the black horse from the next picture the best.
LJMU Screen School Candle-lit Labyrinth at Cains Brewery Village was the last stop. Created by artist Alex Irving and supported by LJMU Screen School.
This is what we did on LightNight this year. I can't wait for next year.