Last month we went to V Rev and I've enjoyed it a lot. They are one of the best known vegan places in Manchester. I've been there before, in their old premisses and I wasn't as delighted as I was this time. You can check their website if you fancy trying their food.
One of the things I liked most is that you can "order" a tree to offset your dinner. So, we've decided to "get" one. That's such a wonderful idea and I like that we were able to do that. We were also able to leave the tip when we ordered, so there was no need for cash at all, which is really great.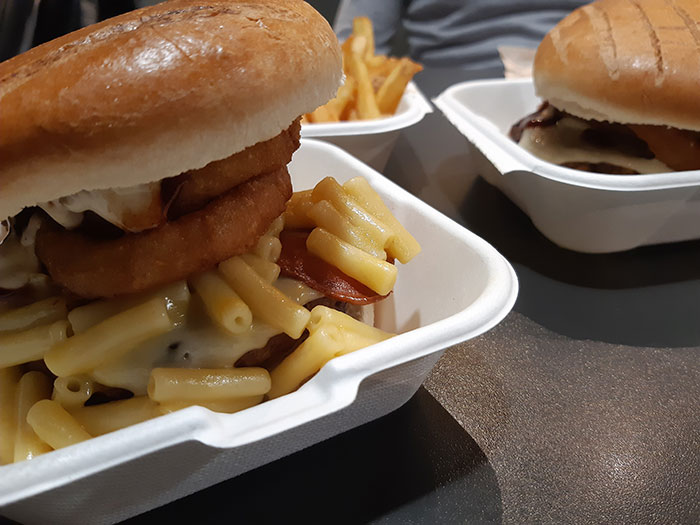 V Rev is an American-style vegan diner and they serve burgers and also things like Mac & "Cheez" and fries. Their menu is not big, but the food is very good, and so, I don't think they actually need more dishes than they currently have. At this time their menu is smaller, due to the whole pandemic situation.
I had the burger with Mac&cheese, my husband had the burger. We also ordered fries. The food was delicious, the sauces were very good too. I would love to eat there again.
For dessert we had the New York Cheezcake. Following their description and hilarious spelling, this is a baked version, topped with chocolate sauce, Biscoff Sauce, Biscoff Crumb, and served with Vanilla Icecreem.
I loved loved loved this! The texture was delightful, smooth, and soft. It was a bit sweet with the sauces, but so good.
V Rev is on 20-26 Edge St, Manchester, M4 1HN. This is in the Northern Quarter, where there are also plenty of independent shops and cafes. It's a perfect place for a day out, supporting small, local, businesses, especially in this period. They have some places outside too, which, on a sunny day must be really lovely, even in mid-September.
Have you been to V Rev before?