I was considering buying this kind of Ted Baker Handbag for a while. Because it is made out of PVC, I wasn't sure I would wear it often. Finally, I got this one from Selfridges last year and I'm so glad I did. I just love this handbag. In the last four months I had worn it 20 times at least. It's very practical and it goes with jeans and a pair of white trainers I only use for a sporty outfit. It also works nicely with heels. It was one of the best purchases I've made recently, it's so versatile and I imagine I'm going to wear it for many years to come.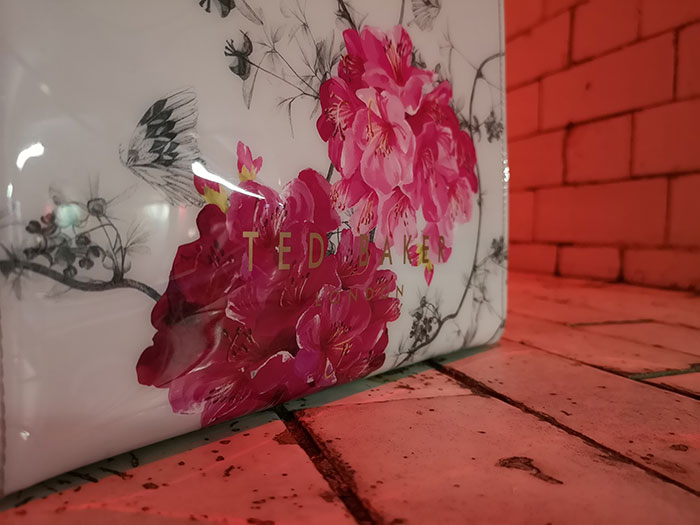 The thing that attracted me to this Ted Baker handbag is the design. Those delicate flowers and realistic butterflies made me buy the handbag. It is the smaller one of the range, at 24cm with 25cm, and a depth of 11cm. The full price for this handbag is £30. I bought it at an offer, so it was slightly cheaper.
The handbag has no internal compartments nor a zip, so I'm using a cosmetic bag inside it, to keep all the bits and pieces I carry around with me. Funnily enough, the cosmetic bag I'm using is Ted Baker as well. I got it from Boots on sale after Christmas and it fits nicely in my handbag.
Now I'm considering getting another Ted Baker handbag, of course, another tote PVC, but the bigger size, that is a bit over 30cm in height and width, with a depth of 13cm. Obviously, I would pick a darker colour and with another design, but still floral, because I do love the way it looks. Last time I've been in a Ted Baker shop, I looked at all the handbags and I was thinking I'd like one of each. But I like having diversity in my wardrobe, hence not buying a lot of similar looking items.
Do you have a Ted Baker handbag? What do you think of them?