On Saturday I attended the #LondonStandsWithUkraine march & rally, organized by the mayor. It's not the first time I'm attending a pro-Ukraine protest, but this was the biggest, with tens of thousands people attending. It was heart-warming to see so many supporters, from different backgrounds, Ukrainian, Brits, Poles, Romanians, Russians, Kazacks, and Chechens. Slava Ukrayini! Or, in Romanian, Slavă Ucrainei!
The march took about 1 hour and a half to get to Trafalgar square. There were so many people it was really slow. I am going to share a lot of pictures from the march.
arm Ukraine is, possibly, the most important slogan used at this kind of protests. Despite what the media is talking, which also show how poorly they understand what refugees really need, the Ukrainians, in their words, need weapons to defend themselves. We should be sending air planes and tanks, more weapons, more munitions.
Someone who, sadly, understands perfectly the situation in Ukraine was this Chechen, whose passionate chants triggered cheers from the crowd.
Erase ruble is another chant close to my heart.
The Snake Island sailors' reply was on more than one placard. Luckily some of them survived and were exchanged in a prisoner swap.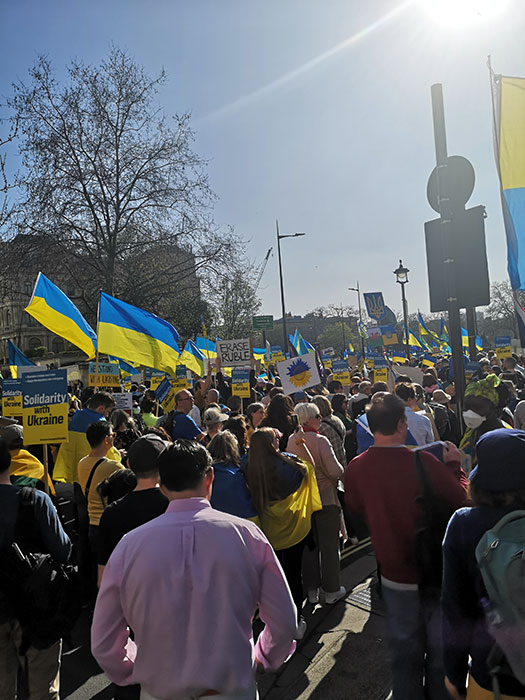 Mariupol as Guernica is such a powerful message too. I also saw "No Pasaran" on a T-shirt, a hint to the Spanish Civil War.
Two versions of the same idea, "Put in" and the following one "Put Out".
This is the Romanian flag, which is the same at Moldova's flag. We also share a language and, until recently, the same national anthem. The national coat of arms differ in only one aspect, we have a sword while Moldovans have an olive branch.
The problem is that there are Russian troops in Transnistria, an unrecognised breakaway state internationally recognised as part of Moldova, similar to the Donetsk region of Ukraine. So, it is understandable why we all feel so strongly about what is happening in Ukraine, as we know the maniac might target Moldova next.
Definitely not the only Russian at the event, people were very supportive of them, which was so wonderful to see.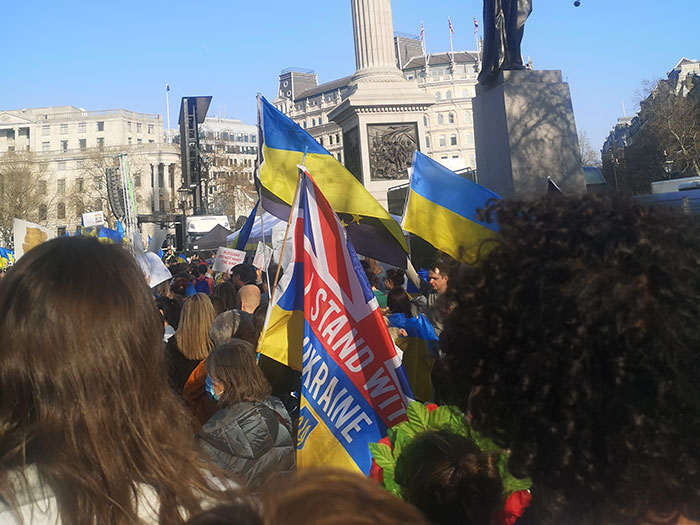 I just hope, in vain, that the Germans will stop financing the war. Buying oil, gas, and coal from the Russians directly funds the killing of Ukrainians.
What you can do? Stop buying from brands that are still selling in Russia, boycott Chinese produced goods as much as possible considering they are still funding the war. India too, which makes me think UK should reconsider their aid policy, if the Indians are saving ££s by buying cheap Russian gas, maybe they don't get aid from our taxes. We might as well spend that money on arms for Ukraine. Also, boycotting Chinese products would help in general, with climate change, rights of Uyghurs Muslims, and so on. Anyone following the principle of spending time not money would get more from both their time and their money.