I've been to a county show for the first time and I loved it. Going to Cheshire County Show was such a great experience that I couldn't make a smaller selection of pictures (60 in total), so I've decided to split the post in 2 parts. The first part is all about the animals, as they are the focus at this type of fairs. Tomorrow I'll post about the stalls and interesting activities, including the horses.
Cheshire Agricultural Society was founded in 1838 having as an objective to encourage better farming methods thru competitions. The competitions are the same today as they were at the beginning.
I'll start with the sheep and more precisely, with the Sheep Show. It was so funny, the presenter made a lot of jokes, half of them I would be embarrassed to write down.

All the sheep came on stage on their own sound track.

For example, this one was invited on stage on a Bob Marley song. The presenter said the sheep and Bob Marley have a lot in common as they both like grass. We laughed the whole time.
After he told us about the breeds, the sheep "danced". Meaning they moved their heads or legs to get some treats. I loved it. I had no idea there are so many breeds of sheep, as my livestock knowledge is depending on what's presented at Countryfile.

He made a sheering demonstration and he started by asking the sheep how she would like her hair done. It was fun and the sheep wasn't that bothered of what will happen. It was the first time I've seen live how it's sheered. The presenter showed us on his arm that the sheering tool is not going to hurt the animal.

In a couple of minutes all the wool was off.

The wool is huge, but is very cheap. For that quality and size, the price of the wool would be £2.50. Considering how expensive the finished items are, I was surprised.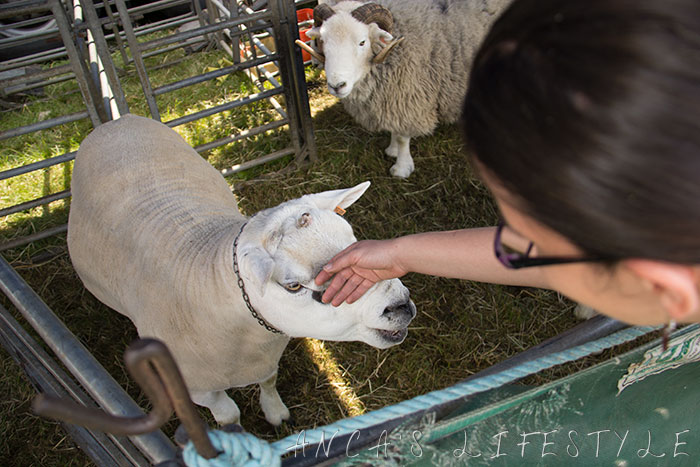 This is after the show, petting one of the stars.
The pictures aren't on chronological order. I sorted them by animal/theme. There were sheep competitions and after that we were able to see them in their pens.

It's true, the grass is greener on the other side.

I have no idea why they had their coats on, there were 20+C outside.

This is a brown Texel, I remember the name of the breed because I love the way they looked at us. They look mean and, unsurprisingly, they are more confident than the other breeds of sheep. This one didn't budge an inch when I leaned over the fence to pet him.
Next on my list are the goats. There were pigmy goats on sale… of course I've asked hubby if we should take one while a woman behind us started laughing. A girl asked very politely her mother if she can have a goat for her birthday and it was my turn to smile. They are friendly and funny and I would love a couple of goats running around the house.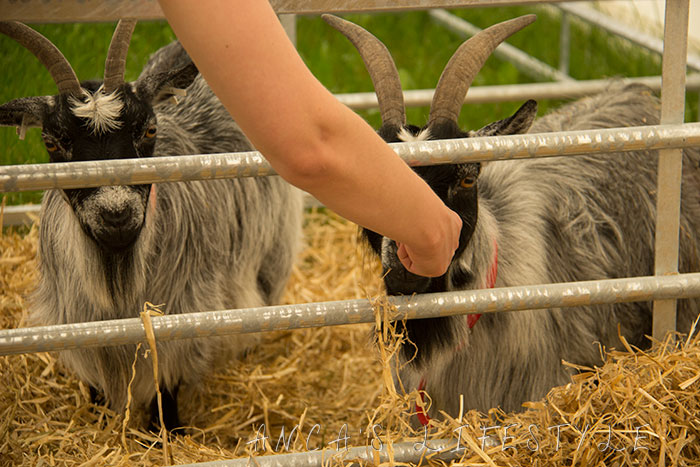 As you can see in the picture, they had dog collars, so I assume they are used to walk on a lead. Of course, pigmy goats are kept as pets.

The surprise come from the milk goats (I think, not so sure, I hope they are not for meat). They were happy and friendly and keen to be petted, charming animals.
At the show there was a dog show that we've missed. We've been there from 9.30am to 5.30pm and missed a few things.
On a different part of the show it was a fly ball course. Hubby loves fly ball, so we've stayed to see the dogs. They are so cute, eager to get the ball so they can get a reward after that.
The poultry section was big, with lots of hens and roosters and an egg competition.

I had to queue so I could hold this little chick. It was nice to see so many people in love with animals.

I liked this chicken (I think it was a chicken and not a rooster). It moved so fast hubby had to take a few pictures to get one right.

This one was lovely too. It looked like she (not sure she is a she, I'm assuming) had fur, not feathers. I couldn't pet her and it can be tricky with their sharp beak.

It gives a new image to the "bad hair day" concept.
There were two different exhibitors with birds of prey. I know them both, as I looked on their website, but never managed to get there to actually see the birds.

The African Vulture is one of my favourite birds, amazing creatures.
Next is cattle. We've been to the cattle judging and we had a look. I don't know the name of the breeds, beside Highland Cattle (but everybody knows them anyway) I am familiar with White Park and Belted Galloway. Is not very hard to identify them as one is white and the other one has a "belt" on her belly.

When I saw how the photographer was arranging the cows for the photo shoot I laughed (look at the guys with the buckets). It reminded me of the "old" days (a few years ago, not that long) when I was showing Festus at dog shows with double handling and pretty much was the same concept. One was holding the dog and the other one was doing everything to make the dog focused on them. For muscular animals, being tense makes a big difference.
The last pictures are with the pigs. We arrived late at their pens and all of them were sleeping in funny ways. Some of them reminded me of Festus.
That's it for today, see you tomorrow.